DJ
James Hyman can currently be heard DJ-ing on Xfm, Saturday afternoons 3PM - 7PM as well as on 'The Remix' & 'The Rinse' shows.
The Remix (Sundays 7PM-9PM) is an unconventional weekly dance show specifically dedicated to offering a platform for remixes of core Xfm artists, as well as acts that sit between dance and rock.
As well as featuring established talent, The Remix has been a firm supporter of 'bedroom remixing', encouraging unsigned talent to flourish and as a result, playing a key role in the emergence of 'bootleg culture' in the UK.
In 2001, the show was extended into a monthly club night. 'The Remix' was voted one of Campaign Magazine's Top 10 radio shows in 2001 and in 2003 was nominated for a Sony award (the 'Oscars' of radio).
The Rinse (Sundays 9PM-10PM) reflects James's passionate philosophy for all genres of 'dance' music: from hip-hop to house, breakbeat to bashment, disco to drum & bass, ambient to acid, the eclectic mix-show guarantees quality club sounds, cherry picked by the RinseMaster himself, James Hyman.
MUZIK magazine nominated 'The Rinse' 'Best Radio Show' in 2002.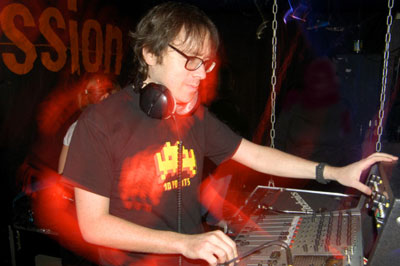 James Hyman's DJ career began in the late '80s when he started working at MTV. Heavily inspired by Disco Mix Club's members-only exclusive remixes & megamixes, Coldcut, pirate radio & the Acid House explosion, he cut his turntable teeth spinning for MTV's VIP parties and launches, warehouse one-offs plus the occasional wedding and birthday. James's love of the vast musical spectrum meant that just sticking to one genre was not an option. The 'mix-up' of all styles and skill in track-selection was his way forward - good hip-hop could rest aside funk, breakbeat and house; no rules. If his style must be pigeon-holed, then it's a 'party' vibe, akin to a Soulwax or Avalanches DJ set, where all manner of records raise the roof.
Always versatile and accommodating James can tailor his sets to fit any occasion through experience and his insane collection of over one million records and CDs. Whether it's a corporate launch for BMW's Mini or post-premiere parties for the likes of 'The Royal Tenenbaums', Britney Spears' 'Crossroads' and Eminem's '8 Mile'. Then again it could be Sky TV's 'Brawl At The Royal Albert Hall, the Rizla tent @ Glastonbury or an Ice-T launch party, James Hyman has been there and is always ready to rinse it further.
If you wish to book James Hyman as a DJ, why not click here to request his latest mix-CD