QT Mix CD
It's here & we at Green Bandana think it's the best mix-CD James Hyman & Audio Shrapnel have ever produced. If you enjoyed the 'Bond/007' mix, this trumps it, using Quentin Tarantino's films & music as the theme/inspiration.
Plenty mash-ups from Kill Bill 1 & 2, Reservoir Dogs & Pulp Fiction, sprinkled with samples, QT dialogue & more. Whet your appetite with the tracklisting, then click here to ask about the CD's limited availability.
THIS & OTHER JAMES HYMAN MIX CDS ARE PROMOTIONAL ONLY/NOT FOR SALE/RE-SALE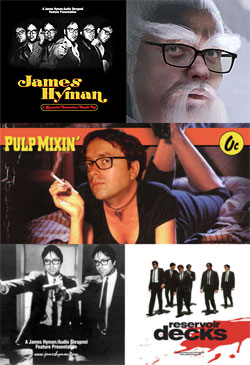 © 2005 Green Bandana Productions Ltd. Website design by
Steve Mannion.