Suzie Gold - In Cinemas - 5th March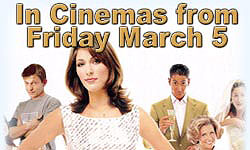 James Hyman has Music Supervised new Brit chick-flick, Suzie Gold & has a quick, blink & you'll miss it, cameo as a TV presenter! Watch trailer here, then go see it & buy the soundtrack; ya heard!!!
The Funk Phenomenon!
Interviewed Armand Van Helden again today (last time was MTV - June '97 in Soho, nearly getting attacked by door-slouching hookers who thought they were being filmed!!). Armand turned Tori Amos's career around in '96 with his phenomenal 'Professional Widow' remix and created similar heavy club remixes for the likes of Blondie, Ace Of Base, Sneaker Pimps, Basement Jaxx & Britney Spears.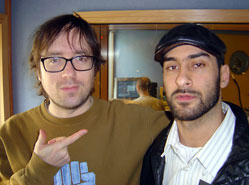 Armand's had hits himself with "Koochy" & the #1 global smash "You Don't Know Me". He's also the 'A' & 'V' in AV8, the label that bought 'Fatman Scoop' recent double chart success; BASS DROP!!!!
Armand is back with the excellent 'New York - A Mix Odyssey', featuring 3 new Armand tracks on Southern Fried.
Interview, featuring all of the above & more airs on Xfm's Rinse, Friday 19th March and here soon.
Launch party for Armand's mix album was later that night at Harlem, Arthur Baker's new eaterie.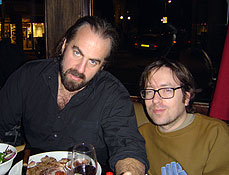 G'wan!
DJ-ed for Gatecrasher's end of year bash @ Heaven then spent most of Xmas relaxing by devouring media - Paul McCartney's "Many Years From Now" biography, the new Sean Penn/Benicio Del Toro flick,21 Grams off a sneaky BAFTA preview DVD and Little Britain is the funniest thing on yer box right now.
Plenty o' hype, surrounding Scissor Sisters but justified, check their class cover of Pink Floyd's "Comfortably Numb" other phenomenal tunes fished out from hours of aural digging include "In Public" off Kelis's "Tasty" album featuring her hubby Nas, Chemical Brothers remix of Kylie's "Slow" on very limited yellow vinyl (£50 on when I last looked!).
Similarly a Kylie/ABC bootleg "Kylie Is A Zillionaire" which I got from Rough Trade and be-Jesus, Spinbad's promo-only mix-CD!
The new & improved Xfm Rinse, Friday & Saturday Nights 1AM-3AM, RinseMaster on your radio - lock in baby!!
After 12 years at MTV I'd guestimate I watched about 50,000 pop vids (on average there'd be 80 new submissions per week).
Some of the most inspiring ones didn't always come from a specific artist e.g. Bjork, U2, Madonna etc. no – check the director.
Well, Palm Pictures have totally blown my head off by releasing 3 DVDs from 3 of the most phenomenal directors in the game - Michel Gondry, Chris Cunningham & Spike Jonze
Gondry's "I've Been 12 Forever" short film has inspired me to the point of infinite madness.
Bootleg bizzness: Man of the moment has to be Mr. Go Home with 'Jacko Under Pressure', a firing fusion of the gloved one's "Rock With You" & Queen's "Under Pressure"; very timely!
© 2005 Green Bandana Productions Ltd. Website design by
Steve Mannion.