DVD: In The Hands Of The Gods
JLH - Music Supervisors on "In The Hands Of The Gods" - DVD out Monday from Amazon, Play.Com etc.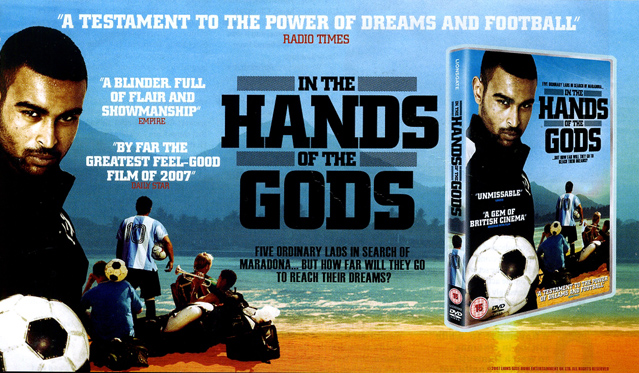 BBC3: Top 100 Most Annoying Pop Moments
Some of James Hyman's bits from BBC3's "Top 100 Most Annoying Pop Moments":
[MORE COMING SOON]
NO.77 "THE INVENTION OF 'MASH-UPS'"



NO.32 "THE BIRTH OF THE CHILL-OUT"



NO.01 "WHEN AMY DISCOVERED DRINK"



2007 Into 2008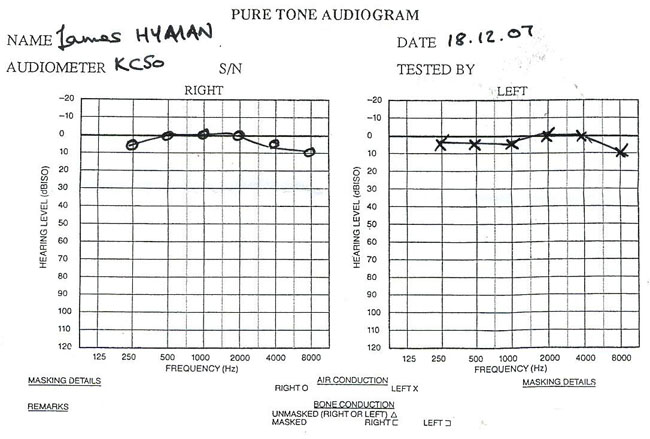 In preparation for New Year's DJ-ing in Barcelona, I decided it was long overdue to get my ears tested and invest in some custom-molded DJ-ear plugs. Like any club-DJ or live gig-pig, I'd had bouts of temporary tinnitus and worried about further damage; thankfully when the specialist gave me my results (pictured above), he said my hearing was excellent, "Like a baby's". That was it, no turning back on using the plugs!! After my 1st try-out on New Year's Eve in Barcelona at Razzmatazz, they worked a treat. If you're a DJ or frequenter of loud venues, in fact maybe you go shooting etc., I can't urge you enough to take care and protect ya ears!!! Later that evening, I popped in to a "Tinsel & Tiaras" party with Kate, then off to the country/sea to chill.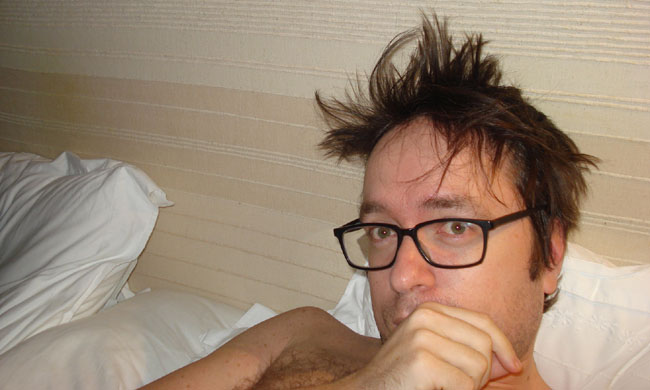 Time was spent generally relaxing, eating excessively & unhealthily (!) and, as the picture above suggests, loads of lazy late nights lounging in bed, catching up on some magazine reading (including vintage Vanity Fairs - divine!) and savagely rinsing out YouTube. Oh sure, in true OCD and ADD-style, I watched and enjoyed lots of traditional TV's end of year clip-countdown styled shows like "Most Annoying People Of 2007" on BBC3, "Big Fat Quiz Of The Year" and an updated AFI's Top 100 Movies (where was 11 Oscar-winning "Ben Hur"?) on Channel 4, but derived more pleasure from the less-passive, more active instant gratification of YouTube's clip-culture.
On Cable/Satellite, Sumo comes quite close to YouTube with its random bizarre mashed media-morsels and I enjoyed some of its longform pop-culture programme compilations like "Cult45 TV" with an episode that explored the post-humous "Bruce-ploitation" of martial arts king, Bruce Lee. Similarly, I was drawn (not the first time) to Channel 376 on Sky, "Bedroom TV" which, in a nutshell, is home-made fan versions of viewer's favourite tracks. Some efforts are so awful, out of sync, shabby and simply diabolical but riveting in a karaoke-d car-crash TV way. Others, with more effort, show sparks of creative genius.

Back to the YouTube rinsing:
(sorry if some of the hyperlinks are broken when you read this and click on them; tends to happen, usually for legal reasons).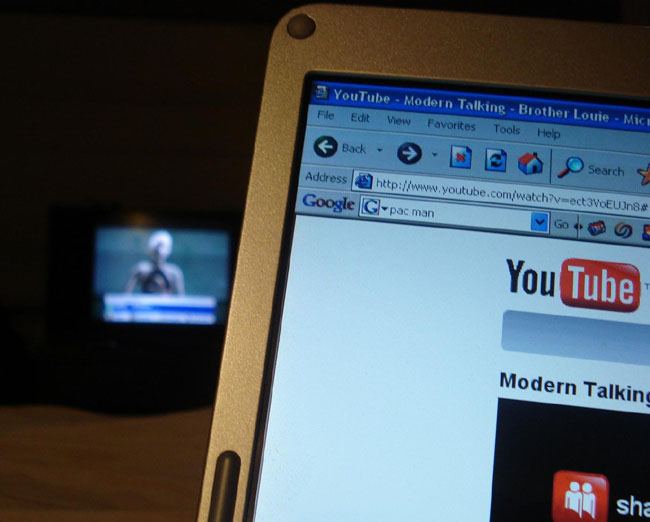 I got seriously nostalgic and never ceased to be amazed by users uploading the geekiest of visual treats. First off the "Alpha Video Logo". I remembered this mad disco-synth jingle on it but unless you had the original old school VHS tapes of films with it on e.g "Creepshow", "The Exterminator" etc., the logo would be erased by new companies on the more recent DVD format. Lo & behold, here's "Alpha Video Logo" in FULL effect!!! Respect to everyone and anyone who bothers uploading this stuff - I equally love user's comments along the lines of "Thanks dude, I've searched for this for 20 years.....blah blah...etc. and you're a LEGEND etc.!! "
After "Alpha", I continued the 80s obscurity with a f*cking PHENOMENAL Wrangler Jeans ad featuring superb electro-robotic dancing, visual gimmicks a plenty and a wicked made for jingle to boot. Next Maxell's cassette classic with Pete Murphy - break the sound barrier boyeeee!! This led to further hours of 80s indulgence, encouraged by the "related" searches that can send you even deeper. So I marvelled at Sigue Sigue Sputnik videos like "Love Missile F1-11" (still love those overdub sound FX!!) then Sigue Sigue Sputnik being interviewed on The Tube by Muriel Gray.
Next 80s pop videos like Alexei Sayle's bonkers"Ullo John! Gotta New Motor?" (he can't 'alf play the bongos!), Haysi Fantayszee's "John Wayne Is Big Leggy" and "related" 'live' performances and TV interviews like this one. I stumbled across pop videos I'd produced/edited at MTV that I'd almost forgotten about like New Order's "Blue Monday '95", Frankie Goes To Hollywood's "Relax" (Ollie J Remix)", Ultramarine's "Hooter (Carl Craig Remix)" and loads of video megamixes under my "Party Zone Massive" moniker for labels like Trevor Horn's 'ZTT', Logic, R&S etc.
Digitally digging I went deeper with a Rod Serling documentary (Rod was just phenomenal; believe!), re-visits to classic clips from cult horror movies like "Phantasm" and "Salem's Lot". I was SO scared by "Salem's Lot" as a kid that my imagination convinced me I was seeing vampires scratching at the windows and I had to crawl on my floor very slowly to get into my bed!!! The spin-off linkage went crazy as I moved onto DJ Noise not just winning the 1996 DMC Mixing Championships but his Rimini exhibition set also for DMC in 1998 plus his incredible Supremacy DJ battle where he annihilated 8-ball and click, a Wogan interview with Max Headroom. Not enough uploads of Max Headroom's TV clip/chat-show which featured brilliant obscure pop-vids that weren't always top 40 driven. Talking of cool 80s' clip-show formats, more fan devotion with loads of 'The Chart Show' uploads, again, check those crazy user comments included in this one from February 1991 where the 'Indie' countdown was featured with no Nirvana video for "Sliver ". In similar stylee, plenty helpings from late Saturday into Sunday essential viewing "Night Network".

Then there's right raw postings where people love a tune so much they simply upload a still picture/bit of type, an auto-computer generated fractal(s) (!) or often just the vinyl on a spinning deck (this seems to be commonplace with old skool rave/hardcore tunes, love it!!!) Some things, I was suprised not to find but on second thoughts, again, probably legal reasons prevent them from being up there like the video I produced for Prince's "Pink Cashmere" and "Breaking The Magician's Code" where Val Valentino revealed amazing illusions behind big-time stage tricks. After OD-ing on YouTube, I moved onto some Hype Machine, again big up all the music-related blogs it led me onto like "Audio.Out", one of the funniest, brilliantly minutiae-detailed ramblings which includes great posts like "Deep Heat/Warehouse Raves" and "I Get Stupid, I Mean Outrageous" which spun me further into a great interview piece with Chill Rob G whose classic 'The Power' was sadly shadowed by Snap's version (the latter's went ballistic chart & sales wise).

31 December, up early EasyJet to Barcelona for New Year's Eve and en route managed to finish off the two inspirational Malcolm Gladwell books I'd been reading, "Blink" & "The Tipping Point" - faultless, well researched analysis of 'Gut instinct' (Blink) and 'Social epidemics' (The Tipping Point).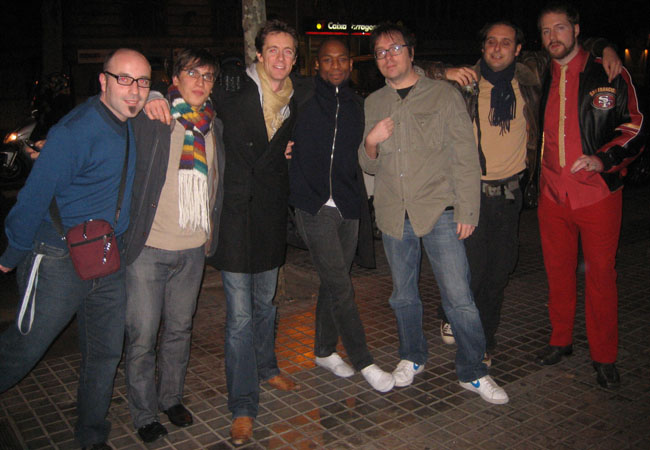 Barcelona Boys in effect (pictured left to right: Sergi, Christian, Paul, Michael, James, Ben & Johno)
Arrived, short rest, then an amazing multi-course dinner at "El Noti" with posse in effect (Javi, Amber, Johno, Rex The Dog, Christina, Christian, Sergi, Paul Bricks, Michael, Kate and Pete Doherty , sorry I meant Ben Austin!) which ended with Spain's '12 Grapes' tradition where you eat 12 grapes very fast (one for each bong of the gong)!!

Paul, Ben & Michael get busy with "Oh me grapes" (said in 'Bo' Selecta' Mel B/Scary Spice voice)
Another short siesta post-dinner, then a 2-hour set to a rammed Razzmatazz with hanging out/backroom bizness around 5:30AM -7AMish then mid-afternoon flight home.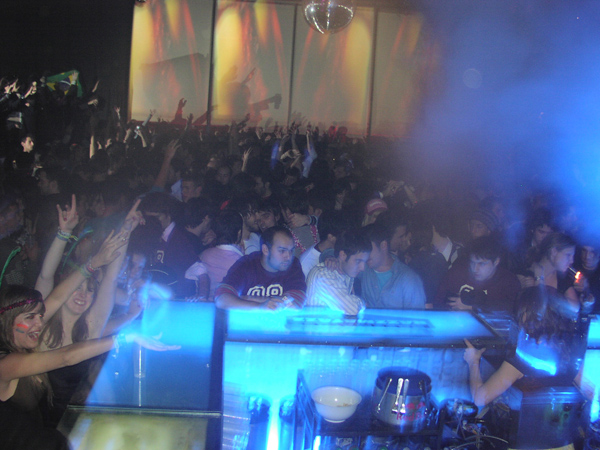 01.01.08, around 4:40AM, Main Room, Club Razz

As I write, I'm slowly lapsing back into a bout of YouTube whilst thinking and planning/preparing an exciting 2008. Wishing you all a happy, healthy year ahead.
x
© 2005 Green Bandana Productions Ltd. Website design by
Steve Mannion.