Back To Razz - LOVE THIS CIT-AYYY!!

Still one of the best clubs to play in Europe for so many reasons, some mentioned here and here and Razzmatazz now featured in the new Opel/Vauxhall 'C'mon' advert (thanks Javi!)
Put your hands up for BARCELONA!! I love this city!!!" (OK & of course, Detroit too!).
Untold fantastic restaurants like Tenorio, part of the Grupcacheiro group and Raco De Vila. Quick Tenorio lowdown from February's visit - Was only going to have a light starter, a refreshing cheese, pineapple & melon salad with strawberry vinaigrette & blackberry juice but on catching the lady on the next table eating chicken yakitori with carrots perfumed with orange, I succumbed too. Kate went for tuna tataki with toasted garlic & soy sauce. On the desert tip, a sorbet melange of mandarin, lemon & raspberry plus a taste of Kate's sweet, fantastique fine apple tart with calvados liquor + cinnamon ice cream. Michael Winner nowhere to be seen & smooth service by our waiter Joq (if I remember right) & Maitre'D Quim Lopez.
As for Raco De Vila (when Mr. Bootross & I visited last month), mixed starter platters of tomato/garlic-rubbed Bruschetta & Parma Ham went down a treat with a main course of sizzling, cook it yourself steak (on a mini-stone grill) dashed with cracked salt not crack. The Presets, other guests that night were in culinary heaven with a stuffed boar's head closely looking down on proceedings.
Not forgetting the consistently crazy club crowd(s) - love the way requests (not just for tracks - oi oi!!!) etc. are scribbled on paper left next to the DJ booth (examples below) as compared to the UK way which is often holding up the mobile and text request up in the DJ's face!!!
Anyway, back to Razz next Wednesday with Mr. Bootross in tow, hope to see y'all there!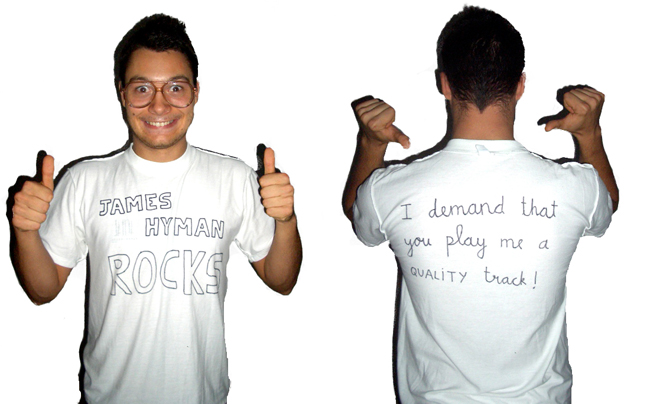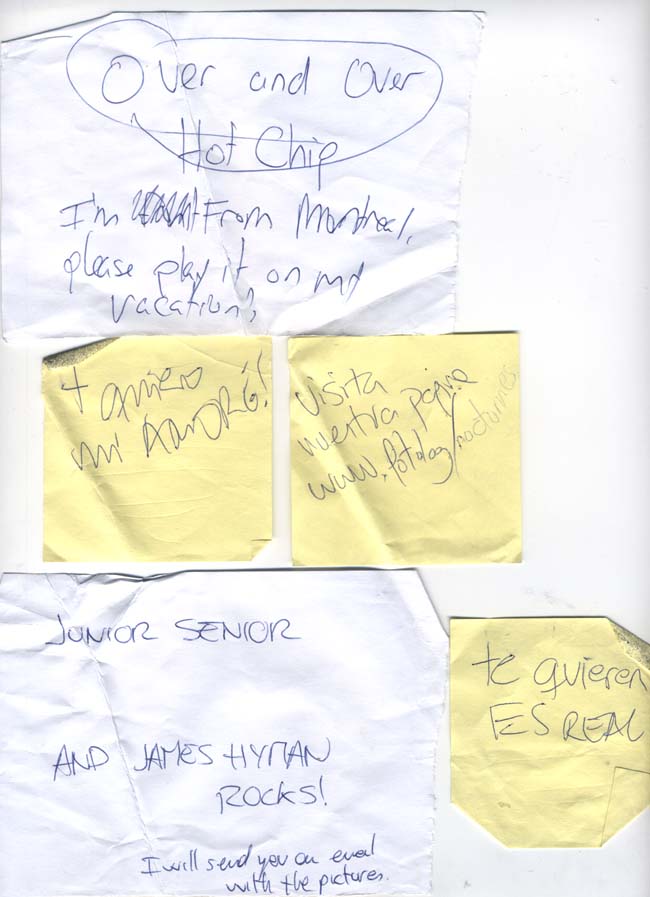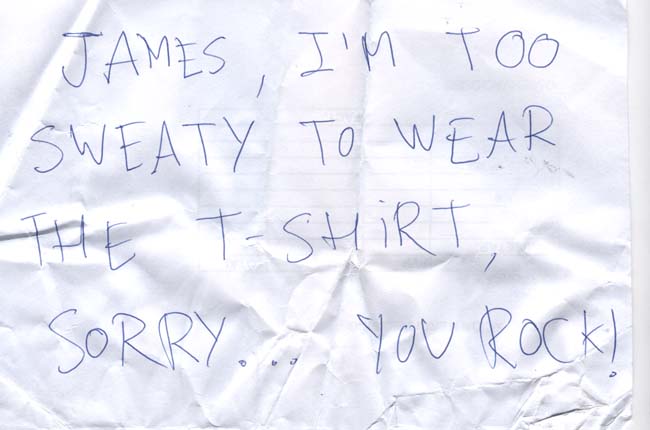 © 2005 Green Bandana Productions Ltd. Website design by
Steve Mannion.