Cannes Lions 2007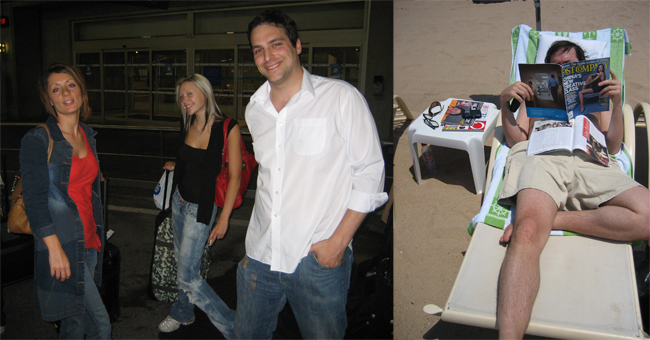 So a quick 2-day Rinse in Cannes for Cannes Lions 2007 with posse in effect: James G, Nicola + Dulcie (pictured above left). Very different to Cannes Film Festival - for one I wasn't DJ-ing (!) and for ad-land it seems to be more of an all-out jolly/party fest with all roads leading to the 'Gutter Bar' (aka Hotel Martinez).
However, one similarity to Cannes Film Festival was the potential for a rockin' party and after 2 days of chilling, schmoozing and a chance to catch up on some beach magazine reading (heaven!) (pictured above right), the trip's climax was the DDB soiree on la Croisette with Jon Carter spinning the tunes.
Jon & I hadn't seen each other for years, we had a laugh when he reminded me of that surreal sunday (18 June 2000 to be precise), coming on the radio for an 'Xfm Remix' show (about the 10th one) back in the day with Eddy TM + myself.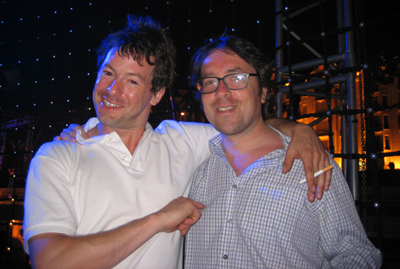 The show's guest DJ-mix is called 'the Superchunk' and when I mentioned that Jon thought I was referring to his weight so threatened me live on air with, "Say that again an I'll cut ya!". Jon did also compliment me then and again 7 years later in Cannes for my breakbeat album "Postmodern Breaks" with Wishdokta (aka top house 'n' Garage DJ/producer, Grant Nelson) which he sampled for one of his tracks/productions (oh, the sample?: "Do you know where he kept his records?" "Show me those records and I'll a build a new brain for you")
Paying back mutual respect, Jon's set was running tings, here's a DJ who doesn't seem to be on the 'dance' media's radar that much anymore and possibly (and unfairly) living in the shadow of Fatboy Slim, 2ManyDJs + some DJ called James Hyman (!!).
After a warm up of some AV8-style old skool blends, tempo upped with the first main crowd eruption courtesy of Plump DJ's breakbeat overhaul of Donna Summer's "I feel love" weaving in and out of Khia's "My Neck, My Back" acapella (dirty version of course!). Then an onslaught of tracks that sequentially included Detroit Grand Pubah's "Sandwiches", into Jon's mix of Gorillaz' "Dirty Harry" with further dancefloor devestation from RadioSlave's re-edit of Raconteurs' "Steady, As She Goes" and Tocadisco's remix of Dee-Lite's "Groove Is In The Heart".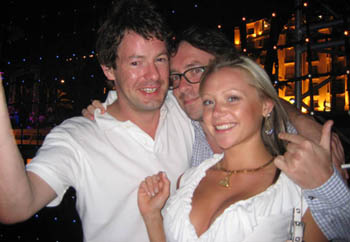 Cannes temporarily went Ibiza as Jon continued to icing the music with heavy EQ& mixer FX then a home-made mash-up of what sounded like Alter Ego "Rocker" vs O-Jays "I Love Music" with the set drawing to a close via a pumped up version of "Rich In Paradise", some Zulu-Nation sounding Block-Party banger and the crisp biscuit boot-bizness of "Bring The 7 Nation Army" (i.e. White Stripes "7 Nation Army" vs Public Enemy "Rebel Without A Pause") not forgetting The Slits "Heard It Thru The Grapevine" plus GoHomeProductions "Day Trip To Never Never Land", a banging blast of 'Bastard Pop' melding Michael Jackson's "The Way You Make Me Feel" with The Beatles "Day Tripper".
© 2005 Green Bandana Productions Ltd. Website design by
Steve Mannion.