End Of An Era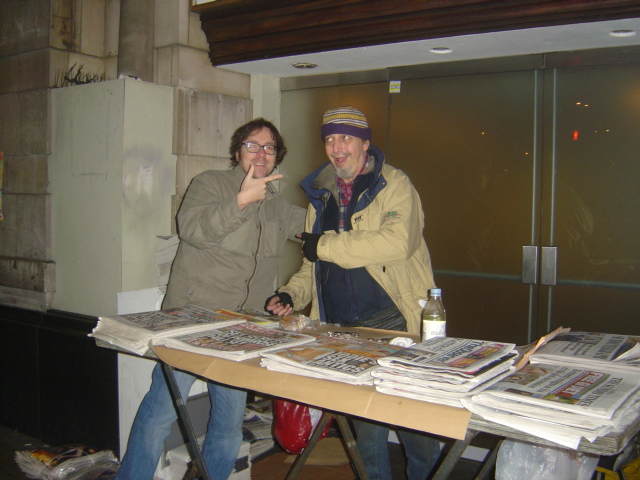 End of an era, having just received this text from "Les" (pictured/above right), well-known newspaper vendor (to those in the know), who could be found by Marble Arch Tube Station, Saturday Nights/Early Sunday Morning.
"Sadly, old age plus other factors have made me retire. The pitch is now being managed by a friendly guy named Bob. Many, many thanks for your generous patronage!!"
As I mentioned in this Time Out Q&A last March, Les was my choice of 'local gem', a legendary living London landmark who was my point of call late on a Saturday night to get the Sunday papers that little bit earlier than the rest.
I relish many a good chat with Les whose wisdom, wit & wackiness often added that special something to the end of my Saturday night. Les had so many brilliant stories about everyone, whether he was pointing out the local hoodlums noisily passing his 'patch', dishing deeper dirt on celebrities featured in the freshly printed tabloid's 'Exclusives' right under our noses or chatting to all the 'regulars' who'd come like bees to honey for their news-fix and/or a quick bit of counsel from Les himself; 'regulars' who ranged from cabbies, druggies, drunken revellers, famous faces (I remember seeing Lucian Freud bowl up one time, greeting Les like a long-standing business acquaintance!) and anyone else worthy of mention.
As print/newspaper faces a tough time in a sunset industry, it's no suprise that Les packed it in. He'd recently downsized from selling papers daily to simply Saturday nights and told me that after 31 years of trade, he'd grown tired of the hectic/dangerous 'street life' around him as well as problems with Westminister Council affecting him by making it difficult to store/secure his table for laying out his wares.
Raise your glass of 'Speckled Hen' (apparently his favourite tipple) and jon me in wishing Les, all the best for 2010 and beyond.
BBC Radio 2: "Super Bad, Super Cool"
James Hyman, featured contributor on BBC Radio 2's "Super Bad, Super Cool", presented by Pam Grier.
Airs 22:00, Saturday 09 January 2010 or on BBC i-player.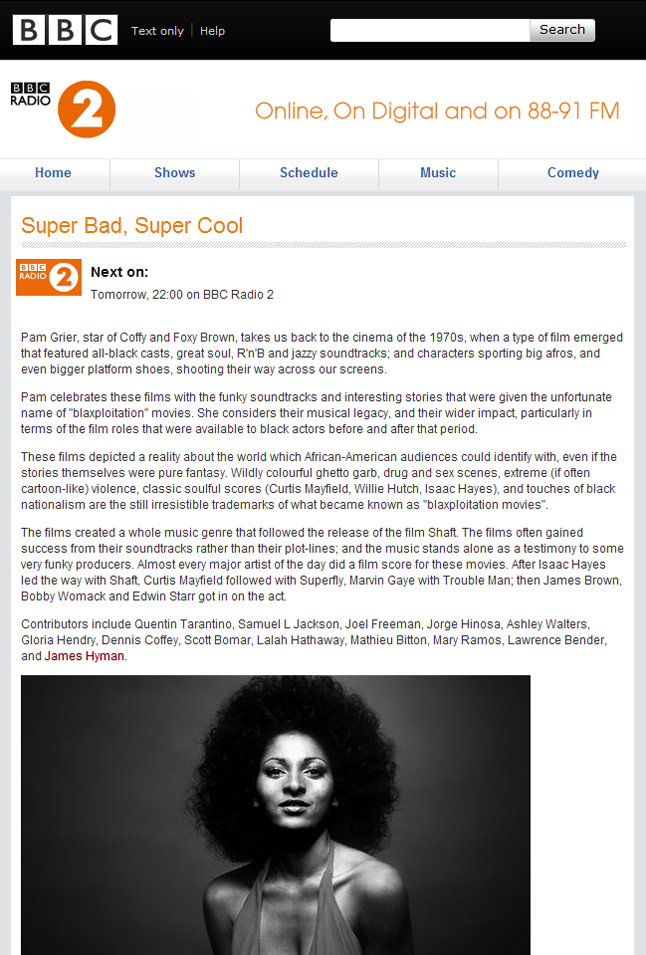 Happy 2010!
Apologies for lack of blog entries @ JamesHyman.com; the likes of Facebook and Twitter have made my news/updates/musings more immediate & easier, so do check my Facebook or Twitter feeds for more regular info.
Brief news includes:
(a) MUSIC SUPERVISING (FEATURE FILMS):
(i) "Blitz"
(ii) "Three Days In Dublin"
(iii) "3 Mile Limit"
(b) PRODUCING:
(i) Documentary for BBC Radio 2.
(ii) Viral 'mash-up' of "Star Wars - Robot Chicken".
(iii) 2-hour Audio-visual "Noughties Mix" (best of 2000 - 2009) for Channel 4 / 4Music.
(iv) Feature-film (details under wraps for the moment)
Finally, thanks for everyone's good wishes over the holidays, particularly liked this digital e-card below from fine fellow geeks, Fil & Alex (whom I blogged about here) which reminds me that Simone & I are working on a new Party Zone related project too, so again, look out for that.
Happy 2010 and wish you all health, happiness & prosperity.


© 2005 Green Bandana Productions Ltd. Website design by
Steve Mannion.