Why I Love The Web - Part Whatever
Loadsa loose links to tie up so here ya go:
DEAD MAN EATING
Final meals of recently executed American Prisoners.
FRUIT FLY FIGHT CLUB
Bruce Lee's got nothing on these boxing flies & their 9,000 individual moves.
PAC-MANHATTAN
Human scale live versions of classic coin-op games.
Here students have converted NY into a giant Pac-Man grid, dressing up as 'Blinky', 'Pinky' & 'Inky' etc….
EXPLODING WHALE
The dilly on that urban web-myth. Glad to report, no cruelty, the whale was wick-wack and dead.
QUERY LETTERS I LOVE
Hilarious TV/Film pitches.
STUPID VIDEOS
You know the daily dilly, you get these sent by a friend of a friend; go straight to the source.
CELEBRITIES EATING
I wanted you to salivate…..to wait for it.
WHO WOULD BUY THAT
Self-explanatory.
TV ARK
Opening titles to hundred of TV shows -from 60's to present day - just the tip of this internet iceberg….
30 SECOND BUNNIES THEATRE
Classic Movies + Squeaky Cartoon Rabbit Voice/Animation ÷ 30 seconds = this.
ME & BILLY BOB
Fan worship gone too far?
Getting the same 13 tattoos as Billy Bob etc....
SOUNDGRABS
What a cashier getting her hand trapped, a grumpy postman + more sound like.
DAILY PHOTO PROJECT
Dude takes daily picture of himself - Mad? Art? Why?
DAILY FOOD PROJECT
Similar to above but with meals!
WACKY WARNINGS
Dumb consumer product warnings...
Sheer (UK) Comic Genius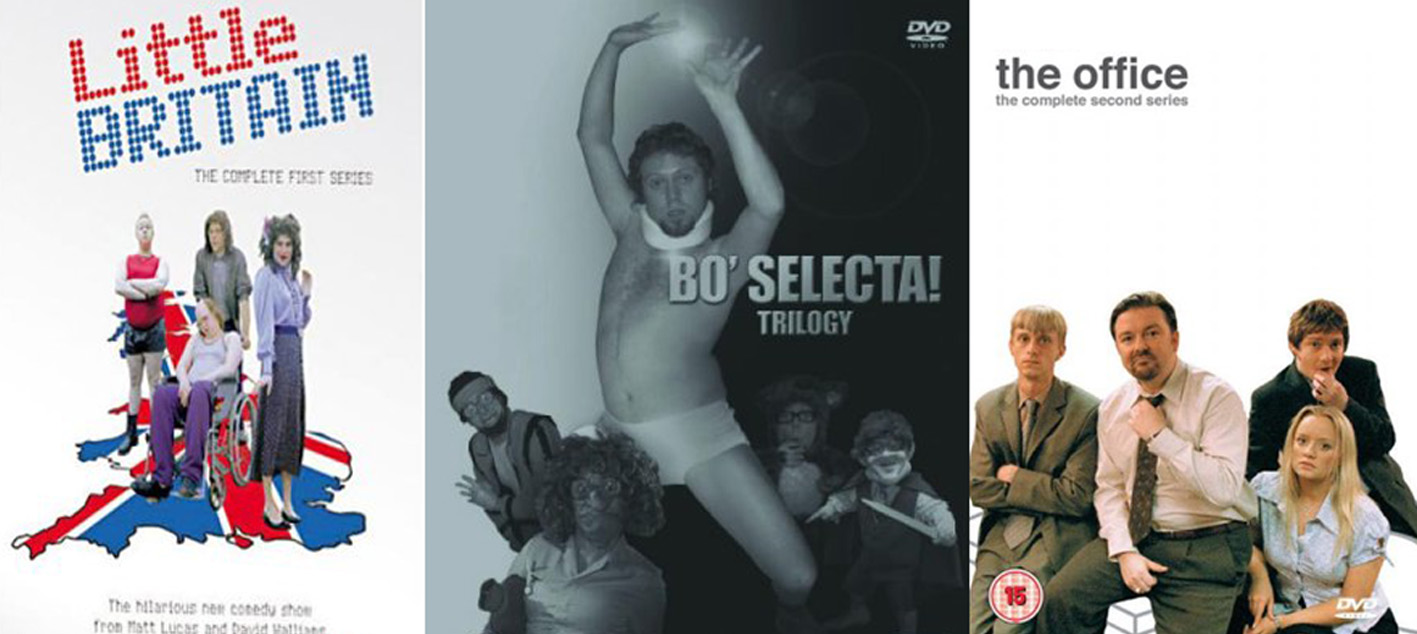 Little Britain.....Bo' Selecta.......The Office
Those in the know knew that already.
Those not in the know buy all 3 DVDs this second:
Kanye-r dig it?!!!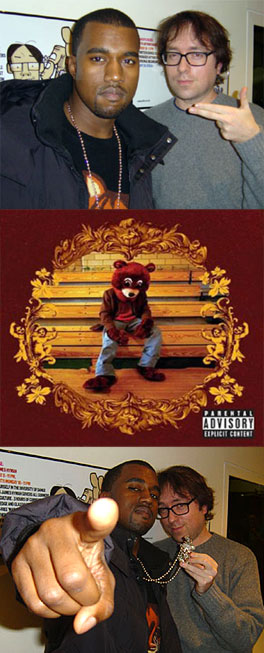 Yes yes! This man, right thurrr is ghetto red-hot!!!
Kanye West, the next Hip-Hop/R&B Uber-Super-Producer, snapping hard at the heels of Dr. Dre, Timbaland and the Neptunes, has been nominated for 10 Grammy Awards, more than Usher, Ray Charles & Green Day.
Turning a near fatal car accident into the global smash, "Thru The Wire", he's sprinkled similar studio magic for Alicia Keys, Jay-Z, Ludacris, Brandy & Usher.
Aside numerous magazine front covers, GQ called Kanye, "A 1-man tidal wave", NME - "The only reason anyone should still give a shit about hip-hop", Rolling Stone named him 'Man Of The Year' & compared him to Bill Gates, the "College Dropout" won best album of 2004 from a 'Poll Of Polls'. Listen to Kanye's words & music in another killer Rinse interview HERE.
© 2005 Green Bandana Productions Ltd. Website design by
Steve Mannion.