Covered
Thanks to my old-skool MTV mate, Markert:

OZombie.Com

Sounds Of The Shrapnel & Geek Chic
In addition to the Roots Manuva 1-hour words & music special, tonight's 'Rinse', kicks off at 1AM with a cracking, phenomenal mix from one of, sorry, the best booter in the business, AUDIO SHRAPNEL.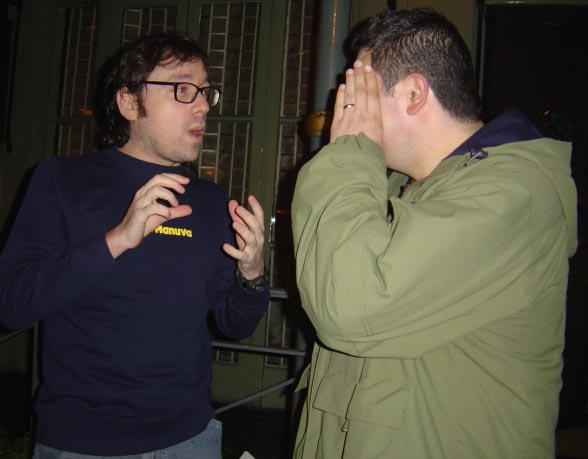 Many of you will know him from the sterling knob-twiddling on the James Hyman Mix-CDs, or when he worked at Nation. His 'Come On Bring The Noise' mash-up (Public Enemy & Dexy's) was the first 'bootleg' to get MP3-ed right round the globe after its 1st airing on one of those legendary Sunday Xfm Remix shows Eddy & I used to present together.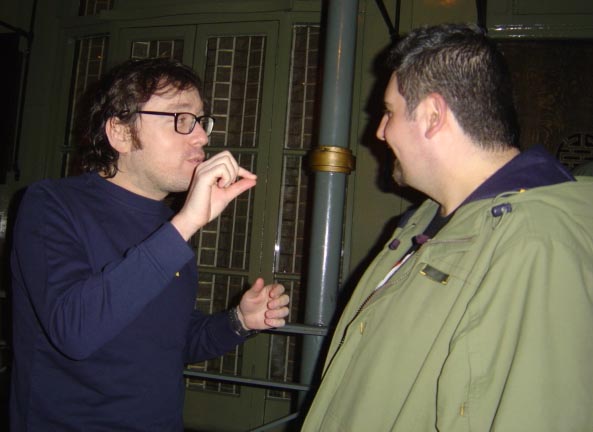 Audio Shrapnel's Rinse mix tonight is his December 'Bastard' set, hailed as the best 'Bastard' night to date; big up Shrapnel's salami!!!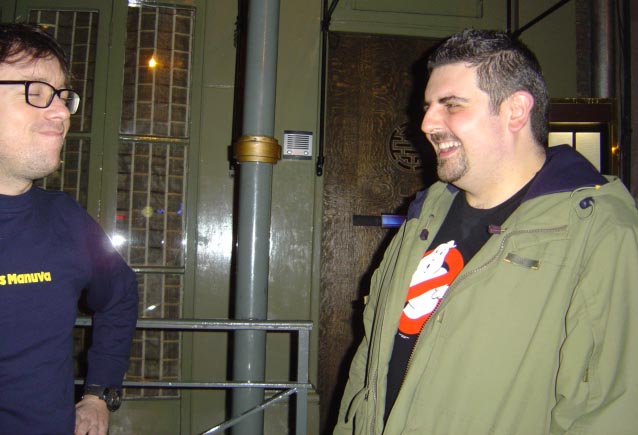 Here in open blog mode I profess my deep love for Audio Shrapnel (don't worry Mrs. Shrapnel, no going the gay way/swordfighting!!!) The love flows from a strong geek-bond/friendship.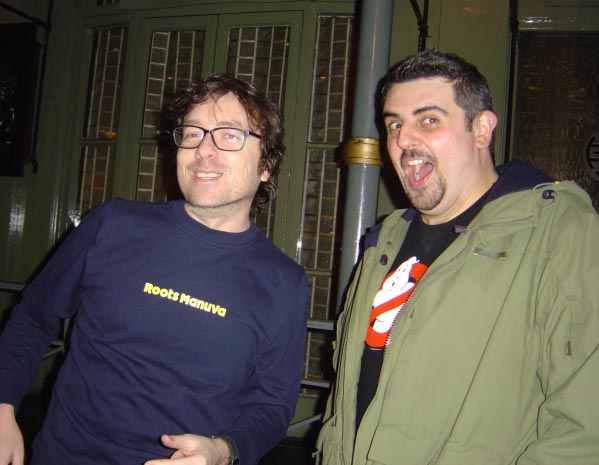 Rich & I chatted loads (I'd often be exhausted from such intense chats!) when he was at Nation - I actually met Mrs. Shrapnel before Rich Shrapnel, at HMV/Trocadero, the week before Rich came in to Xfm with Aki/Fun-Da-Mental for that legendary Superchunk on Sunday 16 December 2001.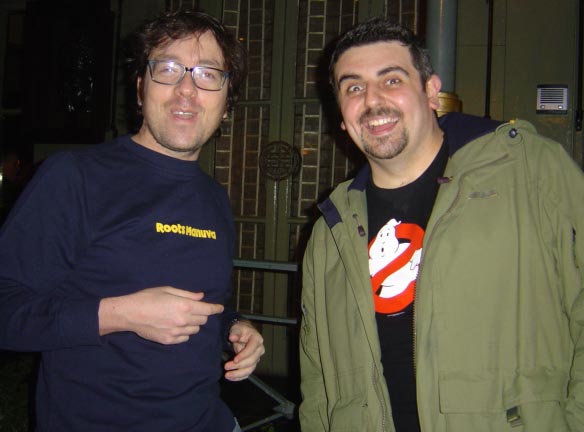 When you're a geek it's hard to find fellow geeks, even harder to find, laugh, and bond with geeks who share the same 'chosen subjects'. As amorous anoraks, Rich & my academia has been a mish-mash with many recurring topics: DMC, James Hamilton (R.I.P.), Jocks Magazine, Music & Video Exchange (or 'Church' to those in the know), Simon Harris, DVD Region comparisons etc. Our banter & Pop-Culture consumption is ill; Rich digests and spews back with terrifying acerbic wit. I think the Japanese have a word for us obsessive compulsives, 'Otaku'.
Instead of wrestling naked by log-fires a la Ollie Reed & Alan Bates in 'Women In Love', Rich & I, plus many of the geek-gang develop a tick and subconsciously end up playing 'Trainspotting Tourettes' - casually showing off knowledge (usually music songs/artists) in quick fashion by picking up on words from a conversation and interrupting, hence the tourettes. For example, A says, "I'm going to the West End later, what are you up to?" B quickly interrupts, "Pet Shop Boys 'West End Girls - Shep Pettibone Remix". A could retort with "West End Records" (the classic disco label), if A's really quick back, "West End feat. Sybil, 'The Love I Lost' on PWL records".
That's 'Trainspotting Tourettes' in very basic form, sad maybe when you read this, but beats prolonged bouts of fishing, talking weather/politics or watching hours of Big Brother. 'Trainspotting Tourettes' forms a key part to the art of Geek, usually the collector fraternity; a way of sharing passion and enthusiasm; symptoms are normally music-related.
Other 'named & shamed' hall-of-fame sickos from the geek-gang over the years include: Craig Leckie (pictured on right below, next to Damon Dash who I doubt has 'Trainspotting Tourettes' though major props for backing 'The Woodsman'), Jamie 'Alfred' Caring, Iain Baker, Marios Chirtou, Sam Houser, Terry Donovan, Dave Watts, Torsten Luth, Miles Dunbar (no relation to Sly alas!), Phillip Mlynar, Robin Pursey, Rohne Hill, RichColour & Ben Cyzer - all full of sharp knowledge reigning supreme.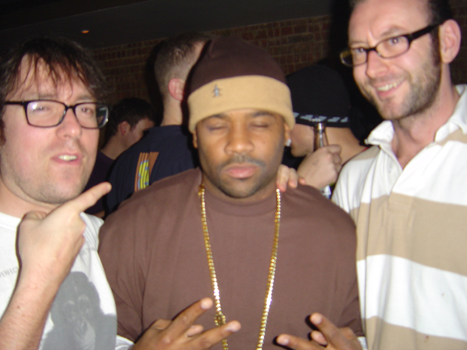 The Funky Dope Manuva
Roots Manuva's been hailed as "The saviour of UK hip-hop" but he's so much more than that - check some UK Press accolades below re: his 3rd and arguably best album: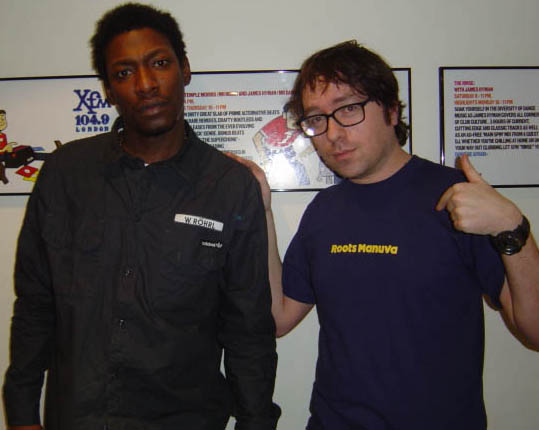 THE OBSERVER:
[CD OF THE WEEK]
"Everyone who owns a Streets album should rush out and buy this first great British album of 2005"
SUNDAY TIMES:
[CD OF THE WEEK]
"Britain's most artful dodger, Smith ducks and dives below and between dub, 2-step, music hall, musical theatre, trip hop, calypso, electro, you name it, creating a thrillingly kaleidoscopic backing to those extraordinary, vernacular-rich verbals... a truly original lyricist and musician."
INDEPENDENT ON SUNDAY:
"The best rapper in the country"
DAILY TELEGRAPH:
"As honest as Eminem at his most acute, as stimulating as Massive Attack at their most cerebral and as stentorian as Busta Rhymes at his wiggiest.... Smith inhabits a world all of his own"
THE INDEPENDENT:
"Nothing less than a milestone for UK rapping"
THE TIMES:
"His position as the nation's most distinctive rapper remains unassailed by any number of young pretenders"
NME:
"Manuva can ace all of America's big guns... a set of immense maturity that never rubs your nose in its thematic complexity, compositional innovation and thunderous thump-beats. It really is awfully, deeply good"
THE GUARDIAN:
"A superb album, dextrously mixing disparate styles into a sound that's entirely its own... It is as exhilarating and innovative as Dizzee Rascal's Showtime and, crucially for its commercial success, substantially less evocative of the experience of being mugged by a particularly twitchy crackhead"
Q:
"Perfectly placed to take Manuva into crossover heaven... his best album yet"
GQ:
"Britain's foremost hip hop artist"
Oh, the irony - Roots Manuva , our Generation's Gil Scott Heron, pretty much paved the way for other UK rappers/Urban-sters e.g. Dizzee Rascal & The Streets, fortunately their success has come full circle for Roots and allowed this core pioneer another chance on a stage that rarely allows that 2nd act.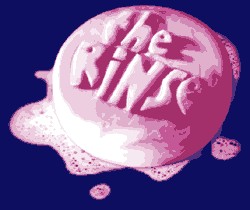 Xfm's Rinse, 2AM this Saturday Night/Sunday Morning has a 1-hour special with Roots Manuva, featuring plenty of his remixes, album tracks, exclusives and Roots rareities. Here's a sound-clip.
Paris Hilton Hacked....
....& obviously hacked off. Don't know how much longer this, this or this will be up for. Hold tight the hacker crew!!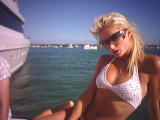 FilmRot.Com

Rinse + Shut Up & Dance = Presshah!!!
Good mates of mine since about '88, Smiley & PJ, aka Shut Up & Dance are oh-so critical to dance music/club culture and way beyond. If you're unfamiliar with 'Shut Up & Dance', catch the 1-hour words & music 'Rinse' special this Saturday night/Sunday morning, 1AM on Xfm, when we get real deep. If you're au-fait with Shut Up & Dance, you'll want to tune in & get deep!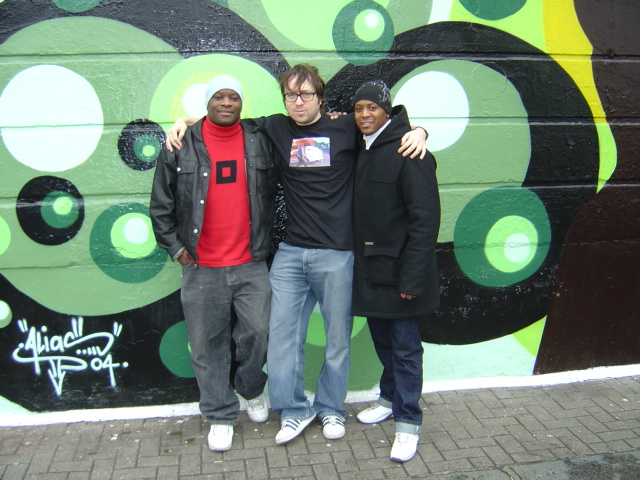 Many roads lead to Shut Up & Dance if you know or care to know their history: Breakbeat Pioneers, Jungle/Drum & Bass Godfathers, Mash-Up Masters, mighty props from Liam/The Prodigy etc. In the late 80s/Acid House era, you couldn't go to a club/rave or turn on pirate radio and NOT hear a Shut Up & Dance tune; ya get me?!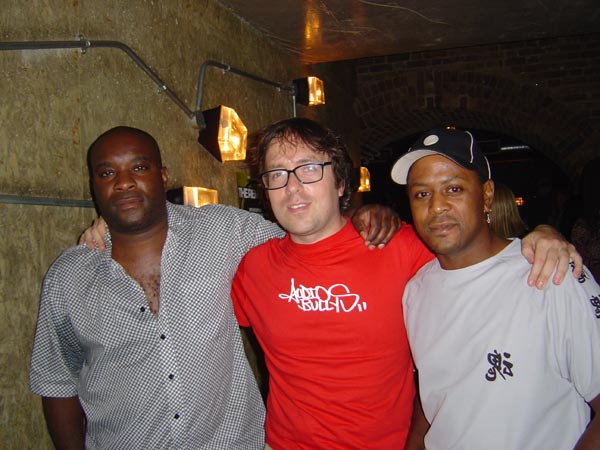 S.U.A.D.'s cheeky uncleared samples hit boiling point in '92 when Marc Cohn bankrupted them & the label. Since we're going deep, look at this Record Mirror article from '92, recently fished out my archive - who's quoted, Simon Cowell, yes mate, "X-Factor's Simon Cowell In Shut Up & Dance Shocker!!!!"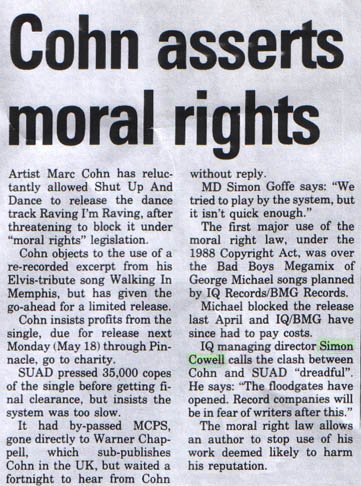 Here's a short clip from the 1-hour Xfm/Rinse special + buy their new 'Breakbeat Elite' compilation, all for a good charitable cause, the Sudan crisis: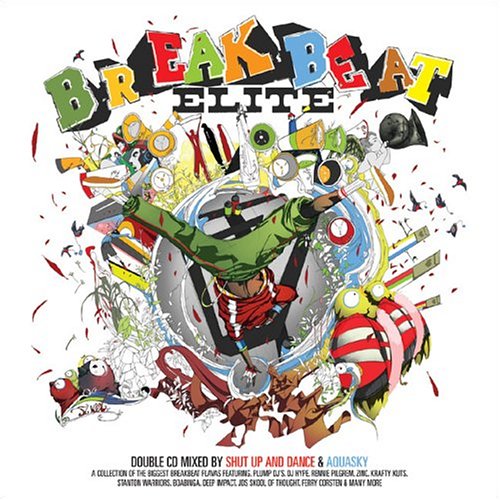 One more pic. from the 80's vaults, the boys practising Wing Chun; alas this couldn't fend off bailiffs or Marc Cohn's lawyers.....!!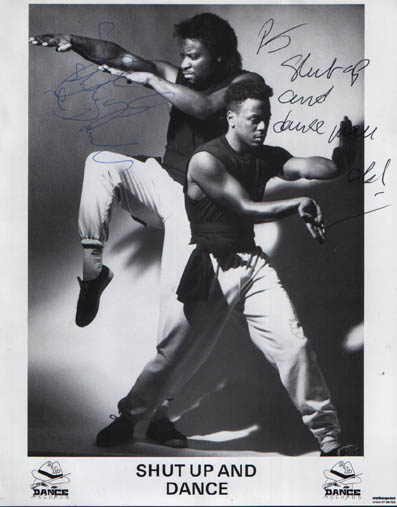 Smiley & PJ remarkably picked up the pieces after '92 and continue to prosper - larvvely!!!!
Update Magazine: Tarantino Review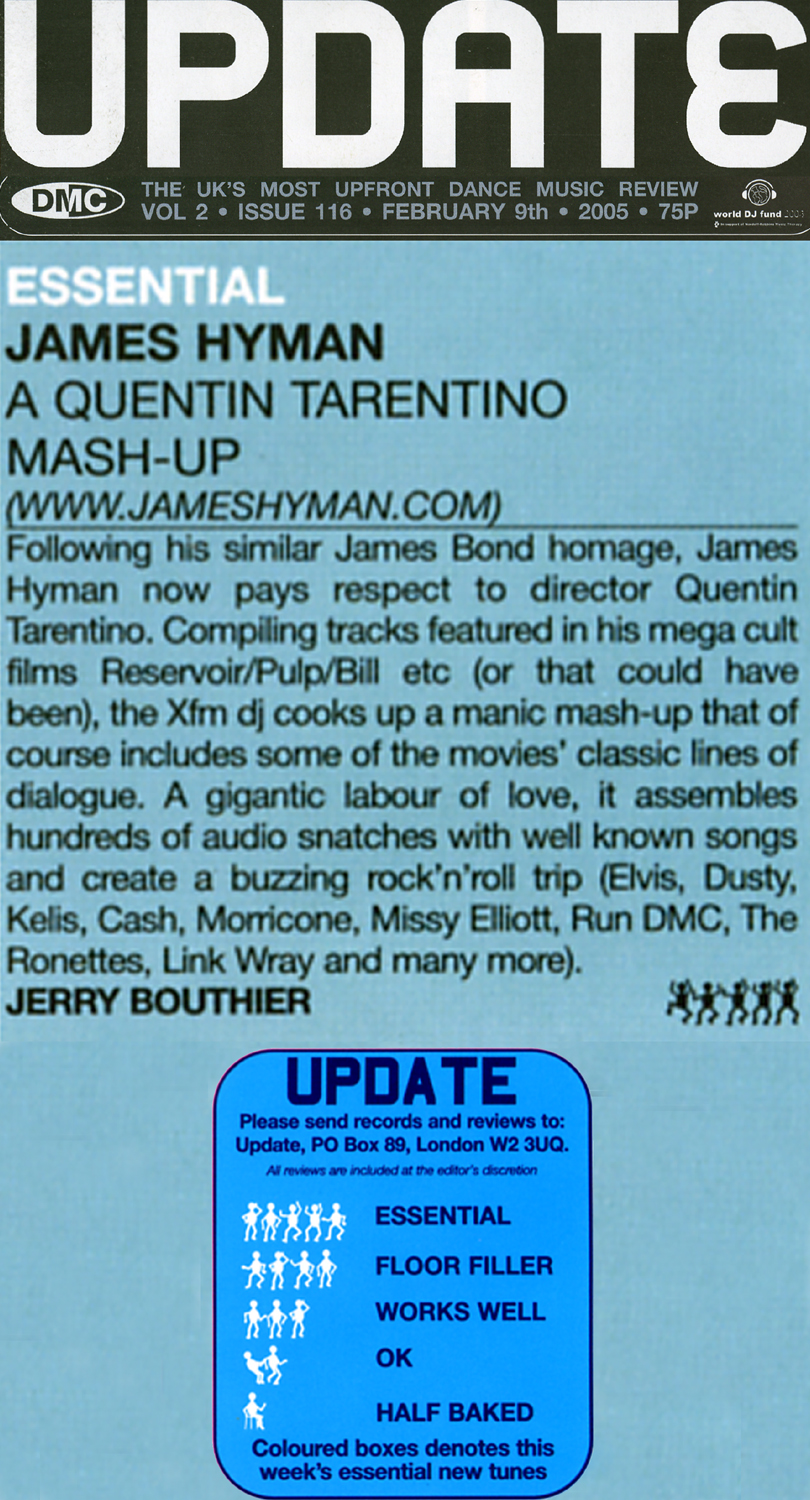 Big Up The BAFTAS!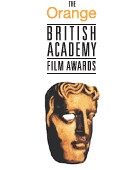 .....and Stephen Fry's tight, well-scripted presentation, cuddly Mike Leigh's split-second shock when called up to receive the 'David Lean/Best Direction' award
and the emotional excitement seeing Music & Score recognized by the Academy, thus composer ("Sing the theme toon, write the theme toon!") John Barry being given the Fellowship by Sir Richard Attenborough for an awesome body of work.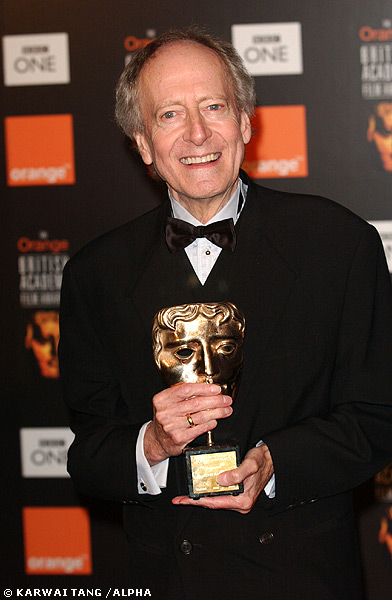 Man, just check out some of John Barry's killer scores apart from the (obvious) Bond movies!!! - Midnight Cowboy, The Persuaders, Ipcress File & Bruce Lee's 'Game Of Death' which I think he was uncreditd for; yush!
HHC In Da Place 2 Be
Ta HHC mag (March 05 issue) for 2 Tarantino Mix-CD reviews. DJ Yoda's is first & I'll be DJ-ing with Yoda, Friday 11th March at Cargo.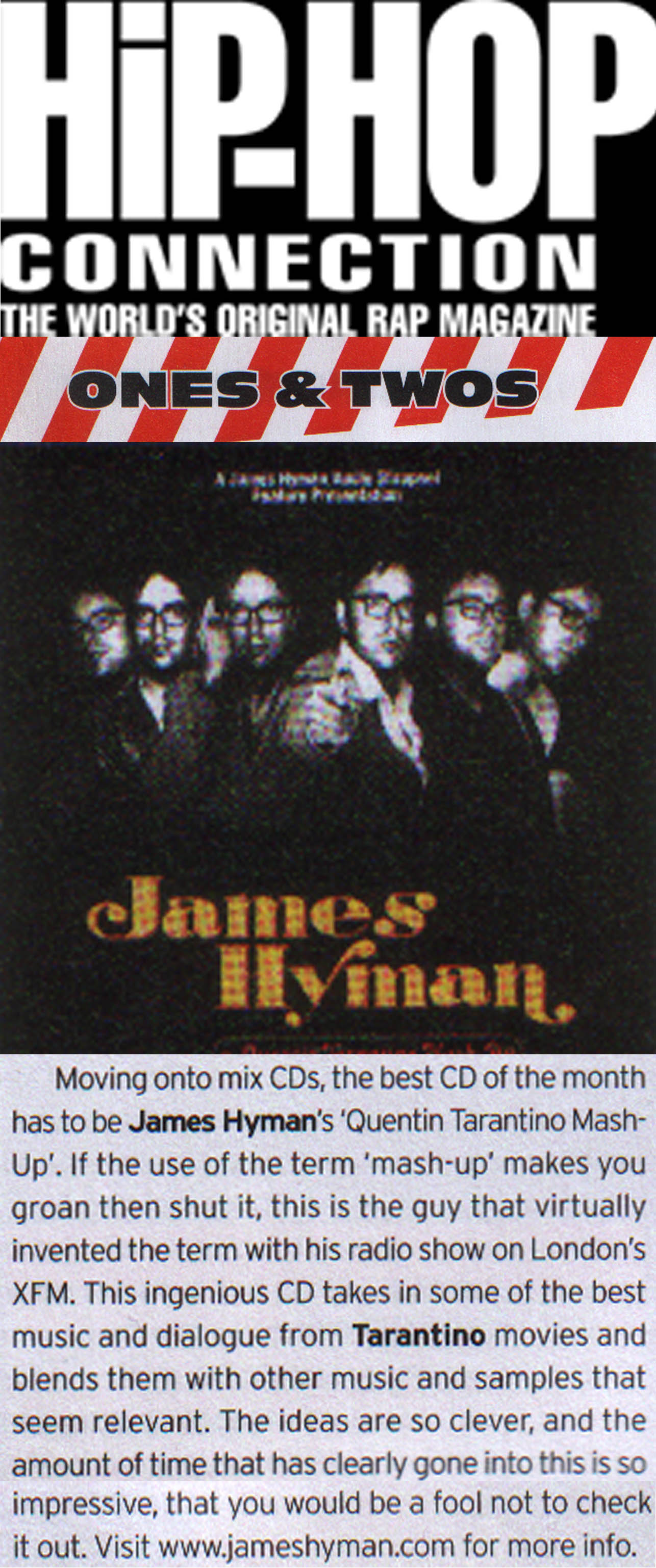 Shout out & respect to Stu Egan for 2nd review:

Thanks and good night.
The Mash-Up Is The Message
How would Marshall Mcluhan have mused on this glorious VW Golf GTI ad, not the spoof one but this, a mighty mix of all things Warp, Chris Cunningham, Aphex Twin and of course, Singing In The Rain.
Now if only the ad-heads could have squeezed in a tramp lying in the gutter a la Clockwork Orange......ya get me?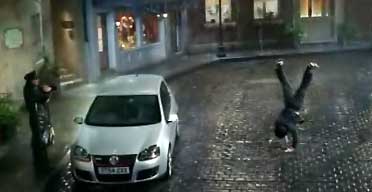 © 2005 Green Bandana Productions Ltd. Website design by
Steve Mannion.