Happy Holidays: 2005 > 2006
Alas, no time to write a 2005 Pop Culture review, though a short/snappy Top 5 for Xfm here.
Must briefly add an honourbale mention to Artic Monkeys. OK, there's been all the hype of, "Wow, band does it single-handedly on the internet" etc. and yes, some of that is correct, though MySpace etc. plus the internet as a distribution platform is by no means a sudden phenomena.
For me, it's the video for "I Bet You Look Good On The Dancefloor" with such an all round tight performance by the band. Lead singer, Alex emanates energy like an eqaully focused & fired up Paul Weller in his Jam days i.e. 'Eton Rifles' and/or 'That's Entertainment'; a hot band and obvious one to watch for 2006.
Keep Xfm as your soundtrack to seeing in the New Year with a 2-hour exclusive James Hyman/Audio Shrapnel mix featuring the aforementioned Artic Monkeys alongisde Franz Ferdinand, Gorillaz, Nirvana, Tiga, Soulwax, Kaiser Chiefs, Pendulum, Rolling Stones, Madonna, Bloc Party and even Bros (!!)
Full Mix tracklisting here and MP3 snippet here.
I bid you all a very happy holidays & best wishes for 2006, leaving you with this 'cracker' from Modern Toss: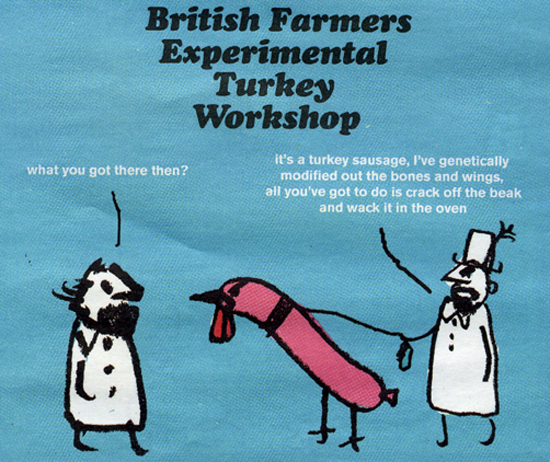 © 2005 Green Bandana Productions Ltd. Website design by
Steve Mannion.