QuickTime Collecting
"What a day, what a day", as Erykah Badu once sang (& probably still does!),
After a couple of meetings at Xfm and lunch at Mash with an ex-Apprentice, old mate James Max, for once I actually had some time to give my Oxford St. Magazine & 2nd hand record stores a right royal 'rinsing'.
Borders first to stock up on some old faves like Adbusters still going strong, grabbing me with their 'Spiritual Pollution' front cover strapline, The Believer and Entertainment Weekly's double-issue for the Oscars. Next, HMV Oxford Street - their stock is sick!
Picked up some useful cheap compilations, eyed up the new 'Tommy Boy' 12 x 'Hip-Hop Essentials' CD compilation series but declined the full-set as a couple of volumes weren't there and then, ever the completist!
The Music DVD section was of course, equally ill and I caressed many titles lovingly, reassuringly comfortable in not needing to purchase them though I topped up on 2 new issues of 'Special Ten' magazine which comes with a free 120 minute DVD of cool/cutting edge pop promos; good work! Similarly, with a healthy £9.99 price tag, I added 'Extra' to the physical not virtual basket, a DVD of 16 electronic music videos (cheaper than downloading them all to your video i-pod if you know how to or be bothered to!).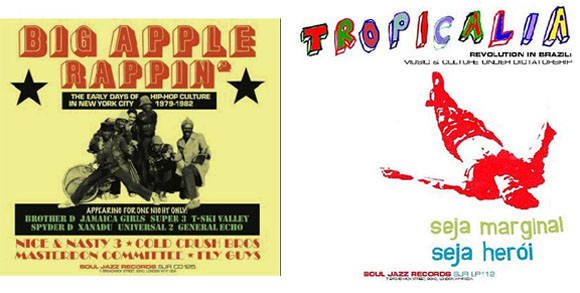 Then a fleeting visit to Broadwick Street's 'Soul Jazz', where Karen complimented me with 2 of their latest compilations "Big Apple Rappin'" & "Tropicalia".
Big Apple isn't the easiest of listening if you're no old skool hip-hop afficianado but boy is it an INVALUABLE aural document of late 70s/early 80s hip-hop culture. As ever with 'Soul Jazz' their compilations exude careful cool in the choice of cuts - 'Big Apple Rappin' boasts incredibly rare to find gems on CD (i.e. legit, no dodgy bootlegs/represses) plus slick sleevenotes in a f-f-rresh smelling 40+page booklet featuring flyers from back in the day y'all!
'Tropicalia' had literally sold out as Karen handed over the last copy, surely fuelled by recent revivals such as Os Mutantes' 'A Minha Menina' covered by The Bees for a Citroen Advert, Beck's 'Mutations' album, the more recent Barbican exhibition etc. Again 'Soul Jazz' deliver with their unique style applied to 'Tropicalia', probably the first decent compilation to bring together all the leading exponents i.e. Gilberto Gil, Jorge Ben and the aforementioned Os Mutantes. Big up the packaging & booklet, again! I'm salivating at the prospect of the up-and-coming Tom Moulton 'Soul Jazz' comp. YUSH!!! On the way out, picked up 2 regular 'free-reads', 'Pimp' (which was previously blogged in a mag round up here) and 'One Week To Live', a 7-day slice of club culture that's all good, particularly for its listings, the "where are they now" feature and good reviews including old albums just for the hell of it.
A brisk 45 second walk led me to a quick trip into Berwick Street 'Church' to pick up some 'stashed saves' including some lost 60s/70s soul on 'Let's Copp A Groove!', Negativland's 'Escape From Noise' and 'The Sounds Of Tomorrow: Mood Mosaic, Vol.9' simply bought for the 2 bow-tied geeks on the b/w patterned cover.
As I cycled back, weighed down like a 'media-mule', I bumped into George Isaac, producer of 'Kidulthood' which premieres this Wednesday in Leicester Square. I'm DJ-ing at the after show party with the usual Brmmmm STICKUM Brit-Hop suspects i.e Roots Manuva, Blak Twang, Shystie & Skitz, if you can blag your way in to the film or party, let George know, I don't even think he's got a ticket, the demand is ghetto red!!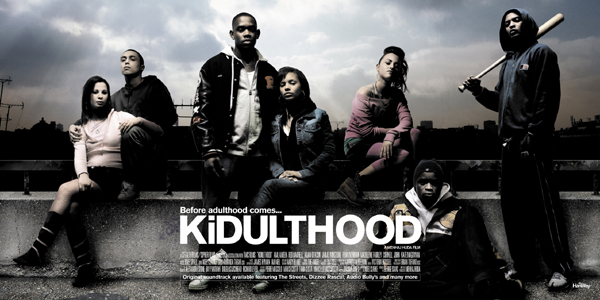 I've blogged 'Kidulthood' several times, first here, then there and back over here as well as a 2-page feature/review in this month's Hip-Hop Connection Magazine plus read the press heat from The Independent, The Sun & Telegraph and Guardian, all in all a firm reminder that the film opens this Friday and you really need to see it.
Left George to sign his all-important paperwork and headed to Camden to finish up the afternoon's 'rinsing' with my Virgin Addict card gaining some ink-stamps by purchasing '3 for 12' - (1) 'New Orleans Jazz' (you never know!), (2) 'French Café Songs' and (3) 'Big Bad Swing' plus DJ Green Lantern's 'Throwback Classics' and Madonna's 'Sorry' CD single just to hear what Green Velvet's remix sounds like. I also shook my head at the thought of buying a ten quid empty Michael Jackson 'Visionary' box, and the prospect of regularly remembering 19 weeks on the trot to fill this box with his re-issued singles, released one by one, week by week from now until May - the Elvis No.1s/Singles Box Collection was a bad enough collecting trauma!!!
Finally a quick holla to the Camden News boys, Ilesh & Bharat and it was home James. Kate's picture (above/top) captured the momentary paralysis of where to begin with all that reading, listening & viewing; but first the post, e-mails, texts, phone calls.......
DJ Date - James Hyman: "Sin" - 22.2.06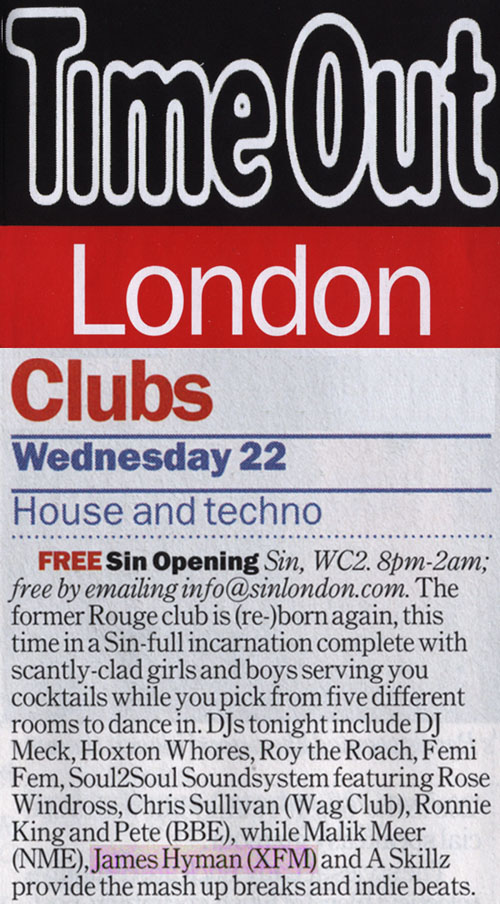 Music Supervision: Kidulthood
Kidulthood, the Movie out March 3, Soundtrack out February 27.
Hip-Hop Connection Magazine, March 06:

DJ Interview: BBARÁK
From Czech Magazine 'BBARÁK' (with translation below):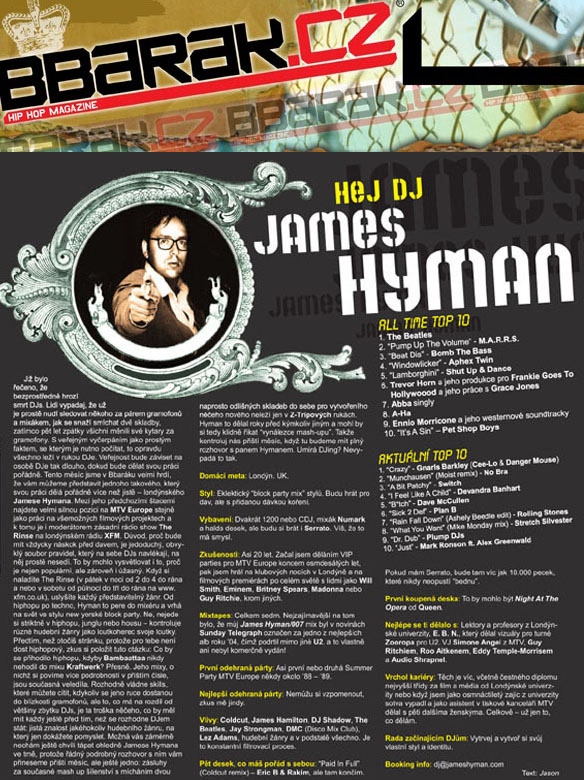 ENGLISH TRANSLATION:
It's been said the death of the DJ as we know it is imminent. People now seem bored watching somebody behind 2 decks and a mixer blending 2 songs together, whereas 5 years ago everyone's guitars were traded for turntables. With the public's jadedness becoming a factor that must be dealt with it all really lies in the hands of the DJ. The public will continue to latch on to the DJ as long as they're doing their job correctly.
This month at Bbarak, we're very proud to present a DJ who is more than definitely doing his job correctly – London's James Hyman. His past stints include a powerful position at MTV Europe and work on various film projects. Hyman is also host of the influential radio show The Rinse on London's XFM. The reason he'll always remain ahead of the crowd is because the normal set of rules DJs impose upon themselves simply don't apply to him - which could be why he manages to be not only popular, but exciting. If you tune into The Rinse (Friday night 2-4am, Saturday night 12-3am) expect to hear every genre imaginable. From hip-hop to techno Hyman puts all in a blender and heaves it upon the world block party style. No he's not strictly hip-hop, jungle, or house – he controls various musical genres as a puppeteer controls puppets.
Before you turn the page because he's not hip-hop enough try asking yourself this question: What would've happened to hip-hop if Bambatta never threw Kraftwerk in the mix? Exactly. His mixes, which we'll go into more detail next issue, are modern day masterpieces. He definitely possesses immaculate skills whenever his hands get near the decks but what he has that most DJs lack is an immaculate knowledge of every musical genre you could possibly think of. I might purposely keep you in the dark on James Hyman a little longer because we will be running an in-depth interview with him next month but I will leave you with this: The current mash-up craze of mixing two very different records to produce something new doesn't lie solely in Z-Trip's hands. Hyman was doing this years before anybody and can, arguably, call himself the inventor of the mash-up. Check back next month when we run the interview with Mr. Hyman. Is the DJ dying? It doesn't look that way.
HOME BASE:
London UK
STYLE:
Eclectic block party mix up of styles. I'll play to the crowd but with added spice.
EQUIPMENT:
Two 1200's or two CDJs, Numark mixer, loads of tunes but I'm about to take the Serrato plunge. You know it makes sense.
EXPERIENCE:
About 20 years. Started of doing VIP parties for MTV Europe in the late 80s then spun off with club nights in London and film premier parties around the world for people such as Will Smith, Eminem, Britney Spears, Madonna & Guy Ritchie among others.
MIXES:
Seven in total. The most interesting was that my James Hyman/007 mix was one of the Sunday Telegraph Newspaper's 'Best albums of 2004' beating out the likes of U2 among others and it wasn't even commercially released!
FIRST PARTY DJ-ED:
Probably MTV Europe's first or second Summer Parties around 1988-89.
BEST PARTY DJ-ED:
Can't remember. Try me another day.
MUSICAL INFLUENCES:
Coldcut, James Hamilton, DJ Shadow, The Beatles, Jay Strongman, DMC (Disco Mix Club), Lez Adams, musical genres and pretty much everything. It's a constant filter process.
5 RECORDS THAT NEVER LEAVE YOUR BOX:
"Paid In Full" (Coldcut remix) – Eric B and Rakim but I'll stop there. If I'm going with Serrato there'll be over 10,000 tunes that never leave "the box."
FIRST RECORD BOUGHT:
Could've been Queen's Night at the Opera.
FAVOURITE PEOPLE YOU'VE WORKED WITH:
London University tutors and professors, E. B. N. who did the visuals for U2's Zooropa tour, MTV VJ Simone Angel, Guy Ritchie, Roo Aitken, Eddy Temple-Morris, and Audio Shrapnel.
CAREER HIGHLIGHTS:
Several including first class honors film and media degree from London University and being fresh out of university as an eighteen year old MTV intern in the press office with five female co-workers. Overall – just doing what I'm doing.
ADVICE TO ASPIRING DJS:
Persist and develop your own style and identity.
ALL TIME TOP TEN
The Beatles
M.A.R.R.S. – "Pump Up The Volume"
Bomb the Bass – "Beat Dis"
Aphex Twin – "Windowlicker"
Shut Up & Dance – "Lamborghini"
Trevor Horn production for Frankie Goes to Hollywoood
and his work with Grace Jones
Abba singles
A-ha
Ennio Morricone (Western) film scores
CURRENT TOP TEN:
Gnarls Barkley (Cee-Lo and Danger Mouse) – "Crazy"
No Bra "Munchausen"
Switch "A Bit Patchy"
Devandra Banhart "I Feel Like a Child"
Dave McCullen "B*tch"
Plan B "Sick 2 Def"
Rolling Stones – "Rain Fall Down" (Ashely Beedle edit)
Stretch Silvester – "What You Want" (Mike Monday mix)
Plump DJs – "Dr. Dub"
Mark Ronson feat. Alex Greenwald "Just"
BOOKING CONTACT:
dj@jameshyman.com
HHC - Mix-CD [Review]
Hip-Hop Connection Magazine, March 06: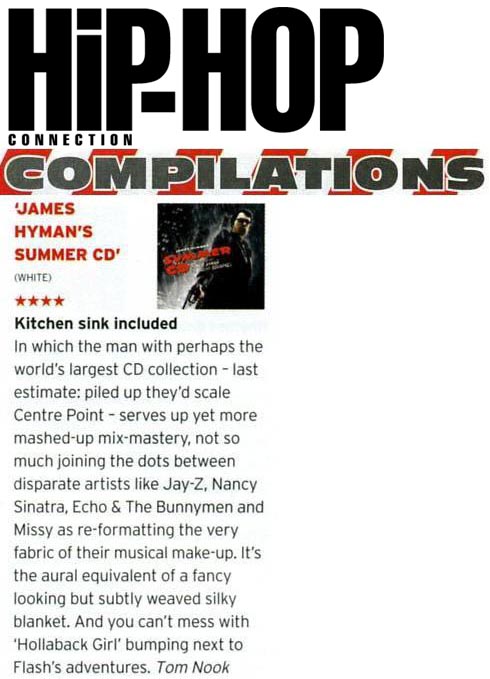 Valentines Gay
New Yorker [Feb. 13 & 20, 2006]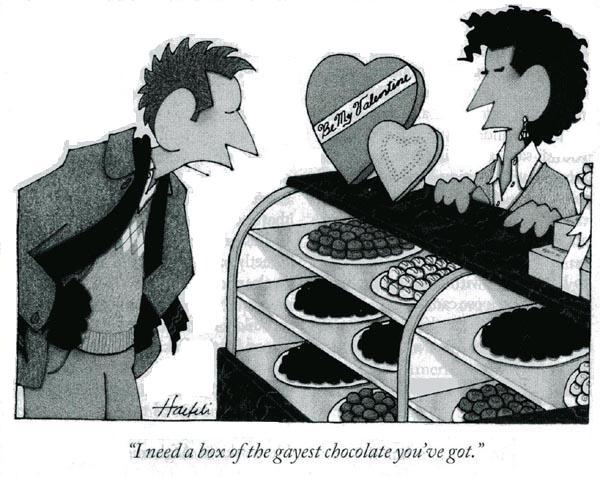 Weekend Rush - Barcelona: 10 Feb.
COMING SHORTLY
DJ Date - James Hyman
This Friday, James Hyman back at Barcelona's Razz.

Golden Palace
....just rock the spot with their Media-Midas touch; every ebay auction that's wacky/quirky/mad/downright daft, they win da final bid.

GoldenPalace first caught my attention when they won the "Virgin Mary image in toasted cheese sandwich" (!) Then there was their purchase of ebay's first ghost (!!), Britney Spears' Pregnancy Test and Pope Benedict XVI's previously-owned VW Golf (!!!)
Not forgetting their 'Human Media Coverage' i.e. buying advertising space on flesh like this guy's forehead or this female goth's breasts & this woman's even bigger boobs (!!!!).
Recently Star Trek legend, William Shatner (did he?) auctioned his kidney stone, yes, they got it. And as I finish this entry, they've just snapped up the whale can used to help the poor whale who sadly died swimming around London's House Of Commons -a mad auction with bids rocketing to over £100,000, alas most of those fake so another victory for GoldenPalace at around 2% of the previous high bids.
Zen Feedback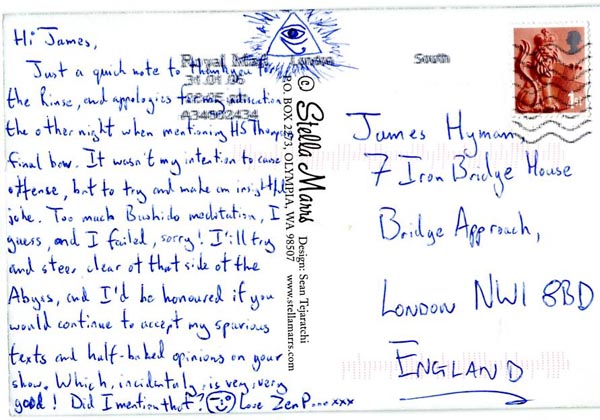 -----Original Message-----
From: James Hyman
Sent: 01 February 2006 22:21
To: Zen P
Subject: Your postcard etc.
Hi Zen,
Thanks so much for the postcard, very kind of you, hope you don't mind me blogging it in a 'Found' Magazine stylee.
Anyway, just to say, certainly wasn't offended by your Hunter S comments in any way at all. I guess often, when zipping thru texts/e-mails on-air the wrong tone could be interpreted. You seriously come across as one of the most smartest Rinse listeners e.g. with your recent comments about 'Celebrity Culture', so again, not offended, everyone has their point of view and when it's intelligent, even better.
Hunter S was certainly the don, I just feel his 'suicide' and any suicide for that matter is such a waste of a life though possibly in some circumstances it simply cannot be helped/avoided.
All the best
King Of Art Journalism?
Who? Moi?
-----Original Message-----
From: Sergio Mendez
Sent: 31 January 2006 22:21
To: James Hyman
To the attention of Sir Hyman.
Sir, i have been "scotched" by a tv show i have seen while i was traveling few weeks ago. the show was "art safari" with a specific interview you made of the wired gregor schneider.
if i can i will record this show in my personal videotheque as it was one of the most strange interview i have ever seen.
i am glad internet give me the option to see more of your production.
Toutes mes félicitations et bonnes continuations.
SERGIO A FOREIGN TV WATCHER
----- Original Message -----
From: James Hyman
To: Sergio
Sent: Tuesday, January 31, 2006 11:24 PM
Merci Sergio,
Peut-etre c'est un erreur?, I don't remember doing this interview???!!!!
James
-----Original Message-----
From: Sergio Mendez
Sent: 01 February 2006 21:22
To: James Hyman
Damned you are right James!
The interview i refered to was made by Ben Lewis and i thought you were the interviewer! in fact i saw the show late at nite during a short trip. I went back and promised myself to search more info regarding this TV show.
i found the info on the BBC website but did not kept memory of the journalist's name (ben lewis indeed)
few days ago i was searching pictures on the web to use this for my "blog"
and introduce an article about a street painter. i found the one with the dead horse on the ceilling and was convinced you were the journalist from
the BBC show called "art safari".
Then yesterday looking for fresh video on the web i found your video clip
about tate gallery (dead horse on the ceilling again) Your clip was good food for my friends audience so i have linked your clip to my website and when i found the option to send an email i have tried.
Sorry for making this mistake of taking you for someone else.
I don't know how famous you are yet but your job sounds great from what i
have seen on the website.
Attached is just few of my blog articles linked to you, i could remove it or correct it, but i think it would be cool to keep it this way as intErnet is not only made of truth. From a second degree viewpoint i guess this should be funny to be promoted in such words on the web by someone making a confusion.
http://onemanshow.over-blog.com/article-1739618.html
http://onemanshow.over-blog.com/article-1661869.html
to access the blog main entrance http://onemanshow.over-blog.com/
to access archives of the blog here-below http://onemanshow.over-blog.com/liste-article-blog.php
Ben lewis pictures (don't worry you don't look like each other except that
you both have dark glasses) http://www.bbc.co.uk/bbcfour/documentaries/features/art-safari3.shtml
Cheers and happy chinese new year.
-----Original Message-----
From: James Hyman
Sent: 01 February 2006 21:32
To: Sergio Mendez
No prolem Sergio, I understand the confusion. Strangely enough I used to work with Ben Lewis at MTV + there is another 'james hyman' who is an art dealer (!). Thanks for the links, I'll link back to you via this blog entry.
All the best
© 2005 Green Bandana Productions Ltd. Website design by
Steve Mannion.