Big up Simone!
I still get e-mails & notice loads of MTV/Party Zone fans writing on message boards, asking what happened to VJ Simone Angel.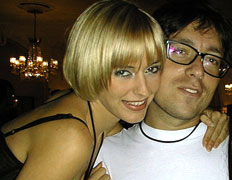 Back in those halcyon MTV days, we became the Batman & Robin of rave/club culture, a dynamic duo on a mission to document & broadcast everything in 'dance' music; from Berlin Love Parades, DMC World Mixing Championships in Italy & New York to techno music scenes in Japan, Detroit and even the North Pole etc.
Most of this globe-trotting would revolve around the first full-length TV interview with everyone, and I mean EVERYONE on the circuit, established or up-and-coming - Moby, Goldie, Prodigy, Chemical Brothers, David Holmes, Paul Oakenfold, Orbital, Aphex Twin + about 800 others - I'll list them all here someday!!
In 2000, we both went our seperate ways - so what is the beautiful 'Angel' doing?
Andy, Simone & gorgeous baby Lucas own and run an idyllic resort in Belize offering adventure holidays & spiritual retreats.
We stay in touch, in fact this blog was sparked after we just spoke. Any plans for Simone's return to mad media land? "Not for now, I'm too busy being a mum!!", her cheeky infamous giggle echoeing down the phone.
Check Simone's awesome, hilarious blog and trust me, get your asses down there for a relaxing holiday; I'm planning to right now!!!

Posted on
September 28, 2004
at
03:17 PM
© 2005 Green Bandana Productions Ltd. Website design by
Steve Mannion.