Too Black, Too Strong?
....or Back In Black? Anyway, some fuss after Kate Moss graced last Thursday's Independent for their special Africa issue with the Guardian's 'Blacking Up' piece an interesting read . Colors Magazine did it much better years back around Winter 1992 with their 4th issue, 'Race' - a 'What if' racially morphed photo-spread, where if I remember correctly Gov. Arnie & Queen Elizabeth were black, Pope John Paul II - Asian (!), Spike Lee, white (!!) and Michael Jackson kind of Nordic/Scandinavian (!!!)
Big up Tibor Kalman's posthumous c*ck and I guess if we're talking Kate Moss, big up Pete Doherty's too (which I guess is almost posthumous!)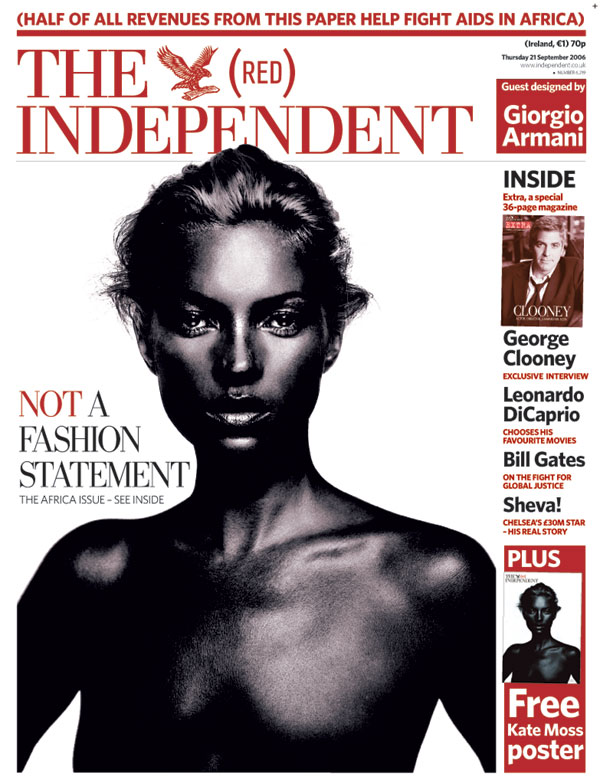 Posted on
September 26, 2006
at
02:29 PM
Do You Feel Fine?
Monday morning, listening to Billy Wright's "Live The Life" on a rocking Rev-Ola CD compilation, "Rock-Ola Vol.1" and harmoniously, I stumble across "We Feel Fine". Reminds me a bit of "PostSecret", anyway, check 'n' click, it's superb, simple, slick 'n' sexy:
Posted on
September 25, 2006
at
10:16 AM
© 2005 Green Bandana Productions Ltd. Website design by
Steve Mannion.