Barcelona: Digital 2.0 > Sonar 08 > Club NME @ Razzmatazz

Back from a few days in the most european pop-cultured city, Barcelona. First, guest speaking duties at the "Digital 2.0" conference where the panel "Amateur vs Professional?" was podcasted superbly & swiftly by Karen P and literally uploaded to i-tunes the second we all finished our thoughts about how digital technology is affecting quality in music. "Digital 2.0" was excellent - plenty of, smart, switched on people in the house, like 'Media Futurist', Gerd Leonhard.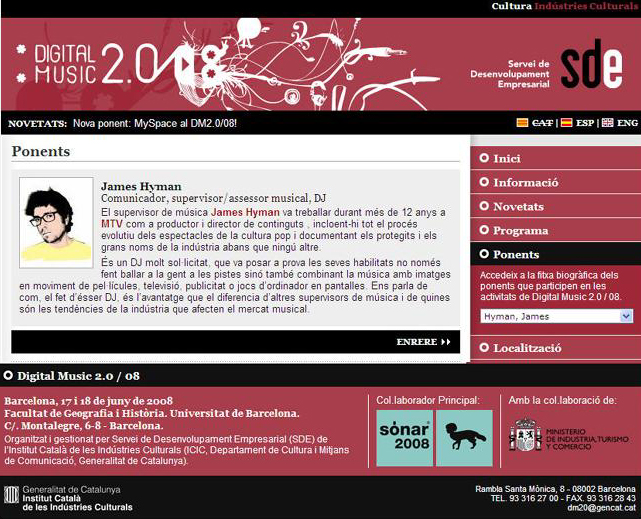 After an interview by Loops for TV3 about being a 'Music Supervisor', it was dinner at Matamala - a 'taste-hit' extravaganza with some quick wine-tasting that focused on just how important the shape/size of glass is to the palate. Then, a tantamount of top tapas followed by a post-dinner stroll down "La Rambla".

Much of Thursday spent @ Sonar 08, checking out the likes of XXTeens, the ZX Spectrum Orchestra and a saunter round the 'Record Fair'.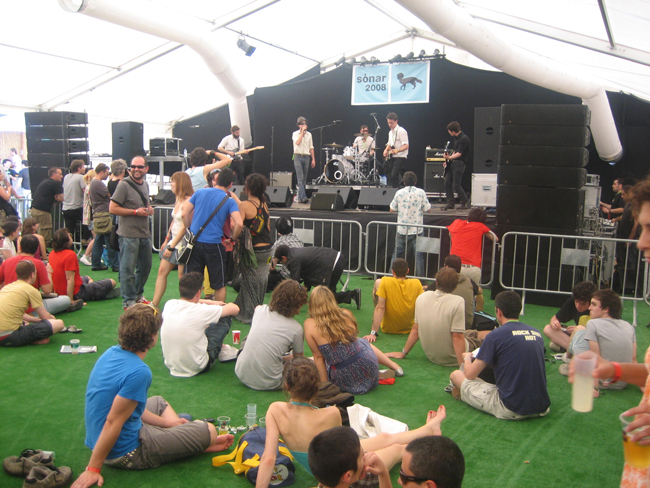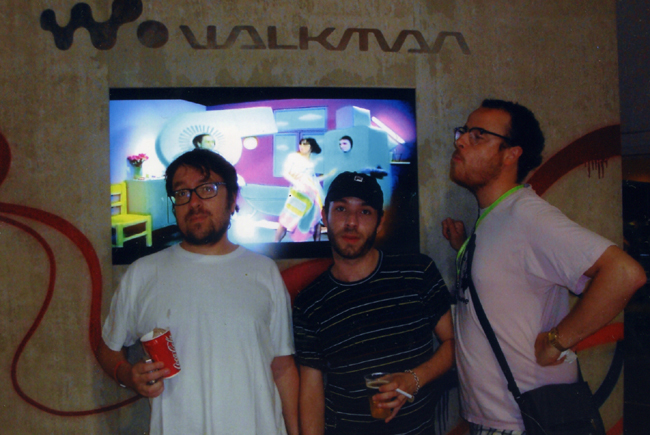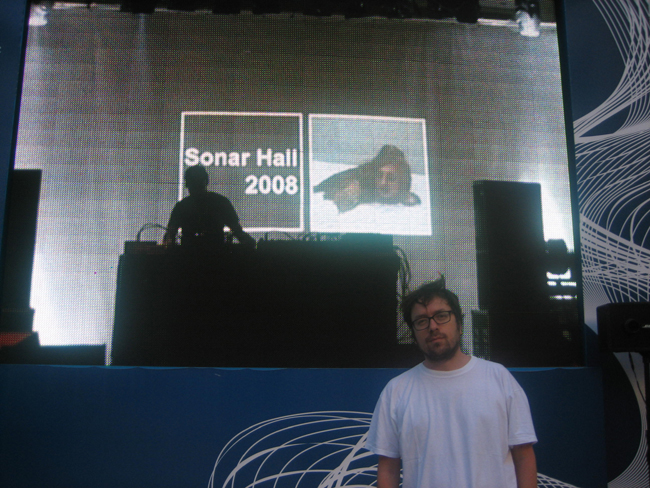 Late night, checked out Felix Da Housecat, flipping Club Razz into a frenzy with pounding hard jackin' electro and occasional swift sermons to the crowd reflecting his dark sounds:
"Mr. Lightman, turn down the lights, I'm fed up of playing pretty, I want it black coz I play underground."
"We ain't trying to be pretty, we be underground"

Friday DJ-ed in Razzamatazz's 'Pop' Bar right after Florence & The Machine played live. Florence went absolutely and scarily nuts when I dropped tracks from Klaxons & Ting Tings.
Managed to catch some of Sven Vath's superb set, reminiscent of 'Dorian Gray' in more ways than one. 'Dorian Gray' was not only the name of the early 80s legendary Frankfurt club where Sven spun, but also that classic Oscar Wilde novel in which Dorian Gray appears to never age. That same could be said for hedonistic Sven, whom I hadn't seen since around 1994 when I produced an MTV Dance show with him, presented by Davina McCall (!) who was filling in for Simone Angel that week. What also hadn't aged was Sven's approach to DJ-ing, whilst practically every other DJ has felt the urge to upgrade to a combination of CD-mixing, Serato, laptop etc., here was die Deutscher DJ don still simply spinning good old vinyl; an absolute testament to the techno-meister's skill since the crowd were loving it, showing that one of, if not, the most important skill to DJ-ing will always be playing the right music at the right time, your equipment is just a tool.
(Pictured below: James Hyman & Sven Vath @ Razzmatazz, 19 June 08)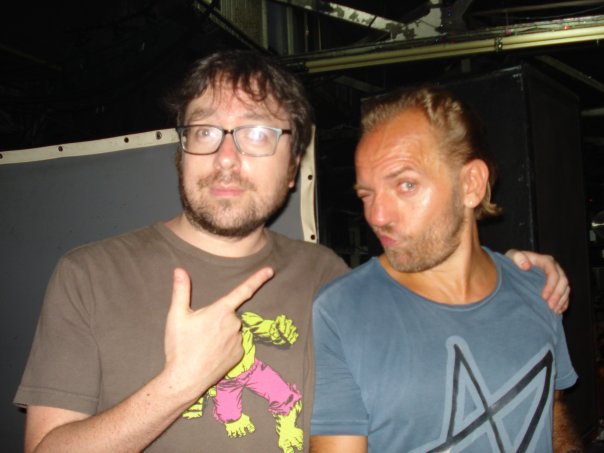 Flight back semi-early the next day in the company of Kissy Sell Out & Yo-Yo duo (Leo & Seb), I left BCN, missing solid stellar Saturday line-ups at Sonar 08 that included Yazoo and Madness, yes they call it Madness!!! plus Jarvis Cocker, Dave Clarke and Calvin Harris all rocking the Razz!!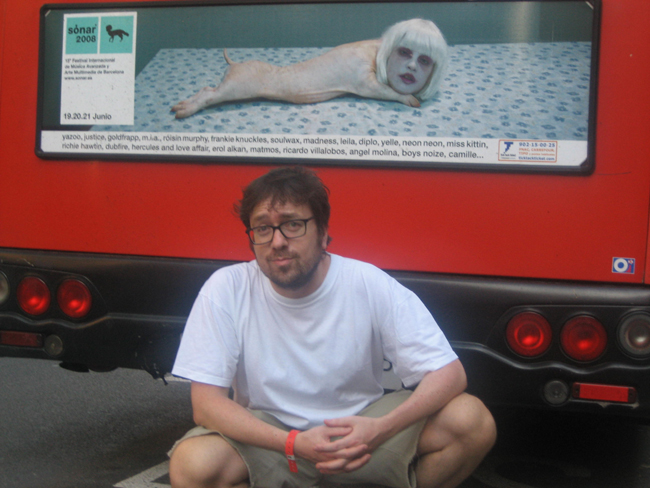 Promotional - Not For Sale or Jail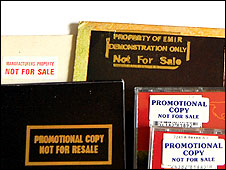 VERY interesting outcome to the case of UMG (Universal) vs Troy Augusto.
I do believe that record companies were inconsistent & ultimately wrong here; possibly desperate greed in the current climate of declining physical (CD) music sales. In the UK, 2nd hand shops like 'Music & Video Exchange' (aka 'Church') and 'Eil' have been selling 'promotional' items for decades with, as far as I know, no major probems and all 'kosher'.
Another famous 2nd hand record shop 'Beanos' has had problems selling 'promos' on ebay yet it only seemed to be problematic with 'newer' items.
In the early 90s, auction house Sotheby's had on the front of their rare record catalogue a 7" of the Beatles "Love Me Do", marked 'promotional copy, not for resale' and it went for £15,000.
The owner of Beanos, David Lashmar suggested to the Mechanical Copyright Protection Society (MCPS) that they might like to go back to Sotheby's and ask for the money back, because this is still subject to the same rules that modern promotional items are.
This 'grey area' of what you can/can't sell has been fascinating - ebay tend to sit on the fence and suspend sellers when a VERO member notifies ebay that certain items should not be sold as they are promotional.
I could bang about this for ages, having 'Churched' for years, witnessing the 'promotional item' market but wrapping things up, imagine if you applied the record company's 'not for resale' attitude to, say, restaurants/snack bars: "Sorry mate, you can't let anyone else have a bite of your sandwich" or "If you buy those eggs, only you can use/eat them and you can't take them out of this store." etc.
In short, yes, making illegal CD/DVD copies, illegally uploading, illegally file-sharing etc. is, er, illegal but what is wrong in legally re-selling an item you no longer want (i.e. book/DVD/CD etc)? As the EFF claimed and US District Court Judge S James Otero ruled, the doctrine of "First Sale" in copyright law has been upheld - i.e. once a copyright owner gives away a copy of a CD, DVD or book, the recipient is entitled to sell it on.
Will be interesting to see how this affects UK/Europe......
James Hyman DJ Date: Club NME
Friday 20 June @ Razzmatazz, Barcelona.
More info (line-up, map etc.) here.

© 2005 Green Bandana Productions Ltd. Website design by
Steve Mannion.