TDK Festival 28.8.05

Didn't make it to Saturday but Sunday's shenanigans were a blast. Arrived around 6:30PM to host Canvas 3 with a DJ set from 7-8:30PM, then short spins in between acts that included Mocky's great freestyle funk, way out wiggy weirdness from X-Lover (below) & awesome french-tronica from Vitalic whose 'Le Rock 01' caused volcanic crowd noise when dropped by Felix Da Housecat, main stage.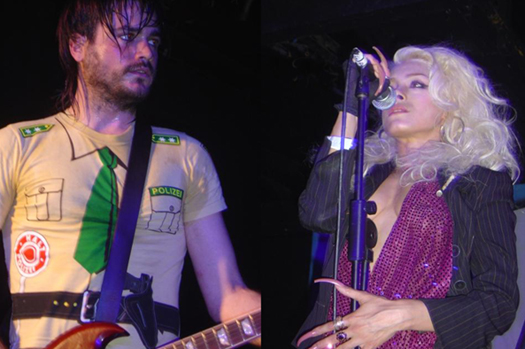 Popped out in between to meet some regular Rinse listeners like Maitresse Marlene, Geoff C & Amina and caught Soul II Soul on the main stage blending mash-ups with live vocalists like Rose Windross; good bank holiday vibe!
To quote Steinski's 'Lesson 1', "Now we come to the payoff", 11:25PM-ish, the reason why everyone was pretty much at TDK/King's Cross - ladies & gentlemen, Miss Grace Jones. What a woman!!! She growled and purred thru all her hits, got Security to carry her from stage left to right/right to left and in the audience/front row, ending with a new track, if I remember correctly called 'Funky 4' (?) which the crowd picked up on and chanted back in seconds.
After chatting quickly to Sway (above), (his 'This Is My Promo' mix-CDs are serious street heat & Sway's THE next big UK rap ting, no diggy!), went backstage and bumped into Chris Cunningham (below). If you're new to this guy, please educate yourself now with his deep/dark DVD doozies, 'Rubber Johnny' & 'Directors DVD'. (I've waxed lyrical on Chris's triumphant talent before here.)
In her festi-van, we hung out with Grace who calmly lifted up my glasses, ensnaring me with a soft steel glaze, and asked if I'd being doing ecstacy (!) then, as she poured me a glass of champagne, cautioned me about being careful with drink. Those who know me well, know I so don't drink or do drugs; maybe my dilated pupils were from being in the presence of such a tigress!!!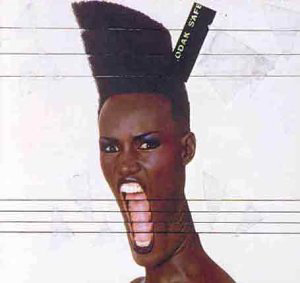 Anyway, no Russell Harty moment, just cool chat and I told Grace to hurry up with a DVD of her work and bring on the Cunningham/Jones visual collab!! Grace still looks strikingly beautiful, such a mutli-talented 80s icon and real celebrity unlike so many manufactured stars. She had, and still has the look and such style. Man, big up her body of work - music with producers like Trevor Horn & Sly & Robbie, those killer pop vids, album covers and overall original look from Jean-Paul Goude (would I love to see a 'Directors DVD' from him!!!! Can't WAIT for the next batch in this magnificent series, hold tight, soon come - Jonathan Glazer, Anton Corbijn, Mark Romanek & Stephane Sednaoui). Where were we? Oh yes, Grace Jones, her film roles as a Bond Girl in 'View To A Kill', Zula alongside guvnor Arnie in 'Conan The Barbarian' and an effortlessy acted yet captivating vampire, Katrina in 'Vamp'. The only other females I can think of who exude such powerful, provocative performances are Bjork and Madonna. All 3 are super-stylin' femme-Pop-Culture right across all media.
Grace is working low-key on a new album and promised me an in-depth interview for 'The Rinse' next week, so keep it locked!!!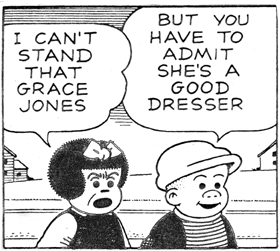 W.O.T.W. & Kidulthood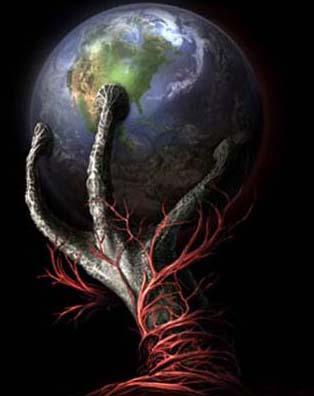 2 films today that couldn't be more diametrically opposed - both enthralling. First, 'War Of The Worlds' with its staggering $-million effects, A-list actor Tom Cruise and Spielberg's alienation theme again not just in sci-fi terms but isolated/dysfunctional family/parenting (compare E.T. & Close Encounters). I loved how the world's most successful/famous director turned this super-studio/Hollywood Blockbuster into a fairly unpredictable, dark, bleak cinematic spiral as towering tripods mercilessly took over the world. Suprised by its 12A rating - certain scenes and the overall gloom were hardly smiley-happy Disney though I felt the same watching Lord Of The Rings; those wraiths & Orcs were strictly darkcore. When I was a yoot (!), Predator was rated 18 with only 1 monster, not like the swarms in L.O.T.R.!!
Anyway, Ian & I dashed round the corner from seeing War Of The Worlds @ Odeon Leicester Square to Empire Leicester Square for a 'Kidulthood' industry screening. Cue the extreme contrast, a first time features director, no rich special effects, seriously low budget indie-production (Cruise's monthly hotel bill could have been 'Kidulthood's' total costs!), pretty much unknown actors but F*CK!!! the tight energy on screen and audience's reaction? More electric than the very lightning bolts from those 'War Of The Worlds' tripods. The edgy, provocative flexings on film touched a raw nerve in everyone, who gasped, laughed, and winced in unison, loudly.
Kidulthood incredibly captures a shocking snapshot of an ugly UK urban underbelly; this film will easily join the cult iconic ranks of Quadrophenia, City Of G-d, Lock Stock, even Pulp Fiction; it really is that good, Yes, life imitated art here as this film slapped me hard in the face!!

Muzikizum
I can't remember the last time I ever put on an album and just sat back, listening, without 4 pairs of ears on:- "Is this (track) good for a film?", "How about an advert?", "What about my radio show" or "This'll be killer in a club." If hobby = business and the workaholic in you can't switch off, that's when music's in the blood.
Occasionally, I'll hammer a banger on repeat play/ad nauseam like this one from Clinton Sparks, or have the random shuffle ting going on the Windows Media Player, enjoying what's thrown at me, though at the back of the brain, there's nearly always the thought of where and how to get those sounds 'synced' somewhere.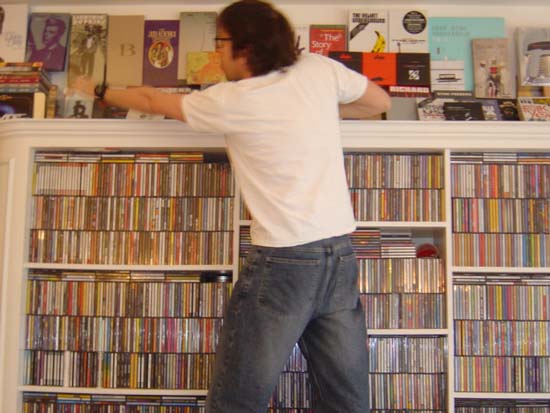 Particularly with the radio show, I'll listen to an album, then slap a Post-it on the CD with noteworthy tracks to play. Rarely does an album of average 14 tracks get more than about 4-5 possibles to play. Recent exceptions pretty much getting ALL tracks as firm thumbs-up are:
Kanye West's 'Late Registration' (the guy maybe arrogant as f*ck but it's backed up on his follow up to 'The College Drop-Out'; can't wait 'till graduation.....!!)
Then 'Verve Unmixed 3', lush class toons from the likes of Nina Simone, Billy Holiday, Sarah Vaughan & Shirley Horn. Don't get duped by 'Verve Remixed 3', I found the 2005 make-overs gratuitous; make way for the originals!!
Scorsese's 'Raging Bull' soundtrack took over 20 years to make it to the CD player; Why? Rights/clearance issues? Slackness? Bootross? Who knows - whatever, well worth the wait - a double-CD of diamond doozies - everything from The Ink Spots 'Whispering Grass', Gene Krupa's 'Drum Boogie', Nat King Cole's 'Mona Lisa' and Bobby De Niro himself doing stand up from the film for, 'That's Entertainment'. By the way, get the fresh Region 1 of 'Raging Bull' with Marty commentary presshah!!
Finally, Pet Shop Boys going under surnames, Tennant/Lowe for their re-scoring of 'Battleship Potemkin' (from last year's Trafalgar Square event where they played the score to a screening of Eisnestein's film surrounded by a crowd of 40,000, Nelson's Column and 'nuff pigeon poo!). CD nearly got full marks on the little yellow sticky, taking time to warm up with 'Night Falls', classic PSB's.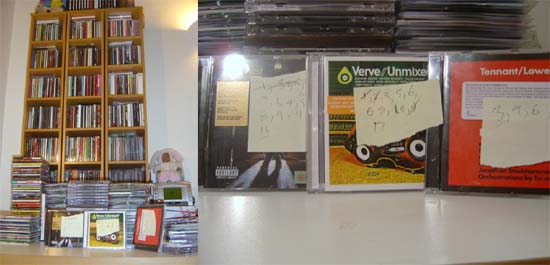 The Post-it note system for Rinse Radio seems to reflect for one obvious reason why i-Tunes has so rinsed it, recently surpassing 500 million downloads in about 2 years!!!!! It's the old addage of countless product released with no real quality control. However much you like an artist or the look of a certain compilation, how often is every track a winner with no filler? - Rare as steak tartare. So obvious when you think about it - at a restaurant, when ordering that steak, are you forced to eat......oh you get the picture, needn't spell it out - when you can pick & choose what you want rather than have it forced on you, it's another natural piece of media-evolutionary Darwinism.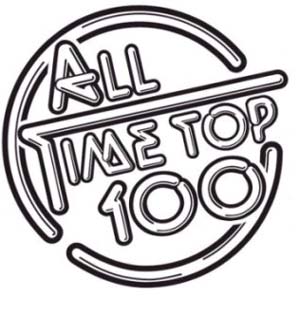 Now I'm really looking forward to playing 'All Time Top 100' in October. The night reminds me a bit of the '6Ft. Stereo' night where punters were given 15 minutes of fame to spin what they liked, the motto of 'Top Tunes, Shite Mixing' was hilariously spot on!. So, 'All Time Top 100', can't wait. What can you expect to hear? Well, it'd be a crime if I didn't drop some Beatles and a song so close to my heart it hurts......A-Ha's 'Sun Always Shines On TV'; maybe on repeat play/REWIND!!!
If a film or doc's ever made about my life, that's the opening and/or closing credits - one of the f*cking best pop records ever made, in my, er opinion. Hope to see you down there.
Weekend Rush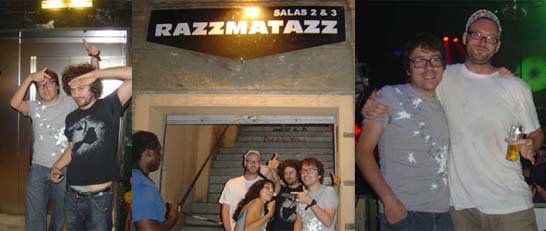 Another quick Barcelona trip for some dj-ing @ Razzmatazz with Craig along for the ride (Jamie, it's time....!) Chatting non-stop pop-culture on our BA flight, we were also 'tourettes' from take-off, clocking the air route map with place names to assimiliate with music 'spots' e.g. Rouen (Supergrass 'Road To Rouen'), Barcelona (Freddie Mercury & Monserrat Caballe 'Barcelona', Kano (Kano the artist himself etc. etc.).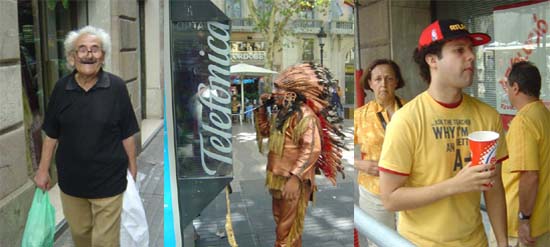 Rambling down Las Ramblas, people watching, our running commentary flipped from coded Punternet lingo, aimed at them girlie girlie to snappy 'Do's & Dont's' style a la Vice Magazine/Book; we thought of doing our own global 'Do's + Dont's' (picture examples punctuating this blog showing off our yay/nay street critique of Barcelona's Las Ramblas.)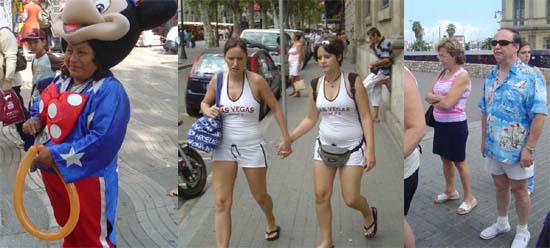 Simultaneously reading about 3 books, - 'Easy Riders, Raging Bulls', 'Status Anxiety' (de Botton, bang on it!!) & Bill Gates 'The Road Ahead'.

DJ-ing was as fun as ever, the Razz Massive Org. ensured strictly-pro, perfect, smooth runnings with the cheery crowd larging it to some of my main-room club bangers like Dr. Pressure, Bloc Party & Pendulum's 'Voodoo People' Prodigy MUTHA-F*CKING REMIX!!! whilst Psychonauts Pab & Paul took care of bizness upstairs, Bugged Out! flava. Oh & that vision mixing VJ (would love to meet him!) was so on it again, in time/tune with what I was playing - he'd match the visuals to the music in split-seconds - to the level that when I played a mash-up of White Stripes '7 Nation Army' & Rolling Stones 'Satisfaction', he had cued the White Stripes pop video with shots of all the Stones - boo yahh!!!!!

Wrapping it up now in this 'EasyInternet Cafe' as we both check e-mails, inspired to do this quick blog now, having checked Silent Bob's Blog - LEAN BACK!!!!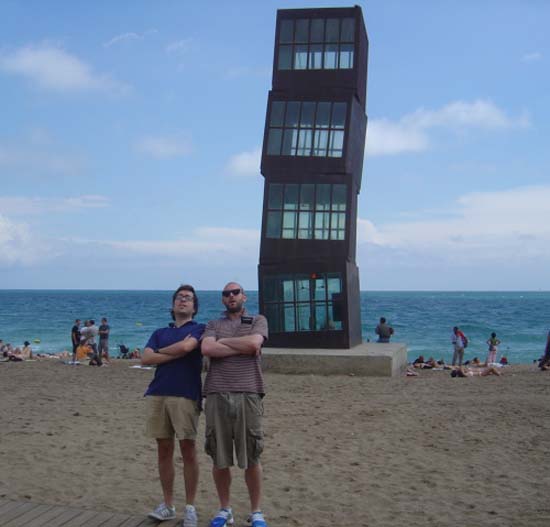 Crash - Bang Zoom!
Caught 'Crash' on the big screen at the weekend with the Fluff, Goat & Kate. It's had loads of thumbs-up reviews and I still enjoyed it a lot even though the whole multi-characters linked to one event/theme formula was far grittier and original in Amores Perros as well as Robert Altman's 'Short Cuts' and of course 'Pulp Fiction', even 'Go' too. 'Crash' has more twists than a champion slalom ski-er & King Cobra on heat; truss!
Crash's connection theme is racism in L.A. - Ludacris, Matt Dillon & lesser known Michael Pena (not so lesser known if you're a 'Shield' fan), act superbly with racial tensions boiling hot at times reminding me of 'Do The Right Thing', maybe because I just finished reading Spike Lee's 'That's My Story And I'm Sticking To It' (Superb book which I'll blog about soon, time permitting).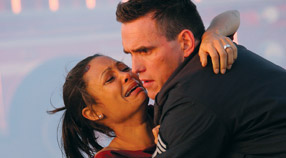 The 2004 Crash flick was apparently asked to change its name due to possible confusion with David Cronenberg's 1996 film 'Crash' though the name stuck possibly because there have been about 7 other films called 'Crash' before Cronenberg's 'Crash' - aiittt??!!! In my review of the film, the 2005 'Crash' does reflect Cronenberg's 'Crash' with regard to the latter's subject of twisted car accidents - you'll find it hard not to watch and won't dwell on it too much but it'll make a mark for real.
Not sure about the Stereophonics 'Maybe Tomorrow' as closing credits, it reminded me of a show jingle for Jezza's problem phone-in radio show on Virgin before he got picked up by C-c-c-c-apital. I love Jezza's show but that Stereophonics jingle and tune has been over-rinsed!!
Mark Isham's score for Crash (2005) seriously boosts the film's emotions and moods considerably, so props and double props for Mark himself, bigging up his 'Crash' score on Amazon.
Rinsing with Russell Simmons & Rev Run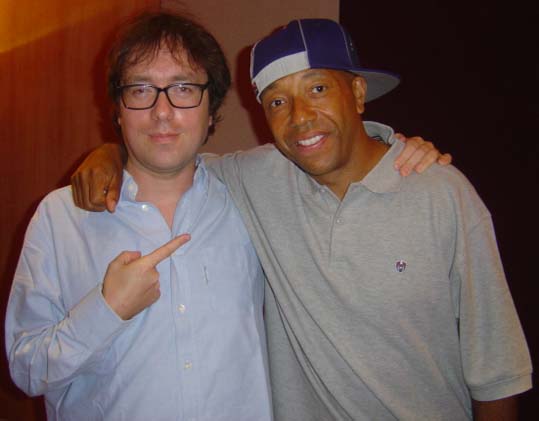 Russell Simmons. Without him, hip-hop & rap music would be a totally different story; course Russell (above right) didn't invent it but boy did he light the fuse.
The Def Jam founder signed numerous mainstream multi-million selling artists, most of whom, 2 decades on are still firmly in the game:- Beastie Boys, Run DMC, LL Cool J, Public Enemy etc.
As the first super rap-mogul, Rush was Godfather to Damon Dash, Jay-Z, Puff Daddy with a global golden touch that travelled far further than simply signing the above artists. Far from it, RS turned hip-hop into a blingin' billion dollar industry with his Def Jam conglomerate that included the record label (Def Jam), management company (Rush Artist Management), clothing (Phat Farm), movie production house (Def Pictures), TV shows ("Def Comedy Jam" and "Russell Simmons' Oneworld Music Beat"), a magazine (Oneworld) and advertising agency (Rush Media Co.)
James Hyman caught up with Russell recently and his brother Rev Run (below right), from the rev-erred (!) Run DMC with the release of the new Rev Run album 'Distortion', Rev's new MTV reality show, 'Run's House' and launch of Russell's 'RSMG' record label. Catch the words & music on Xfm's 'Rinse', 17 September between 12AM-3AM.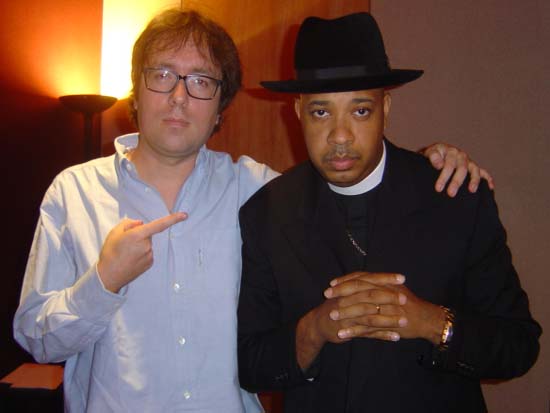 Collectorz.Com

So after much deliberating with Kate & Craig about how best to tackle the Herculean task of catelogueing James Hyman's CD collection (30,000+!!), it looks like 'Collectorz' could be the manz dem. We'll keep you posted.......
Music Week/Tastemakers Top 10

DJ Dates - James Hyman - 8.05
WEDNESDAY 10TH - BOUJIS, LONDON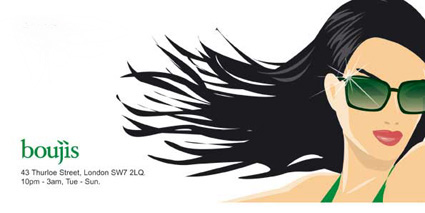 FRIDAY 19TH - RAZZMATAZZ CLUB, BARCELONA



SATURDAY 20TH - HOME HOUSE, LONDON [PRIVATE PARTY]



SUNDAY 29TH - TDK X-CENTRAL, LONDON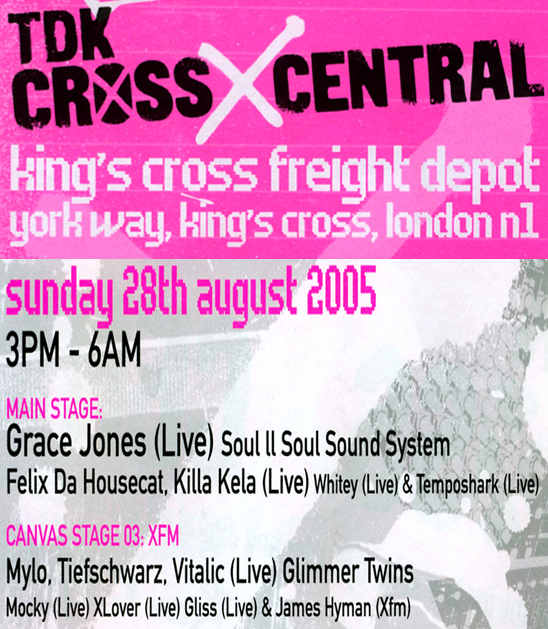 © 2005 Green Bandana Productions Ltd. Website design by
Steve Mannion.