Loose Links Vol.1
Some out-there web bizzness:
MIRT
Traffic Light Control Device -
Changes stoplights from Red to Green in seconds (!)
KNEE DEFENDER
Protection from Reclining Airplane Seats.
LEGO GOES TO HOLLYWOOD
Some Germans with way too much time on their hands.
Click 'Filme' section then Michael Jackson's 'Thriller'.
SLEEPING IN AIRPORTS
Budget Traveller's Guide to Sleeping in Airports.
Talking of which, it's all about Merhan Nasseri.
Spielberg's got the film rights; hold tight!!!
MATRIX VIBE
Let your computer pleasure you...Plug into your USB port and reach orgasmic heights with this 10-speed pulsation & vibrating bullet vibe - all at the touch of your finger! No batteries needed as it runs off computer.
Music Non Stop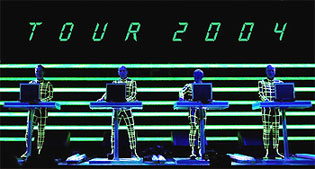 Though I love/admire/appreciate the legacy of music & mystery surrounding Kraftwerk, I had convinced myself their Royal Fesival Hall gig was going to be annoyingly dull; how wrong I was!
The mixed audience of B-Boys, grey businessmen, school kids, mums, Japanese Trendies etc. were stunned, amazed and wowed by their super-slick sound combined with hypnotizing clinically-clean visuals and a simple yet enthralling performance by 'Die Robote' who were cheered on for 3, yes 3 encores, ending with 'Music Non Stop'.
True history in the making, where were you?

Lock Down Your Aerial!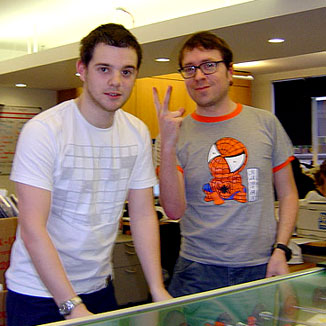 I could write a thesis on how cool The Streets is but not enough time, so let's keep it simple; Mike Skinner has created another corker, A Grand Don't Come For Free, the follow up to Original Pirate Material.
Check The Rinse's in-depth interview with Mike, Friday 7 May 1AM-3AM, full of humourous banter & plenty o' Streets tracks including Streets remixes + 3 cuts from the new album.
Downloadable interview here too.
James Hyman - DJ Dates
26 March 04
X-Tra Curricular, Market Bar, London W1
3 April 04
Warehouse Rave [Location TBC]
14 April 04
Boujis, London SW7
1 May 04
Half Inched [New Monthly/Residency] @ 'Moloko', Pentonville Road, London N1
30 May 04
Surrey Uni., England [TBC]
25 June 04
Mond Club, Barcelona, Spain
17 July 04
Lexi Club, Paris, France
© 2005 Green Bandana Productions Ltd. Website design by
Steve Mannion.