Boom!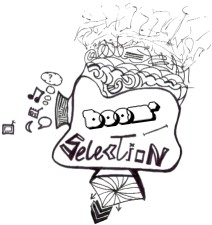 .....the sound of a big explosion like Westwood's frantic jingle-bombs when mighty, grimey hip-hop dawgs are up in his Radio 1's crib.
For the bootie brigade, it was yesterday's seismic sermon from Boom - the blog-o-sphere's still shaking!!
Echo-ing much of the_dr's verbals, Boom was the shizzle. It got me into blogging after reading Mr. Sheldon's sharp, witty enthusiastic posts. I'm pretty sure as a download virgin, my first time was with Boom, something like Craig David vs. Fischerpooner or Eminem vs. Survivor; what a buzz, downloading, then airing it within about an hour!!
Here's when the Doc (then aged about 15!!!) stumbled across Xfm's 'Remix' way back when, 18 November 2001 to be precise.
This January 2002 entry documents early bootleg big-guns like Freelance Hellraiser plus Boom's debut on-air mention and the 1st viral MP3 mash-up that literally went global in minutes after it aired on 'The Remix', Sunday 27 January 2002. That bastard pop fusion of Public Enemy's 'Bring The Noise' & Dexy's Midnight Runners' 'Come On Eileen' was created by Audio Shrapnel as part of the Remix show's 'Superchunk' by Fun-Da-Mental.
Amongst Boom's April 2002 musings, the flippant challenge Eddy & I issued on-air during release week of our 'Xfm Remix' compilation. We wanted to see how quick someone could snap the in-store window display of the album in Tower Records/Picadilly. Again, showing off blogging's exciting immediacy, a Boom Selection correspondent uploaded his digital snap in lightning speed.
The cast of thousands from the 'Mash-Up/Bootleg/Bastard Pop' scene owe a lot to Boom Selection's blogs; someone on Beatmixed recently jibed that "it's actually the_dr who owes a lot - to the hundreds? thousands? left out of pocket" when he couldn't cope with demand after releasing his jaw-dropping 'Never Mind The Bootlegs' compilation that was packed to the rafters with every conceivable cut-up from the history of boots/mash-ups/bastard pop.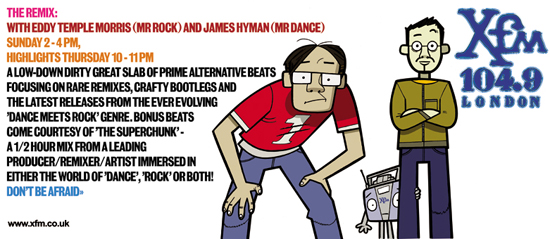 As Eddy & I were doing it on those legendary Sunday 2PM shows (pic. above), Boom was the on-line mirror, supporting everything from the Cargo club night we put on and special broadcasts like the Oasis one that got a mighty thumbs up from our kid, Noel G himself.
I often tagged 'Boom' the CNN of cut-up; right there on the front-line of a very exciting musical movement, in many ways, more DIY than Punk itself.
The_dr's probably right to call time on Boom's blog now, considering where the whole 'mash-up/bastard pop/bootleg' scene is now at. It's not over, just so comfortably mainstream - Jay-Z & Linkin' Park's 'Collision Course', the Madonna/Missy 'Gap' ad, Wired Magazine devoting huge editorial coverage to 'Remix' culture etc. - ya get me?
Personally, I'd like to thank the Boom Crew for heaps of madness over the last few years:- from club events, the numerous silly e-mails constantly spicing up Xfm's Remix, my 'Mystery Pants' (!), supporting the James Hyman/Audio Shrapnel Mix-CDs from Vol.2 right through to 007 & Tarantino, plus hailing me the new Pete Tong (!) and introducing me to El Steve 'SPEC' Mannion (designer of this very site) etc.
I'll miss you Boom (hell, I think you were even once my homepage)!!!
(Pictured below: left 'the_dr', middle 'James Hyman', far right, 'Pojmasta' at All-City Night, October 2003)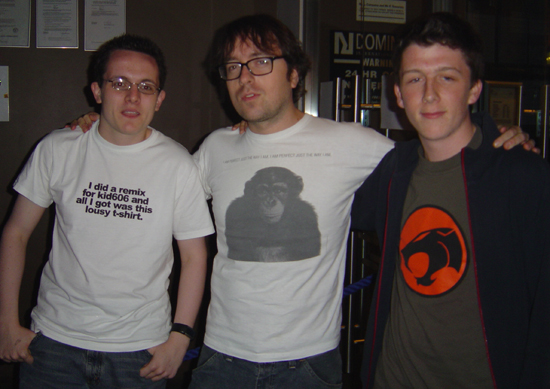 Posted on
September 30, 2005
at
06:53 PM
End Of Summer Mix-CD 2005
Coming very soon......[Click 'Frog' for intro/sample]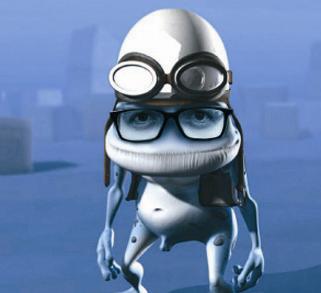 .....a ring ding ding.......
Posted on
September 29, 2005
at
10:08 AM
DJ Dates - October/November 05
[Click Pics. for info./tickets]
06 OCTOBER: ALL TIME TOP 100 @ THE WARWICK, ISLINGTON, N1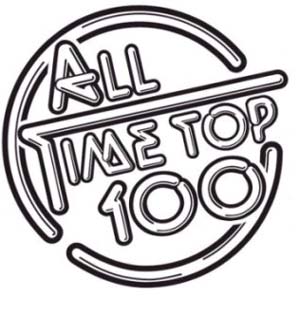 15 OCTOBER: XFM'S BIG NIGHT OUT @ CARLING BRIXTON ACADEMY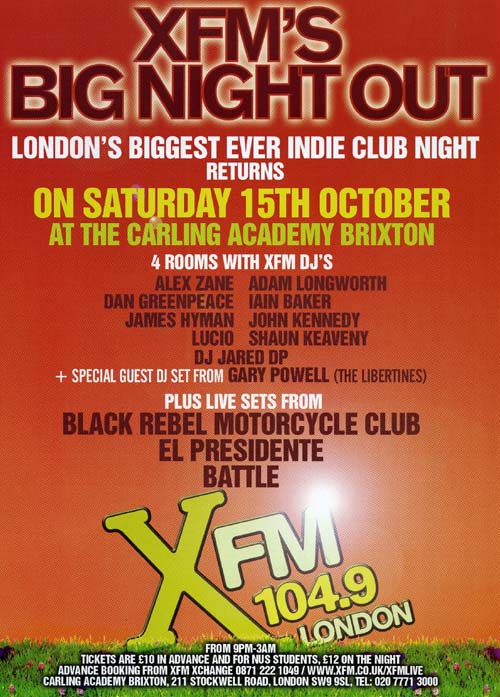 5 NOVEMBER: FOUNDATION, NEWCASTLE UPON TYNE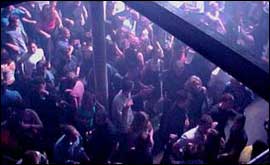 Posted on
September 28, 2005
at
11:43 AM
Music Week/Upfront - Bob Sinclar
(Click image for sound clip):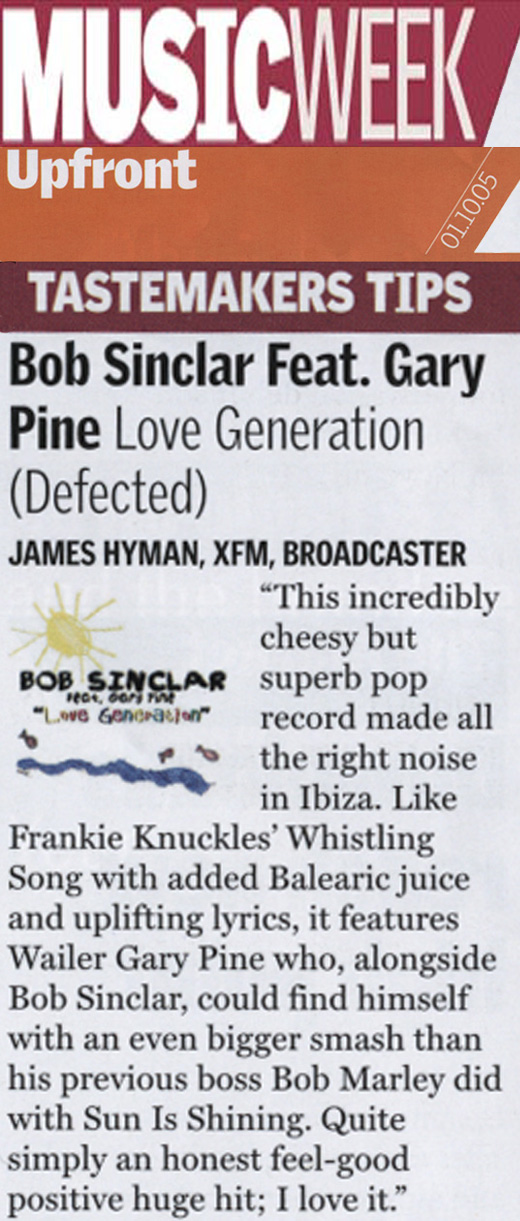 Posted on
September 27, 2005
at
09:44 PM
World Premiere: Revolver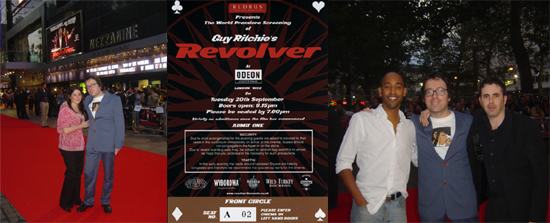 20 September, 7PM - Leicester Square's Odeon - yours truly the Rinsemaster treads red carpet with Mavis (above/far right), Kate (above/far left), George (above right on left), Craig, Victoria & the Shrapnels for Revolver World Premiere.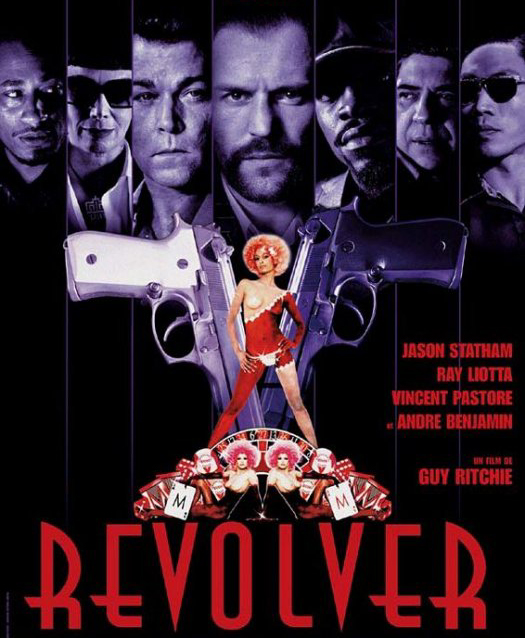 Some critics have found the film confusing and difficult; well, I find that lazy journalism and/or another personal dig at Guy Ritchie. Yes, the film is complex, so what? Sorry, but how many David Lynch films are easy to get? Mullholland Drive? Good luck on sussing that one. Eraserhead? Totally out there. Again, so what? It's one of my favourite films ever, firmly imprinted in my mind, still bubbling brain cells to this day.
What about another recent 'cult' film, Donnie Darko that continues to create message board mania with geeks and normal cinema-goers scratching their heads with bewilderment on its 'meaning' - did it get a harsh slating? No, showers of praise.
Forums like IMDB's still throb with queries on 2 other personal fave flicks, Jacob's Ladder & Angel Heart; both gaining positive props not negative knocks. Thought-provoking films, like fine wine, mature with age; revisit them at leisure and add Revolver to your cerebral celluloid cellar (!)
In a naÔve, unfeasible scenario, imagine a 2-week embargo on film critics/reviews until after initial release i.e. judge/decide on your own merits not several other people's with their own media-agenda(s) - flip da scrip!!
Anyway, with his fine cast on stage, Guy confidently and quickly dismissed the critics, reminding the audience that the same happened during the dawn of Lock Stock & Snatch.
Revolver, with its concept of 'Con' rocked it for me. Irrespective of dissecting its meaning(s) and simply taking the film on entertainment value, the bold super-slick style is worth any admission price alone. Backdrops (such as the rooftop golf) dazzle, scenes like Sorter's climactic shoot-out at Billy's, the unexpected car-crash and restaurant bang-bang, all ambitiously twist techniques of conventional cinema.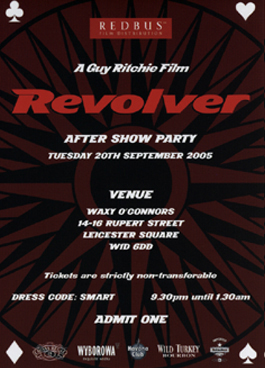 After show party @ Waxy O' Connors was a blast - Mickey Rourke? A true Rock & Roll legend/star, so charming. We chatted chiauahuas (sadly one had passed away the night before he left for London) and his triumphant return in this summer's smash, Sin City. Then, after he delightfully demanded an introduction to my girlfriend Kate, he kissed her hand and I feared another Boujis moment!!!.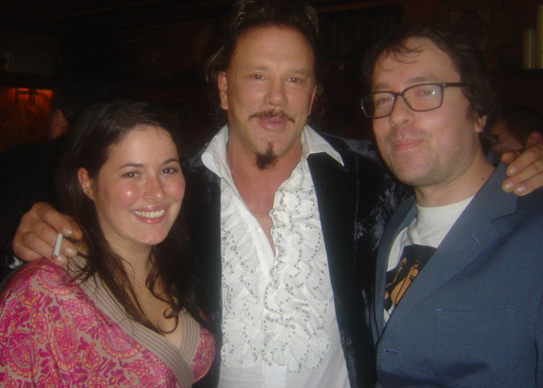 As Yo! Sushinibbles & drink flowed in the VIP, the Irish band caused gentle jigging amongst Andre 3000, Ozwald Boateng, the super-stylin' Sting & Trudie Styler with Jason Statham getting livelier by the minute with fellow 'Lock-Stockers'.

Just before jumping on the decks (actually, 2 x CDJ-1000s), Madonna and I enthused about her new album's Producer, Stuart Price (aka LRD, aka Jacques Lu Cont, aka the man behind that Citroen ad. with electro-robo music etc.) I'd have loved him to have given her, 'Avalon', this year's most gorgeous deep pop-house tune he co-wrote/produced for Juliet.
Posted on
September 21, 2005
at
07:33 PM
Big Brother's Grandfather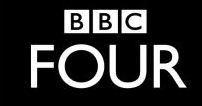 Mentioned this dude, Paul Watson before ever so briefly here. Major props and respect again as I dipped into BBC Four's 'Paul Watson Night' last night that included a documentary on him, 'Representing Reality? Time Shift'. Paul made some interesting comments on today's 'Reality TV', particularly 'Big Brother' which he reckons doesn't get under the skin of people enough. Not the first time, Paul's spoken out on this subject and it seems the US public's interest is possibly waning.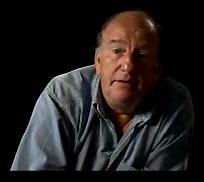 A matter of opinion, though no denying just how groundbreaking Paul's TV work like 'The Family' was; so raw/real and for its time (back in the 70s!), revolutionary in fact, unlike today's reality shows which are in many ways, too staged and hyped up by the obsession with celebrity, echoed in another intelligent programme on Channel 4 last night, Piers Morgans' 'The Death Of Celebrity'.
Paul didn't like him or his programmes being described as 'fly on the wall' as "Flies buzz about, leave shit on your food and are unwelcome. I was welcomed by all my subjects", he added.
Clever technique in 'The Fishing Party' where during its Thatcher-ite era, Paul edited in contrasting radio reports of that era or even same day. Clips of his 'Malcolm & Barbara' documentary about Malcolm's painful decline from Alzheimers was emotionally gripping.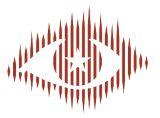 I'd like to see Mr. Big Bro', the 'delightfully eccentric' Peter Bazalgette (who praised Paul in the 'Representing Reality' doc.) get Paul in directing/consulting on future Big Brother, ya get me?! Wishful thinking maybe, oh well, 'That's Life' :)
Paul, big up your doc.!!
Posted on
September 12, 2005
at
02:54 PM
It's A North West London Ting!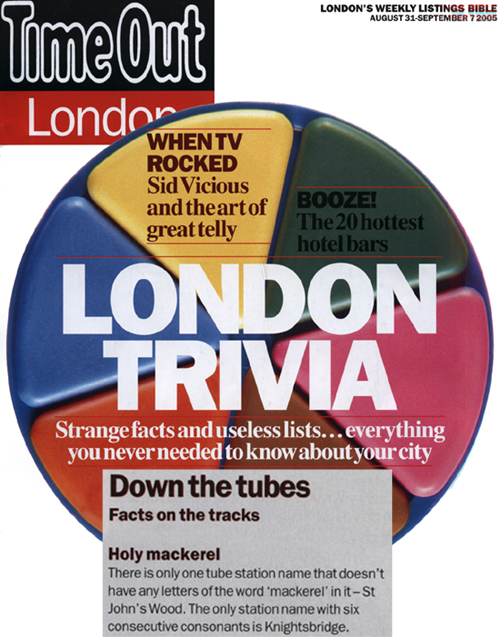 So there I was glancing at Time Out's 'London Trivia' issue, thinking, who on earth bothered to take the time and work out that St. John's Wood is the only tube station with none of the letters from the word 'Mackerel' in it, maybe it was Paul Middlewick, the grid-head genius who spotted animals galore on London's Underground tube map and his flash-vision has been transformed into a beautiful web-concept: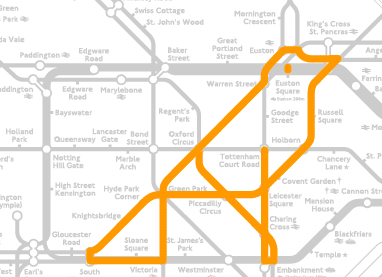 Then, holy calamity, scream insanity, another quirky mag morsel catching my attention as it was also round & about my local 'hood!

It was from the previously blogged, free magazine, 'Good For Nothing' with its 'Roadkill Of The Month' feature, this issue, flagging up a Leopard which had escaped from London Zoo, splatted pretty quickly by an ice cream van on Prince Albert Road. I believed this not because I wanted to believe like many easily do but I had my 'Fortean' thinking cap on.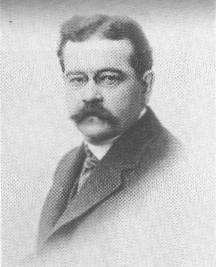 So what is 'Fortean' you may ask? It comes from Charles Fort, (pictured right), a phenomenal digger who spent many years researching scientific literature in the New York Public Library & British Museum Library. As the superb 10/10, 'Fortean Times' magazine, named after him explains at the back in the 'Why Fortean?':
"He (Charles Fort) was sceptical of scientific explanations, observing how scientists argued according to their own beliefs rather than the rules of evidence and that inconvenient data was ignored, supressed, discredtied or explained away. He criticised modern science for its reductionism, its attempts to define, divide and seperate."
Fortean Times keeps alive this ancient task of dispassionate weird-watching, exploring the wild frontiers between the known and unknown and "maintains a position of benevolent scepticism towards both the orthodox and unorthodox, toeing no party line."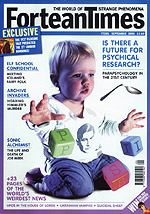 That's Fortean Times' key, "benevolent scepticism", unlike those trashy (but amusing!) fabricated pulp like the Weekly World News or old skool Sunday Sport stories where "Elvis is alive on the moon with Adolf Hitler in a number 94 bus" or "5-headed Love Child Alien eats Hershey Bars in Taiwanese Brothel"; the Fortean Times is bang on it for weird shit which has been so thoughtfully and thoroughly reported/researched/clipped, you find it hard to readily dimiss what you're reading. Props to 3 decades of intelligent provocative strange phenomena from the founding editors Bob Rickard & Paul Sieveking.
Anyway, that's Fortean for ya and as I said, my outlook's very Fortean, not knee-jerk gullible like many who, for example, see an aeroplane at night, convinced it's Close Encounters Of The Third kind or believe numerous urban myths like the back-packer waking up in that bath of ice with his kidney removed stolen, blood writing on the mirror wall telling him what to do etc.
Similarly, the hoaxes, particularly net-based like Bill Gates or Disney offering $1 Million dollar cheques for forwarding this text e-mail to all your mates who won't be your mate now, after receiving more of your time-wasting 'Spam'. Be cautiously sceptical, do the research before believing - keep it Fort!!
Fortean Times thinking is similar to the hacker mentality and mathematical 'falsifying'; you look for the negative to make it positive.
Anyway, enough of the tangent, the 'Roadkill Of The Month' provoked interesting dinner chat the other night with Kate and her beautiful Aunt Corinne.
Corinne thought I was mad to believe this snippet, convinced that were it true, it would have been more widely reported. I was just feeling it and simply didn't think it made up - fact is so often stranger than fiction; years of Fortean Times reading proves that!! We all rinsed Google to see if anything was there, nothing/nada.
OK, a quick e-mail to 'Good For Nothing's' fine editors to clear this up:
-----Original Message-----
From: Stuart Turnbull
Sent: 08 September 2005 19:07
To: James Hyman
Cc: Neil Boorman
Subject: Good For Nothing Magazine & Roadkill Of The Month
Dear Stuart & Neil,
Hope you're both well and great magazine, have blogged it a while back here:
http://www.jameshyman.com/blog/archives/000377.html
2nd thing, 'Roadkill of the month', had a heated friendly argument last night over your latest 'roadkill' that featured a Leopard knocked dead by an ice cream
in Prince Albert Road on 12 August. Do you have an accurate source for the truth in this? We couldn't find any record of this anywhere on the net and the person I was contesting this with said it was complete fiction. Can you prove her wrong?
Best wishes
James Hyman
www.jameshyman.com
-----Original Message-----
From: Stuart Turnbull
Sent: 09 September 2005 11:42
To: James Hyman
Cc: Neil Boorman
Subject: Good For Nothing Magazine & Roadkill Of The Month
Hi James,
thanks for the email and the blog big-up.
Our network of roadkill spotters are a dedicated squad, and each month we get sent a reasonable splattering of pics from London's roads.
I assure you the leopard is no photoshopped fiction, although the tone of our writing might appear a bit jovial.
Death is no joke, and we're in no way here to mock our fatally wounded four-legged friends.
Truth is, indeed, stranger than fiction, and the kill in question appears to have been hushed up by London Zoo for some reason.
Glad you like the mag,
all the best to you and your sceptical friend.
Stuart
----------
And cue The Monkees, "I'm a believer".
Posted on
September 11, 2005
at
01:35 PM
The S.O.V.!!!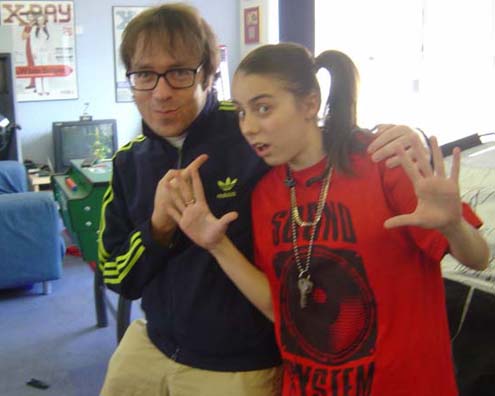 19 year old Lady Sovereign has been tagged many things, lazily it's often the 'female Streets/Mike Skinner'. Press accolades include: Sunday Telegraph, "The next real star" & New Yorker, "Sovereign is not grime's only female m.c. but she is the scene's sole white woman, and seems destined to be its biggest success."
She's been working with top-notch producers like Basement Jaxx, Jacknife Lee (U2, Snow Patrol etc.), Roll Deep & Menta (Ms. Dynamite & Daniel Bedingfield). James Hyman caught up with her recently, hours before Jay-Z flew her over 1st class to NY. Jigga has since insisted on hip-hop hook-ups with Sov's idol (and soon to be mentor?) Missy Elliot plus the Neptunes as well as a Beastie Boys remix soon come!
Catch a 1-hour words & music special with Lady Sovereign on Xfm's Rinse, Saturday Night/Sunday Morning (1AM), 8th October. Featuring loadsa Lady Sovereign toons including album cuts, that awesome Ordinary Boys remix, her slap-happy 'Tango' track and her Streets 'Fit But You Know It' remix-rhymes too.
Posted on
September 09, 2005
at
12:48 AM
DJ Magazine Top 100 DJs
If you want to show your love/respect/props to DJ James Hyman (on radio, clubs, mix-CDs etc.), just click da pic:

Voting ends September 30.
Posted on
September 08, 2005
at
06:01 PM
Your Home Is At Risk....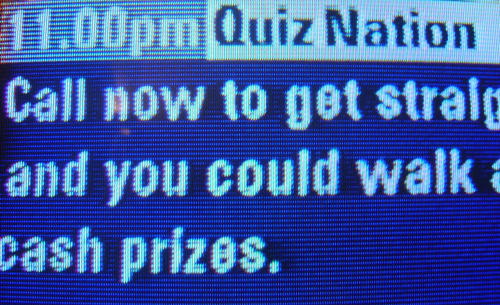 "Evening Gents", a catchphrase Mavis and I 'coined' from rare visits to the Victoria Casino where this was the short muttered greeting by the top-hatted doorman on entering one of Satan's dens of iniquity - a smoky clock-less place full of mixed races feverishly throwing cash on Blackjack, Poker and Roulette with a complimentary late night firing fry-up to drown your sorrows when the wallet's empty. Well, tonight, I discovered a new stranger form of gambling right here, right now in your own home, without the need for smart attire, membership or bling, nope, just make sure you're over 16.....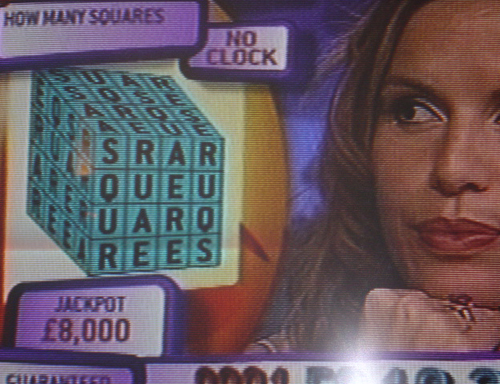 After a quick burst of channel surfing on the EPG (Electronic Programme Guide), I stumbled across Sky's Channel 166, 'TTV', the gates to hell and 'The Great Big British Quiz'. No cash machines, credit cards, cheque books - just the good old 'dog & bone' to hand over the dosh; direct digit-dialing to Dante's Inferno!!
A 'simple' (!!) puzzle comes on screen, a simple presenter also on screen simply nags you to call in to try and win the guaranteed prize money with a further chance of the big daily jackpot, tonight about £50,000.
Ever the experimenter, I thought I'd give this a quick punt. My quiz asked me to 'add the numbers' from the following list (as accurate as I can recall):
The number of feet of a five foot hedge that has been trimmed from one foot.
The number of legs on eight giraffes, two lionesses and a rhino.
The number of wheels on three taxis.
All the even numbers less than 9.
I quickly calculated my answer of 80 (or 81 depending on the hedge if it had been trimmed and was 4 feet now or was 6 feet and trimmed to five!!!)
Fingaz on da triggaz, I dialled the number on screen as a satanic screen-scroll told me that 'TTV' was obeying all the rules & guidelines set by governing bodies OFCOM & ICTSIS. Incredible!! I got on after 2 tries (£1 per try), gave my answer of '80' - wrong!!!
After numerous rapid re-dials and re-mortgaged house, I got on again via an animated barking dog in the lower left of screen, the signal for the presenter, who may have had Alzheimer's the amount she kept repeating herself in such a short space of time.
"Where are you calling from?", the presenter asked. "Swiss Cottage", I answered, as the jackpot increased to £1,800. Tomorrow's replies would have been "Gamblers Annonymous", "Bailiff's" or "Jail" depending on time of day and BT's mood.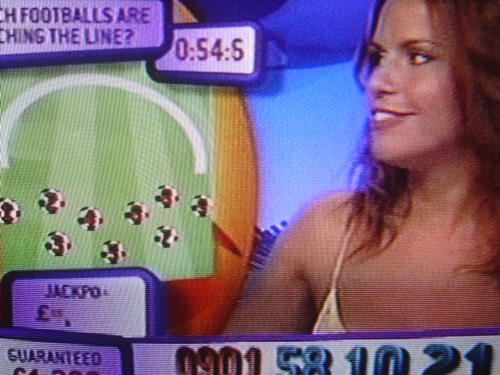 "What's your answer?" she continued. I quickly replied, "Depends on whether the taxi's have spare tyres or not, but I'll go with '81'". 'Unlucky' flashed a quick red-arrowed graphic. Where's that fry-up when you need it?
Kate & I were curious to see/hear the real answer so luckily about 5 minutes later, a girl, possibly called Claire gave her answer as 8136, yes, 8 thousand, 1 hundred and thirty six. WHAT DA F?!!! How in hell (and I was) do you get that answer??? No simple explanation from the simple presenter; Carol Vorderman wouldn't behave like that, ooh no, maybe that's why Carol's got her MBE.
So dear readers, for blog's sake, I needed answers & needed them fast - I made contact with 'The Great British Quiz' with correspondence to date below:
-----Original Message-----
From: Green Bandana
Sent: Wed 31/08/2005 01:19
To: Support User
Cc: contact@ofcom.org.uk; pressoffice@icstis.org.uk
Subject: Sky Channel 116 - The Great British Quiz - Pls. can you explain:
Quiz was won around 1AM, Wednesday Morning 31st August.
Correct answer was '8316' (8 thousand, 3 hundred and sixteen).
The question was add the numbers:
A five foot hedge, trimmed by one foot.
number of legs on 8 giraffes, 2 lionesses
and a rhino, number of wheels on 3 taxis.
Even numbers less than 9.
I'm stumped how the answer here was 8316
having spent loads of money & guesses!!!
Thanks
Mr. J. Hyman
-----Original Message-----
From: Support User [mailto:support@thegreatbigbritishquiz.co.uk]
Sent: 31 August 2005 14:46
To: James Hyman
Mr. J. Hyman,
Thank you, for your email, great to hear you are enjoying the show. The Great Big British Quiz is jointly regulated by OFCOM and ICSTIS and complies with all necessary codes and guidelines. We constantly review the channels production to ensure that it is fair and seen to be fair.
We give the answers to all our quizzes on-air and we only ever have one answer for each quiz we show. Some of the more difficult puzzles are put together using a strict formula to make them fair for everybody and half the trick of it is to work out the formula.
We obviously canít divulge any formulas, as this would be unfair to the other players and that is half the fun of playing the games. We try to give an even mix of easy and difficult puzzles but as you are probably aware the more difficult puzzles take much longer to complete.
We want to be fair to all our viewers so if we are only able to tell some people how the answer is arrived at it might give some viewers an unfair advantage.
Good luck with future Quizzes! Regards Customer Service
The Great Big British Quiz
-----Original Message-----
From: Green Bandana
Sent: 31 August 2005 17:13
To: 'Support User'
Cc: 'contact@ofcom.org.uk'; 'pressoffice@icstis.org.uk'
Subject: RE: Sky Channel 116 - The Great British Quiz - Pls. can you explain
I appreciate your prompt answer though the answer to this particular
question seemed to way 'out there' and for all I and others viewers/contestants know, this could be a scam.
Incidentally, the quiz after this particular one seemed to skate on the Ofcom/ICSTIS guidelines. It was a simple quiz to guess a country by missing
letters for £50 ('Norway') and callers were not answered for a while, hence it appeared that the broadcaster was accuring as many callers and thus,
money, possibly unfairly.
I await your response.
Mr. J. Hyman
-----Original Message-----
From: Green Bandana
Sent: 06 September 2005 16:08
To: 'Support User'
Cc: 'contact@ofcom.org.uk'; 'pressoffice@icstis.org.uk'
Subject: RE: Sky Channel 116 - The Great British Quiz - Pls. can you explain (see below):
Yes, thanks I know that.
Still doesn't reassure me about the specific
quiz I entered being a scam.
James
-----Original Message-----
From: Support User [mailto:support@thegreatbigbritishquiz.co.uk]
Sent: 06 September 2005 11:37
To: James Hyman
Dear Mr Hyman,
We are regulated by both OFCOM and ICSTIS and comply with all the relavant guidelines and codes from both regulators.
Regards,
The Great Big British Quiz Support Team
--------------------------------------------------------------------------------------------
That's where it's at - you gotsta love the madness of all this -
Simple channel, simple format, simply a wonderful get rich quick scheme!!!
UPDATE: 25 OCTOBER 2005 -
Game over!!! I recieved an interesting e-mail from a highly intelligent 50+ year old ex-COBOL computer programmer who decoded the above for me and who wishes to remain annonymous. After reading her extensive puzzle-solivng breakdown, I still maintain 'The Great British Quiz' are broadcasting very shadily, misleading its audience and skating on thin ice in regard to OFCOM & ICSTIS broadcast guidelines!! This blog's comments seem to mirror my opinions too.
Posted on
September 01, 2005
at
12:00 AM
© 2005 Green Bandana Productions Ltd. Website design by
Steve Mannion.