Kanye-r dig it?!!!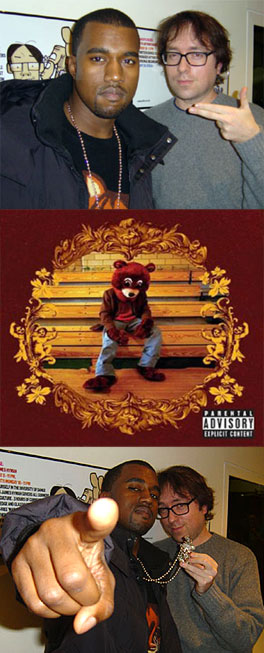 Yes yes! This man, right thurrr is ghetto red-hot!!!
Kanye West, the next Hip-Hop/R&B Uber-Super-Producer, snapping hard at the heels of Dr. Dre, Timbaland and the Neptunes, has been nominated for 10 Grammy Awards, more than Usher, Ray Charles & Green Day.
Turning a near fatal car accident into the global smash, "Thru The Wire", he's sprinkled similar studio magic for Alicia Keys, Jay-Z, Ludacris, Brandy & Usher.
Aside numerous magazine front covers, GQ called Kanye, "A 1-man tidal wave", NME - "The only reason anyone should still give a shit about hip-hop", Rolling Stone named him 'Man Of The Year' & compared him to Bill Gates, the "College Dropout" won best album of 2004 from a 'Poll Of Polls'. Listen to Kanye's words & music in another killer Rinse interview HERE.
© 2005 Green Bandana Productions Ltd. Website design by
Steve Mannion.