Church Rules
Long overdue, a heartfelt blog about one of my favourites past-times, 'Church-ing', not a sexual deviance though, who knows, give it time.
Anyway, 'Churching' in various 'Churches', aka the 'Music & Video Exchanges', scattered around London's Notting Hill, Camden, Greenwich & Soho is so called after Eddy Temple-Morris & I coined the term from its spiritual/worship word-associations when we used to go and 'pray' religiously to our DJ/Vinyl Junkie-dom obsession nearly every Sunday afternoon before or after Xfm's 'Remix' show which I used to produce and co-present. We paid homage to 'Church' in this article, 'Church Of The Precious Find', (reproduced at end of this blog), now it's time to revisit:-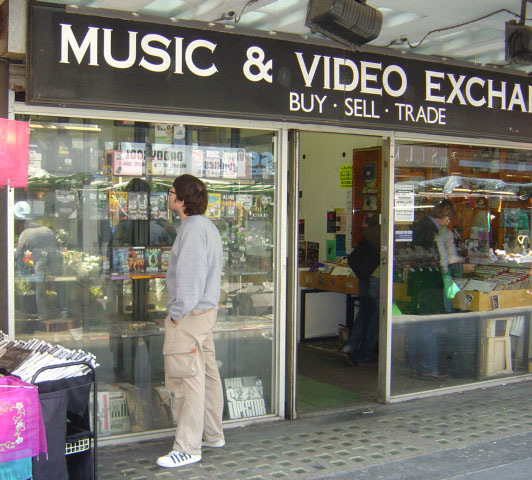 I've spent far too much time flitting in between the various chapels over the last 20 years, I clearly remember my first baptism when I went with my best friend Eddie B under recommendation from his brother. Bob Dylan droned away in the upstairs Notting Hill branch and I hazily recall snapping up some 80's 12"s like F.G.T.H. and possibly Eugene Wilde's 'Got To Get You Home Tonight' (!), loving the initial bargain basement vibe, even though we were actually on the 2nd floor!
Now you don't just have to dig for tunes in 'Church' then buy them, oh no, it's far more exciting than that. You have the option to purge yourself by selling all your unwanted CDs, DVDs, Vinyl, even books/comics/magazines, clothes, bric-a-brac, home interior stuff too. Provided you have 2 forms of identification, you will be made a cash offer for your goods or double that cash amount in MVE 'Vouchers' to spend in MVE shops. Man, if I was Prime-Minister, I'd scrap the euro and bring in the 'v' immediately.
I've had endless hours of fun selling stuff in exchange for things I've wanted and as much fun getting a 2nd hand (sorry!) experience from watching others schlepping in their goods to then receive the holy thunderbolt of an unexpected offer, far lower than they ever expected. "Wot, each?" I've heard numerous souls hoarsely cry in front of a high pile of vinyl they've almost collapsed bringing in when told bluntly that "It'll be £2 cash, £4 in exchange."
(More often than not, an offer is preceded with the staff member's deep sigh/intake of breath coupled with the immortal, "To be honest mate......ADD OFFER HERE")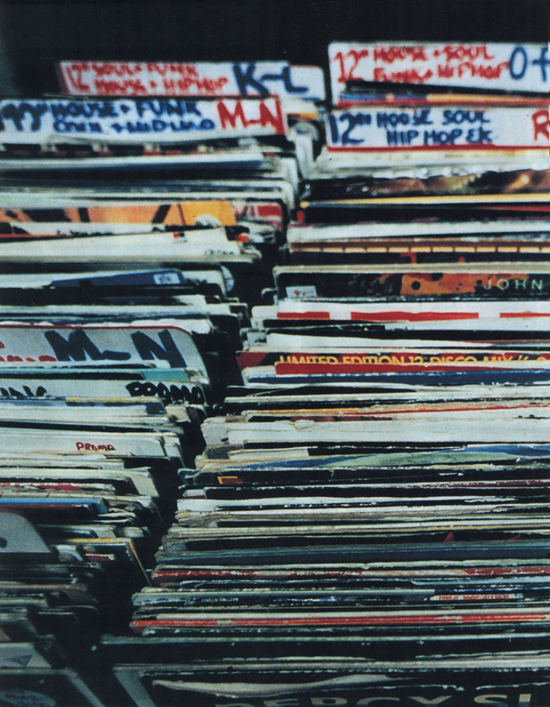 You can't be too generous as an MVE buyer otherwise you won't get the job or you'll possibly lose it (the job). Sarcastic humour is rife so that if you can't laugh about it on the receiving end of a suprisingly low offer - take your own deep breath.....maybe try a Jedi mind trick and refuse the offer & take the stuff away - you will incur wrath, almost guaranteed.
Adam & Joe parodied the whole 'Church' experience brilliantly here or on their DVD and Nick Hornby's 'High Fidelity' was unquestionably inspired by the British 'MVE' phenomena/culture, despite the film adaptation being US-centric. Yes, I've been to some moody record joints on New York's Bleecker but they're not a patch on MVE UK's dark, broody ill humour vibe; without a doubt, it's a London ting!
To me, 'Church' is like, what Manhattan's 'Video Archives' was to Tarantino, a 'temporary autonomous zone' of sorts where you go to indulge in your chosen geekdom, trancing out in a flow, digging for random, rare tunes and/or selling off 'waste' that has gathered too much dust in your home. The difference though re: me & Tarantino is that I've never worked in any MVE shops, despite customers repeatedly mistaking me for a staff member, asking for help in finding Radiohead, anything 'Hoxton', 'Krautrock', 'Breakbeat Garage' or the 'Gothic Trance' section - maybe when one day, when I retire.
Recently though, I have felt like an honorary staff member, often allowed a sacred, privileged 'chiselling' through fresh stuff bought in from journalists, DJs, desperados, crack addicts and people who need to see more daylight etc.
I actually suggested some sort of VIP membership, you know pay a few vouchers for 1st looks before stuff's put out, like a film pre-screening or art gallery preview.
I could probably write a book on all those personal 'Church' experiences (e.g. once being offered 1P for a table I took to bric-a-brac branch, selling in a toaster to 'Dance' branch as they needed it there and then) and numerous '2nd hand' (sorry again!) quips & trials, watching others dealt the killer blow after presenting their wares; it's really the amazing array of characters both staff and frequent customers that add true colour to this pop-culture painting.
Staff wise, untold props to Sean P (check his class compilations here and here), Bronx Dogs Rich, 'Avin It Nick, James Thornington, Dick, Mark & Debbie in rarities, Stage & Screen's Guy, Rob & Andy, the numerous Grahams, Howard, Jack, Jamie, Hicksy, Michael, Tony, Simon, Steve, Sid, Paul Kirman, Johnny (x2), Zak, Jason, Laurence, Leon, Rino, Ben, Richie, James Bull (the king!), Roy, Mick & Alan - the Subway Massive + all those past troopers over the years who I've forgotten to namecheck from slow-dying brain cell memory.
Non-staffers: MVE love to Dele Fadele (top NME scribe & vocalist extra-ordinaire - check him on a Peter Sartedt cover of 'Where Do You Go To My Lovely?' from 1992 'Ruby Trax' compilation), Fresh, Stuart and again, numerous recognizable faces but alas, forgotten names.
Church's Don Corleone is Brian Abrams, respect this man for his work and concept!! His daughter Ruth, with stunning piercing blue eyes worked alongside me at MTV for a short term and close friends urged me to marry her, not for the religious wedding in a real 'Church', no, marry her because of her father-in-law, "You'd be in heaven, heir to the holy hotspots."
Electrical Church recently closed down, maybe because of the 'charged' atmosphere in there, at times like Pulp Fiction's gimp scene - one staff member was so calmly motionless yet aggressive, no messing!! And rumour has it that back in the day, for a short time only, there was a food 'church' - just couldn't see it lasting: "I've got some stuff to sell, like this half bottle of Evian, hamburgers but they've been re-sealed, legs of lamb, oh and this should up the offer, some caviar."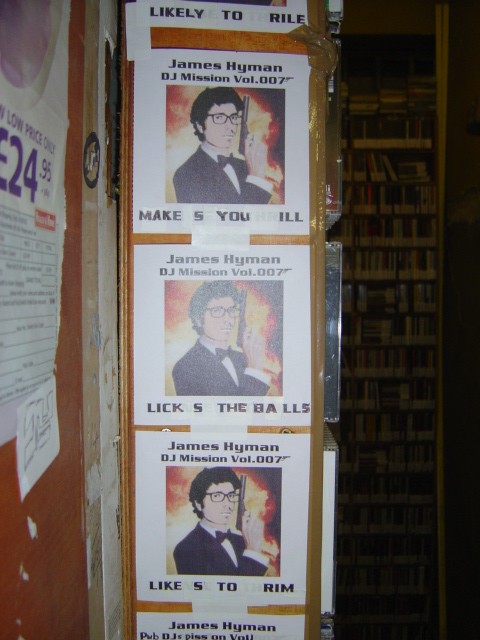 Like those commemorative blue plaques around London, I reached 'Church' immortality recently, not only by not having to provide 2 forms of ID when selling stuff but some sarky staffers took artwork from my James Bond/007 Mix-CD and adorned the Berwick St. walls (pictured above). I felt so proud with ammended phrases to the cover text which had changed from 'James Hyman - Licence To Ill' into such glowing praise e.g. "Likes To Rim", "Cretin, licks the balls", "Makes You Ill" etc. All that's left, like the original article said is to get 'Church' as a verb into the Oxford English Dictionary.
As I journeyed to Berwick St. Church today I snapped this dude (above), maybe my doppelganger or a future mirror image when I'm 'Churched' out! Check him holding this Scanner/Tuner gadget, such a Gene Hackman/The Conversation vibe!!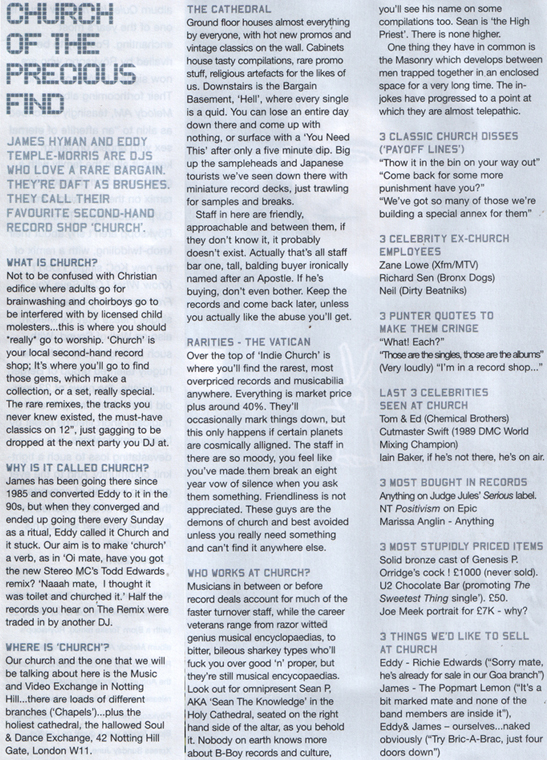 UPDATE - 20 MARCH 2006
Genius letter sent in to Time Out (issue no.1834: March 1-8/2006) by Phil Pessera:

UPDATE - 11 MAY 2006
Like the classic Garage toon, "It just gets better" with, judging by this photo, the advent of 'FOOD CHURCH' (!) People would never believe me when I told them this existed years & years ago. Apparently you can only use vouchers/cash to buy food, obviously not to sell stuff in (!) I mean imagine the scenarios: "I'm looking for the exchange on half a bottle of Evian & this unused packet of mince" (!) or "Do I get more if I can prove there's no salmonella?" "Can you give me an offer on this apple, unopened jar of pickles etc. etc.?"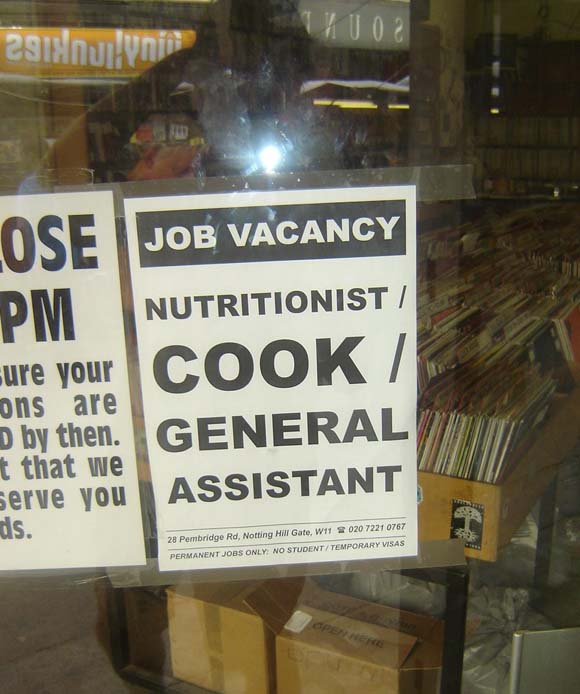 © 2005 Green Bandana Productions Ltd. Website design by
Steve Mannion.