007 Mix-CD: Licence 2 Thrill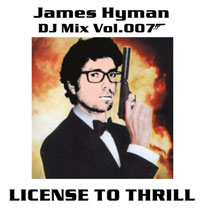 Celebrating 40+ years of the super-suave
Pop-Culture icon, this new explosive mix-CD is 100%
Bond flava (film samples, themes, score & more).
If you are considering booking James Hyman to DJ
at your party/event/club, click HERE for your FREE 007 mix-CD leaving your booking details.
© 2005 Green Bandana Productions Ltd. Website design by
Steve Mannion.