BBC Radio 2: Song Stories "My Way" [Paul Anka]
Around March 09, I pitched an idea for a radio documentary about Paul Anka and the story behind his classic song, "My Way". On Wednesday 23 February 2011 at 10PM that idea airs as a 1-hour documentary on BBC Radio 2 as part of their "Song Stories" series: 
FOR NEWSPAPER/MAGAZINE PRESS:
Critic's Choice & Pick Of The Day/Week
PROGRAMME INFORMATION:
Song Stories Ep 3/3
Wednesday 23 February
10.00-11.00pm BBC RADIO 2
Grammy Award-winning Canadian singer Michael Bublé presents the inside story of a song created for Sinatra, covered by Elvis and desecrated by Sid Vicious: My Way.
The song started life as a French song, Comme d'habitude, and has been covered by rap stars, flamenco bands, opera singers and even Sesame Street characters. It became a funeral favourite in the UK and Sinatra himself professed to hate the song. And in the Philippines, My Way killings have been reportedly provoked by karaoke versions of the song.
This final instalment of BBC Radio 2's Song Stories features an exclusive interview with the song's creator, Paul Anka. There are also contributions from Donald Trump; Julio Iglesias; Julien Temple; "Mr Las Vegas", Steve Wynn; and Sinatra biographers James Kaplan and Will Friedwald.
Presenter: Michael Bublé
Producers: James Hyman & Nick Minter for Head On Media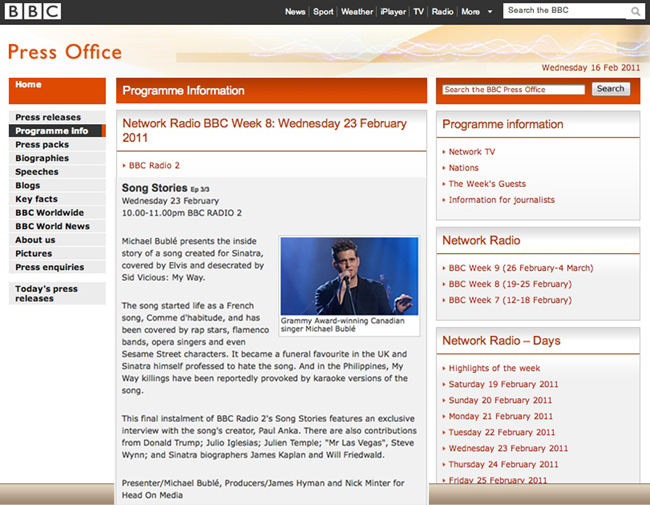 © 2005 Green Bandana Productions Ltd. Website design by
Steve Mannion.