Pop-Culture Passings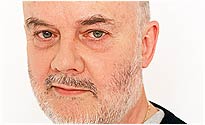 The word 'legend' is banded around too freely in today's instant celeb-obsessed world. With Peel though, 'legend' would truly ring out loud as no.1 answer on my imaginary Pop-Culture 'word-association' edition of 'Family Fortunes', with 'Genius' at no.2, 'Hero' no.3 and maybe 'The Don Dada' in other 'Survey Said?!!!' answers.
The most heart-warming indication of Peel's importance and status was media coverage - priority on TV bulletins, the abundance of newspaper articles & music mag front covers (Mojo, Uncut, Word, NME etc.), BBC/Radio 1's website buckling at the virtual weight of thousands of overwhelming global tributes as well as every other radio station paying their own respect dues; unheard of. Take time to read those column inches for yourself (including one from Music Week where Peel name-checks 'the legend' DJ Cheese after meeting him with his son at 'the legendary' 'UK Fresh' hip-hop concert at Wembley/UK in 1986!!!!) and I'm sure, you'll agree, possibly with a lump in your throat and tears in your eyes that Peel was 'The daddy round here'.
December 2004's 'Wire' magazine has one of the best obituaries with these 2 quotes hitting the nail:
"Other DJs 'communicated' with their public from behind a thick, slick glaze of bumptous bonhomie but often turned out to be embittered, misanthropic types. Not Peel, whose avuncular radio persona matched his life one. He was that bloke. Other DJs enjoyed bizarrely prolonged broadcasting careers introducing everyone from 'the one and only Miss Cilla Black' to 'the one and only Madness' without accruing even a modicum of knowledge or interest in the music they hosted. That Peel was marked out as an oddity by fellow DJs for being passionate about music speaks volumes about why he was so desperately valued by a vast minority."
"But in a media environment that is perennially shallow, garish, ephemeral, sterilised by commercialisation so crass that we're in perpetual danger of dully accepting the crass at the norm, Peel represented something more than the 'alternative'. His virtues, implicitly instilled over the airwaves - modesty, a sense of proportion, lucidity, considerateness, ironic acuity, openmindedness, curiosity, were virtues you'd like to hope could be associated with, or arise from, a love of good music. Or virtues worth possessing, in any case."



Peel's sincere obsessive passion was rare and phenomenal and made OCD acceptable as he relentlessly dug through demos and mountains of new music, 24/7, 365, in a career spanning 5 decades. Pictures of 'Peel Acres', where he'd broadcast from had vinyl/CDs & tapes bursting from every wall, shelf & crevice. Peel's anti-celebrity with music placed foremost, made him a celebrity, ironically and sadly realised most, post-humously.
Everyone was touched by Peel, musicians and listeners alike with stories and links to his shows and music played therein. My tune-in memories include:
(1) Dave Clarke DJ-ing at Peel's 40th Anniversary Broadcasting Bash, mixing in Peel's all time fave, The Undertones' "Teenage Kicks" with Leftfield's "Phat Planet".
(2) Being on the phone to a girlfriend who soon became an ex-girlfriend as she was further irritated during a heated conversation that was rudely cut short by me desperately wanting to know what the f*ck Peel had just played - I forget what it was but it sounded like my electrical appliances being invaded by some invisible audio-alien-nuclear attack with hydro-chloric acid poured on top (!)
(3) Those numerous short bursts on a Saturday afternoon where surreally sandwiched in between football scores, Peel would drop a ferocious mix of techno, gabba, Dick Dale, Peel Sessions, Happy Hardcore and some hip up-and-coming indie band.
(4) Another lodged memory was early 1990 hearing Peel dead-panningly introduce "Lamborghini" by 'legends' Shut Up & Dance featuring the Ragga Twins; terrifyingly exhilerating to say the least!!!
(5) Peel kicking off May 5th 2004 show with 'White Enemy', a mash-up of White Stripes' '7 Nation Army' & Public Enemy's 'Bring The Noize'; yet again, another pull-over moment in the car - I was gobsmacked!!!
Someone close to me once told me that they found it hard to accept one of their parent's passing and subsequently they'd find themself picking up the phone to call the parent, then realise the dream-like error of their ways. Well, legions of 'Peelies' and myself are in that state now when we flick on that dial and find he's just not there........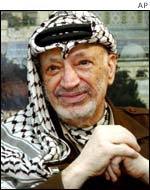 Arafat's gone too. Avoiding the politics and sticking to 'Pop Culture', I'll always remember watching the 'legendary' Tube TV show where 'legendary' pop-promo directors, Godley & Creme's classic clip for Frankie Goes To Hollywood's 'Two Tribes' showed a quick hand gesture from Arafat with some caption below saying "Frankie Says Relax - WELL 'ARD!" As a naive young teenager, that cool subversive editing fooled me - Yasser down with F.G.T.H. ? Respec'!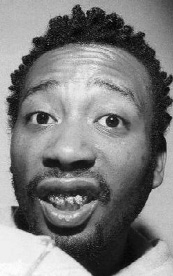 Finally, Ol' Dirty Bastard bites the dust, nothing to do with the insane/awesome Kleptones Queen mash-up. No, at the tender age of 35, ODB, as the New York Times called him, (they're so polite, they always refer to Meat Loaf as Mr. Loaf!) had his life cut terribly short.
His unique dirty rap-style and bizarre behaviour will be sorely missed and one quote from last October's Uncut Magazine really puts a smile on my face, making me always remember one of hip-hop's wackiest characters ever:
"….within a few months he (ODB) was back in court facing charges of a separate arrest when officers discovered crack in his unlicensed vehicle. That Bastard had allegedly asked the cops to 'do the right thing and make the drugs disappear' didn't help. Nor the fact that he turned up in court pissed as a fart, declaring his occupation as 'Sperm Donor' and asking the female prosecutor if she found him "horny".
OHH BABY!!!!!!!!!!

© 2005 Green Bandana Productions Ltd. Website design by
Steve Mannion.