Room With A View? Not 'Arf!
Fancy snapping up one of the world's first fully rotating buildings/flats?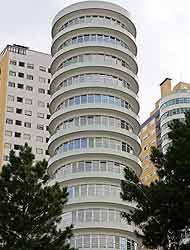 Each floor of this 11-story building in Curitiba, Brazil can independently revolve 360 degrees either way (imagine the chaos if they all had to simultaneously!!)
Cost - about £160,000.

© 2005 Green Bandana Productions Ltd. Website design by
Steve Mannion.