Cannes U Feel It?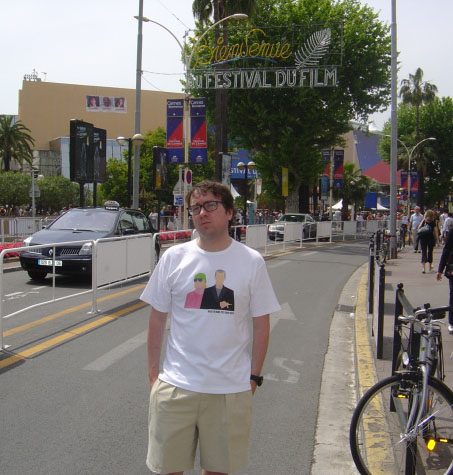 Exciting & exhilerating 4 days at Cannes Film Festival kicked off with me DJ-ing @ Luc Besson's party. Everyone said it was the party to be at on the Saturday night with a packed 1,200+ guests that included George Lucas, Harvey Weinstein & Samuel L Jackson.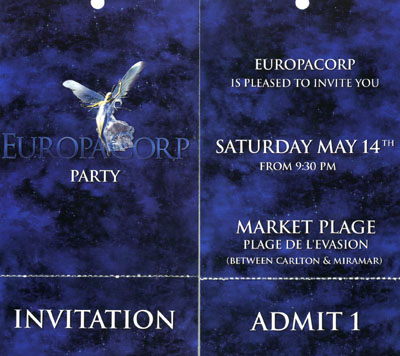 Respect to Samuel L. not doing the predictable hiding away in the VIP area, instead he danced like a cool mutha, sporting white kangol, white suit & white shoes, ruling the dance-floor.
Didn't manage to play anything off the 'Tarantino' mix-CD like 'Get Down, Stand Up' or the 'Woo-Jet' mash-up from it, with Samuel's immortal 'Pulp Fiction' line, 'Oh, I'm sorry, did I break your concentration?'; would have loved to have seen his reaction.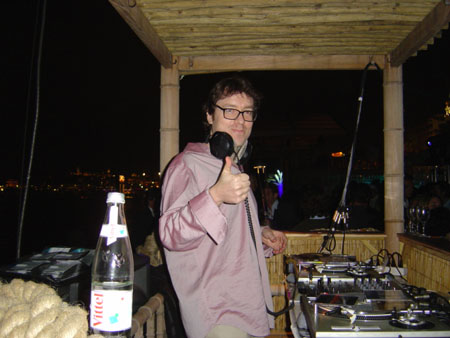 Ian did get an excited reaction from Samuel L. when he was given a 'Tarantino' mix-CD - unfortunately no photo of Samuel grooving by the DJ Bamboo-booth, though the image is firmly stuck in both our minds.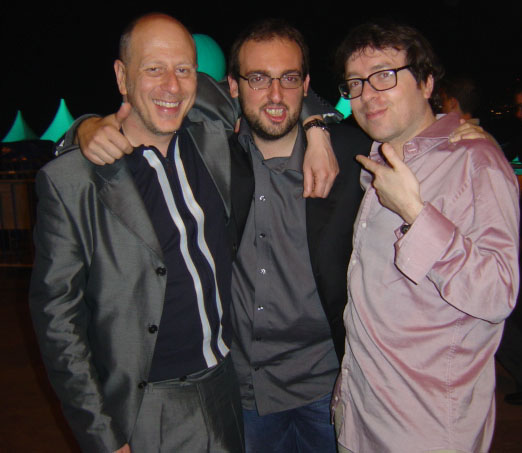 (Pic above Ian Neil, Jérôme Lateur & James Hyman post Luc Besson party)
No time to check any movies due to tight schedule of parties, meetings, drinks, clubs etc. Loads I'd like to have seen particularly 'Pauly Shore Is Dead'.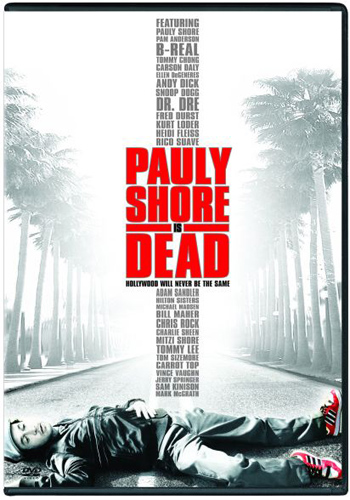 A lengthy Pop Culture-d celebrity cast (Sean Penn, Snoop Dogg, Ben Stiller, Chris Rock etc). all cameo amidst a simple 'art imitating life' & 'life imitating art' story where former comedian/ex-MTV VJ Pauly Shore finds himself down and out, losing everything so he decides to fake his own death to achieve critical acclaim and a new burst of fame.
Always thought of doing something similar for a sick reality-TV show to watch the media hysteria it'd generate just like Chris Morris' 'Brass Eye' did with its infamous paedophilia episode.
Matt Dillon (below right) with smart Max Headroom look - go re-visit Rumblefish immediately!
Talking of 'Rumblefish': (Below): "Don't you know who I am? Yes, I'm Mickey Rourke....or am I?"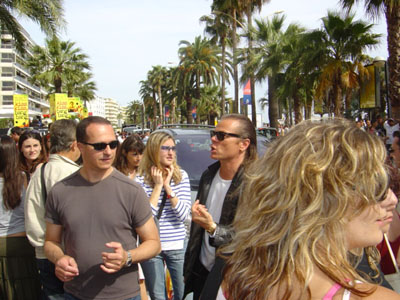 Plenty more voyeurism from Ian & I cruising La Croisette clocking & clicking the fans, autograph hunters, paparazzi and celeb-spotters who are all hungry as ravenous jungle predators waiting for the slightest scraps of a sighting of a star leaving a hotel, peering thru a curtain window or driving away slowly in a hired limo.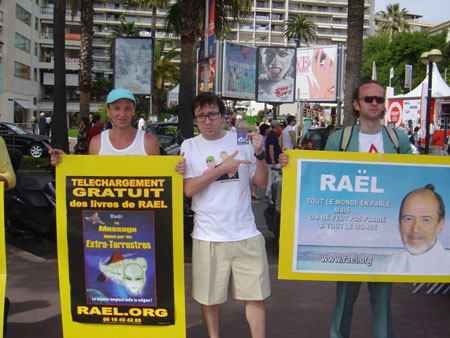 (Picture right): "OK, here's the 1-minute pitch - Stop believing and begin to understand - we're keeping it 'Rael' homies and hey, we can clone movie rights!!!"
Cannes' chilled yet gently hectic pace provided plenty of hilarious direction vagueness from loads of people Ian & I were meeting with, "Yes, we're on the boat next to the flag" or "Opposite the Carlton, you can't miss it!" - thanks see you in an hour or two.
(Picture below): More shark-infested snappers with crowds of crowds crowding round anything
that vaguely resembled a crowd:
Modern Toss's comic-strip character, Mr. Tourette (recently animated for Channel 4's superb comedy lab) provided Ian & me with one of the trip's best Cannes catchphrases, "I f*cking want paying for that you c*nt!!"
'Hustle', a keyword at the top of this billboard-saturated Carlton Hotel front, summing up a more invisible side to the obvious glitz & glamour of Cannes' Film Festival - actors, financiers, distributors, producers, script-writers, lawyers, agents etc. all wheeling & dealing in one of the chic-est cities on offer.
© 2005 Green Bandana Productions Ltd. Website design by
Steve Mannion.