Cross The Trax, We Gotta Go Back....
Momentary nostalgia's a great drug - at the right time, in the right conditions you feel great. Today, a quick burst, a flashback fix on a sunny Summer's day walking past Trax Records, Soho, en route to a Kidulthood meeting.
Shop manager, Craig, possibly the longest running record shop manager in Soho (!) is another important player in shaping my being.
Craig and the former shop he ran, 'Record Cellar' were seminal seeds sown in my musical development/taste; I could go as far as saying that much of my emotional outlook in life was formed by what I heard and felt back then in that dark, dingy basement below the Oasis Fashion shop in the alleyway of Newport Court, Leicester Square, WC2 (next to Steve Sounds), mid/late 80s, just before Acid House was about to explode. 'Record Cellar' & 'Trax' have been pivotal vinyl portals for the creme de la creme of DJs (Paul Oakenfold, Boy George, Danny Rampling, etc.) and the scenes associated with them i.e. Balearic, Acid House, Hard House, Trance etc.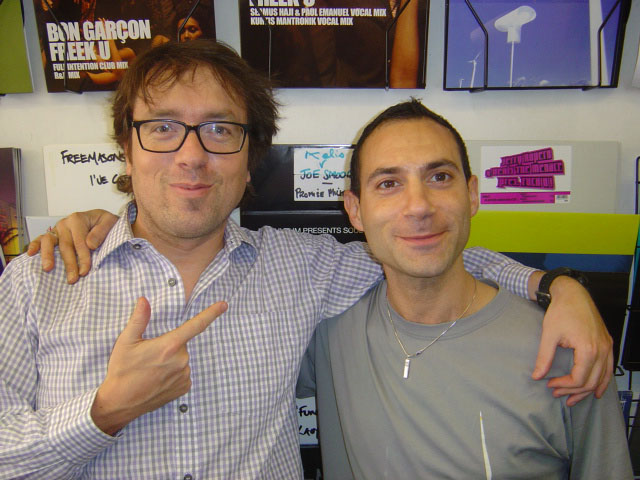 Craig turned me on to endless Pet Shop Boys mixes & remixes, PWL promos, Desireless 'Voyage Voyage', Company B's 'Fascinated', Divine, Eurobeat, Hot Mix 5 records, Bobby O, those Upfront compilations; overall plenty of euphoric, uplifting Hi-NRG music.
If I'd ever gone or go the gay way, blame Craig!!! I told him how well he'd aged which came out all wrong (!) I meant to say how he actually hadn't aged at all after all those years; maybe I was (subconsciously) flirting......
© 2005 Green Bandana Productions Ltd. Website design by
Steve Mannion.