The Starbucks Effect

In perfect time for Halloween, Anchor Bay have released this super-cool 'Phantasm' sphere DVD box set, prompting my quick 'Most Creatively Packaged DVD Box Set' top 5 with one simple rule - the TV show/film itself has to be damn good viewing:
-

5. Simpsons Series 6, Dohh!-lightfully Homer-shaped or Battlestar Galactica Cylon head packaging? Homer wins hands down, obviously.
4. Limited edition furry Bear's Tale, without a stiff woody you RASCLART!!!
3. Hellraiser Puzzle Box. Pinhead packaging could have rocked too but there's enough other Pinhead items like masks out there to be getting on with. Made me also think that if there was a 'Basket Case' Box Set, it could have come in an obvious Harrods-esque hamper with what inside? YOUR BROTHER!!!!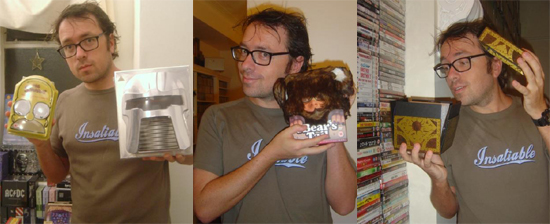 2. Book Of The Dead, what a read, couldn't put it down....
1. No messing with this Alien Head item where you prise open the top and place all 9 discs from the 'Quadrilogy' into its brain!!! The even more limited Japanese edition came with cute mini-Kubrick alien doll!!!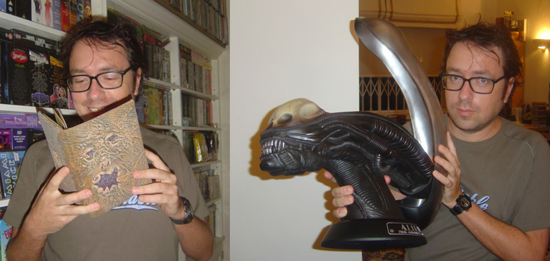 Anyway, back to Phantasm - as a kid the Tall Man terrified me and this film was too cult for its own good; I loved it. Those silver-spheres that landed in, then drilled thru the middle of human heads - just f*cking bonkers!!! So bonkers, those new Hugo Boss ads. with male hunks chucking silver Boss-balls is freaking me)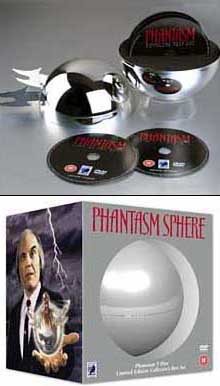 Phantasm introduced me to the whole appeal of 'DVD Extras' via my mate Jamie Caring. When he told me about footage of the Tall Man (Angus Scrimm) reciting his limited lines ('Boyyyyy!') at horror conventions to rapturous audience applause, I needed to check all this bonus material.
All this gratuitous 'bonus material' that gets lovingly lapped up is what Craig & I often call 'the Starbucks effect', nothing really to do with the coffee-shop chain but slightly long-windedly, named after a 'Solid Steel' radio show and its in-depth micro-analysis of Steinski and his 'Lessons Of Hip-Hop'.
In that Solid Steel/Steinski show, it was all those peripheral details, irrelevant yet so relevant, that we couldn't and still can't get enough of, to almost absurd levels; stuff along the lines of Steinski reminiscing about how the legendary records was produced, "Well, on the way to the studio that morning making the record, I stopped off for a Starbucks where I didn't have my normal 3 sugars...blah blah....That night, my wife slept on the left side when normally it's the right. I had a blister on my big toe....blah blah....". Essential on-point trivia.
When you're really into a particular piece of 'Pop Culture' (film/book/artist/classic album/director etc.) you can easily soak up everything and anything that surrounds your fixation.
Papers market this all the time, finding any loose 'exclusive' thread to re-hash another angle, normally on an celebrity icon - "I was John Lennon's gardener and boy, can I tell you some stories etc."
Similarly, record companies re-issue albums with a 'lost track', demo version, or by really exploiting the fanbase, bring out the same album adding an 'essential, never heard before' out-take. Yes, an out-take, that no one at the time probably wanted to or needed to hear but if we, the exploitative record company can get away with it, the fans are sure to buy it again (Mini Disc or SA-CD anyone?)
Film companies follow suit with DVD though it's slightly more forgiveable: Fincher's 'Fight Club' smacked me hard with hours of rushes breaking down the making of this terribly under-rated masterpiece (those CGI effects e.g. Ed Norton sucked out of the aeroplane window; serious presshah indeed!!) The numerous Matrix collections, climaxing in the 10-DVD Box set with dissections ad nauseam though cheeky/clever commentaries from people who hated the trilogy!!!
I've just bought 'Psycho' on DVD for about the 3rd time. Why? Wasn't the 'Psycho Collection Box Set' good enough? What about 'The Masterpiece Collection'? Um, no. It's not the "Ultra-premium Velvet Packaging" or Region 1's 'Anamorphic' transfer that's turned me on again; I think it could be the 15 minute extra 'featurette', the 'AFI Salute to Alfred Hitchcock'.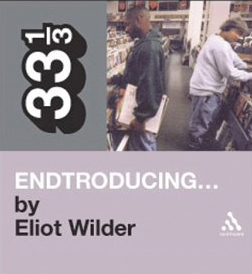 I can be a sucker when it comes to re-hashing, if, as I've said before, you absolutely LOVE the product in question. Take DJ Shadow's 'Entroducing', one of the most ground-breaking albums ever, appearing in all manner of 'best/favourite/essential/must have/all-time' lists. So, yesterday, I get the Starbucks effect' and impulse buy Eliot Wilder's book all about the making of 'Entroducing'. I want to find out what Shadow had for breakfast before/during/after making the album. Any coloured weather report pie charts to reflect his moods that may have affected some of the tracks?

If this book hits 2nd edition and offers a 1-track CD where Shadow farts for 2 seconds, I'll pre-order it now. Any hints of further re-presses with a bonus disc of Shadow coughing slightly on a re-discovered hidden track, it's on my wish list.

Alain De Botton's 'Status Anxiety' did much of the same; I bought the book, the DVD and the CD (often mixing in Alain's dulcet tones off the CD over techno on my Xfm Rinse Radio shows). I even got 'Status Anxiety' from all these different variations on a theme - when was the desk diary or toilet paper going to come out?
A combination of being a hardcore collector + the Starbucks effect can be lethal. Luckily I'm in recovery but for some, possibly still in denial, there's no cure and my thoughts are with you & your family. I've stumbled across loads over the years, from the guy who's been checking web prices of Black Sabbath records every day for the last 5 years to another guy compulsively having to own every audio format of every Bruce Springsteen recording, not forgetting the different covers/releases from all countries releasing records from The Boss.
Ebay's rife with this pathological level of psycho-geek - this guy snapped up anything touched by his god, Jean-Michel Jarre. Like the Britney's trapped fart bidding brigade, the Jean-Michel Jarre dude would probably monitor sales of the French synth wizard's stray pubic hair, left over food etc. given the chance.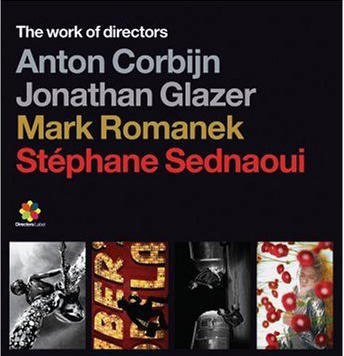 Lately though the 'Starbucks effect' hit the 11 out of 10 mark thanks to the 2nd batch of 'Directors DVDs'. For those not in the know, these are DVDs mainly showcasing pop promos from leading players in this field. Having worked at MTV for over 12 years, I devoured pop vids. morning, noon & night, on average, clocking 85 new ones a week, most of those during the Tuesday playlist meeting, so I still crave the clip; it's in my blood!!!
Richard Brown & his crew who have painstakingly produced these get my full props. Each 'Directors DVD' comes in a good-looking box with a book of sketches, storyboards & notes from the particular director. As for the 'extras', game f*cking over!! Starbucks in FULL EFFECT!!! There's commercials, film clips and interviews/commentaries from the RIGHT talking heads not some wack-ass D-list pretty boy/girl TV presenter saying, "Ooo, I like this" in an effected regional accent!!!!!
Craig & I dipped into Mark Romanek's DVD the other night, particularly wanting all the juice from Jay-Z's '99 Problems' clip; we got what we wanted with Rick Rubin etc. dropping sound-byte science on this Brooklyn black & white banger.
'Palm Pictures' of course deserves props too for continuing to support a DVD series like this; so many obvious reasons why the 'Directors Label' is so essential:- inspiration to indsutry Creatives, an important digital document of our times, educational etc. etc.
If the Palm headz or Richard stumble across this blog whilst googling, let me suggest further Directors DVD installments from Godley & Creme, Jonas Akerlund, Wiz, Vaughn Arnell, Steve Barron, and self-indulgently Jean-Paul Goude, the unique vision behind much of Grace Jones' image plus New Order's 'True Faith' & FYC's 'She Drives Me Crazy' clips.
© 2005 Green Bandana Productions Ltd. Website design by
Steve Mannion.