George Best - R.I.P.
Never that into football, maybe I'd raise an eyebrow if England made the World Cup semi's or something but George Best? Not just football or celebrity but a fascinating character: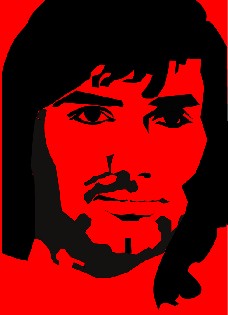 THE GUARDIAN/25 NOVEMBER 2005 [JOURNALIST: GORDON BURN]
"In the same way that he tended to be a loner rather than a convivial drunk, Best always seemed to have a preference for pubs over people. In the course of his life, a recognisable pattern emerged of him finding a drinking place where he felt comfortable in his skin, and doggedly sticking with it. Through the whole of his heyday at Old Trafford, that place was a sticky-carpeted, city-centre boozer called the Brown Bull. It was rundown and going to the wall when Best first wandered in, but it was soon one of the most happening places in Manchester, solely on the strength of his sudden, stellar celebrity. Best's sometime drinking partner and friend, the sportswriter Hugh McIlvanney, has recalled a night in the Brown Bull straight after Best had played in a European Cup match at Old Trafford: "No one had given much thought to dinner but, by the time the after-hours session was under way, hunger was a problem. At least it was until Best went round taking fish and chip orders from everyone in the bar, then disappeared. He returned half an hour later, not merely with all the orders accurately filled but with plates, knives and forks for everybody. The waiter seemed less like a superstar than the appealing boy who had worked small miracles with a tennis ball on the streets of the Cregagh housing estate in east Belfast."
Eamon Dunphy, a teammate in the early 60s, has described how Best always liked bars that functioned as "a home for those who didn't belong anywhere else ... Bars where human vulnerability was not frowned upon, was, on the contrary, celebrated." Through the eclipse years of the 1980s and 90s, Best could invariably be tracked down to a tiny local tucked away between the river and the Kings Road in London.
At his corner table at the Phene, half-hidden but with an unobstructed view of the door, he didn't invite conversation and, if the look he shot them over his glasses didn't deter unwanted visitors from invading his space, he didn't mind letting them have the rough edge of his tongue. The Phene had practical advantages: his friends lied on his behalf and said he wasn't there when wives, girlfriends and creditors were in hot pursuit on the phone; the bar staff laced his "orange juice" with vodka and tipped brandies into his coffee in the periods when he was supposed to be drying out.
But it had a deeper, totemic kind of significance which left his wife puzzling over "his constant desire to be at the smelly old Phene Arms". The Phene was the centre of his existence and he was content to spend entire days there, the days silting up into weeks and months, with the occasional foray to the betting shop, the off-licence on the corner, now and again (food was never high on the list of priorities) to Pucci's pizzeria on the Kings Road.
A fringe-benefit of his enduring celebrity was that the fire-fighters at Chelsea fire station, which was mid-way between the Phene and another pub he sometimes lay low in, would make him up a bed for the night if they came across him unconscious on a bench or saw him staggering home, looking excessively the worse for wear.
For somebody who, like his friend Rod Stewart, was rarely photographed without at least one generic blonde actress-slash-model in tow, Best was a man who seemed to luxuriate in his own company. Whenever I would see him in the Phene - old man's glasses low on his nose, Daily Mirror crossword propped up protectively in front of him - he'd remind me of the life-lagged narrator of Peter Handke's short novel, The Afternoon of a Writer. After a day spent not getting any words down on the page, the writer of the title habitually hauls his carcass to the local "gin mill" to lose himself: "He recalled certain particulars concerning each one of them. Not a few had told him the whole story of their lives, most of which he had forgotten by the next day ... For today he required no more, no sight or conversation, and above all nothing new. Just to rest, to close his eyes and ears; just to inhale and exhale would be effort enough."
Best's Chelsea neighbours got used to seeing him on the street, sometimes just wandering, with a faraway look in his eye. As if he didn't even see everybody watching him, or they weren't there. After spending some time with the baseball legend Joe DiMaggio, the American writer Gay Talese thought that look was the consequence of fame. It was the same look Talese had seen in the eyes of Greta Garbo: "Because when people got so famous that there was no one else on their level - no one else had a life at that pitch of hyperexistence - then, it was like the other people didn't quite have existence ... they simply weren't there."
Part of the deal with whoever Best happened to be shacked up with was that he could fly off to spend some time on his own with a bottle on a beach somewhere, with no notice given, no questions asked. "I used to love going to Amsterdam, not because I wanted to pay for a woman or smoke dope, I just loved sitting in the old square having a couple of beers and watching the world go by," he wrote. "Maybe 'loner' is too strong a word, but I've always enjoyed being on my own. I can just sit there quietly and am perfectly happy."
It seems remarkable, given his career of drunk-driving, philandering and domestic violence, and his multiple addictions to alcohol, gambling and sex, that Best only went to prison once. That happened in 1984 when, after failing to appear in court on a drunk-driving charge and resisting arrest after the police cornered him in a girlfriend's flat, he served two months. But it's an exchange that took place in the canteen at Southwark crown court before sentencing that has entered Best lore. His friends and defence team were staring into the bottom of their coffee cups, with nothing to say. Then George glanced across at them with a smile. "Well, I suppose that's the knighthood fucked," he said.
The "deathbed" pictures he insisted on the News Of The World publishing days before he died, were shocking.
R.I.P. - a nation salutes you.
(P.S. What a surreal irony - UK 24 hour drinking is licensed/all go as George Best passes away!)
© 2005 Green Bandana Productions Ltd. Website design by
Steve Mannion.