Art Really Imitating Life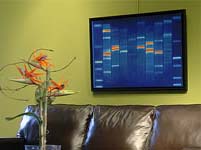 ....with DNA11.Com. Bit of a luxury, vanity gift but if you're into it, send off a little spit via their kit, then DNA11 run your saliva thru their gene-machines and print a custom rendered canvas of your genetic make-up, guaranteed to be a unique 1 of a kind piece of art.
I'm just waiting for a new wave of ebay frenzy when, having had all these kind of "Buy your Britney/Madonna/Elvis etc. Pop-Art Prints here", you'll soon get offers to bid on a Bono DNA painting to hang in your living room, though how and to what lengths will celeb-stalkers go to nab celebs' spit!!!?? If someone can trail Britney to catch a fart and flog it, I guess this and anything's possible, truss!!

I also remember reading somewhere that J. Craig Venter, the former CEO of Celera (that first decoded the human genome), will map your genes and burn a copy onto a CD for about $500,000!!! So basically you can find out which diseases you're prone to get and vice-versa thus helping yourself find cures/treatments early on etc.
© 2005 Green Bandana Productions Ltd. Website design by
Steve Mannion.