Thanks (Pay) Pal!

Consumer praise for Paypal. I'm 99% satisfied, this on-line payment/'banking' service is superb. If you're not hooked up yet, in short, Paypal's 'electronic money' system allows you to pay/receive money to and from anyone with an e-mail address; like any on-line application, both parties need to be connected/have the software/verification process etc.; it's pretty straight forward.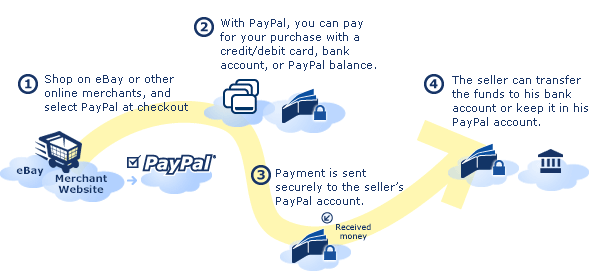 So:
PAYPAL: SIMPLE MAJOR PLUS POINT(S):
Quick/immediate, no hassles of waiting days for cheques to clear/arrive. Millions of users etc.
Some find the charges too high for receiving payments. Paypal is owned by Ebay and many don't like the fact that Ebay take transaction cuts right the way through the sale of an item i.e.:
(1) You place an advert on ebay, that costs.
(2) Additional photos, gallery, prominence to your item - extra costs
(3) When your item sells, ebay take a cut of the final value.
(4) When your items is paid, ebay take a further cut of that too - Paypal.
All ebay need to do now is buy up Royal Mail & other postal services and they have a sewn-up monopoly!!!
Don't get me wrong, I love ebay, have used it and don't have a problem with any of the above; my only tiny niggle is a current loophole that's often affected my girlfriend Kate, who trades as 'Urban Doll', FSA, nota bene:
If someone pays you for an item and says it never arrived, they can try and claim the money back from your account by filing a complaint with Paypal. Unless you send the item REGISTERED or GUARANTEED with a tracking number, you run the risk of your money being taken back if the person who bought off you 'claims' they never received the item.
Of course there are plenty of dishonest people out there who will try to falsely 'claim'. Recently Kate sent some items out with a 'Proof Of Postage' stamp from the Post Office which, as the phrase implies proves you sent the item. Paypal won't accept this when someone is claiming for a lost item; fair enough. So Paypal quite rightly advise sellers on having the item sent RECORDED/REGISTERED/GUARANTEED.
However the person claiming could still contest that he/she never received the 'item as described', even if the item is sent RECORDED/REGISTERED/GUARANTEED; obviously a very tricky one for Paypal and/anyone to easily make scam-proof and less potentially fraudulent although perhaps both your Paypal 'Verification' and Ebay feedback ratings could be additional strong indicators, used further towards an even stronger safety measure?
Paypal has come under fire (though don't believe all you read, especially on 'Wiki's') and there have been rumblings of Google gearing up to enter the on-line payment arena, though as I began this blog, Paypal does currently rule with its simplicity and ease of use; can't wait till it goes mobile!!!!
© 2005 Green Bandana Productions Ltd. Website design by
Steve Mannion.