The Big Bang
Driving out the O2 tonight, caught the end of the last part of Marc Riley's excellent Radio 2 Doc. on Sampling/Plagiarism, "It's The Same Old Song", with DJ Shadow's phenomenal "Building Steam With A Grain Of Salt" used as the outro bed where industry bods & artists laid down their final summing-up m'lud quotes. Thoughts soon jumped to some intense hip-hop records whose beats superbly sample guns/weapons: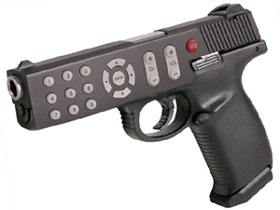 CLINTON SPARKS FEAT. MOBB DEEP "OKAY DUN"
Thought it'd be hard to get more menacing than "Quiet Storm" but oh no. Took a while to track this down after catching it on Westwood as Timmy "Plays it, but doesn't always say it". J*sus! The combination of Wendy Carlos' creepy Clockwork Orange theme (Purcell's Funeral Of Queen Mary) and clicking/reloading/shooting & bell-chimes still makes me give this one serious dark rewind bizness!!!
NAS "MADE YOU LOOK"
The hall of fame break "Apache" is looped to f*ck, punctuated by a pause-chorus of a simple gunshot & Nas's vocal "They Shootin'" hook; downright lethal!!
??? "TRACK 28" (TAKEN OFF 'RADIO CLIT CLIT' COMPILATION)
Holy *&!"$£!!!! Quick snatch of an unknown track whose rhythm is just constructed from gun loads/fire, jerking along mightily; bang 9 automatic!!! Oh & track 29 off that same compilation has the nastiest synth-riff ever heard; still have no idea what both tracks are, even after a cryptic reply from the Clit Clit crew themselves.
D-BLOCK 'MIGHTY D-BLOCK (2 GUNS UP)
An evil DJ Green Lantern gem from a couple of years back, pow-pow punctuation and slick military-marching intro-beat.
Finally, not so gun-heavy but as dark, dangerous & potentially fatal, possibly, the ultimate "firing" break & beat and one that's going to SMASH IT SO HARD in clubland's coming months is "Your Time Has Come", produced by Dr. Dre from Bussa Bus's new 'Big Bang' album. Check this, the beat's built around a sample of a shovel going into dirt, the dirt being poured into a coffin and a beating heart" - GAME OVER!
© 2005 Green Bandana Productions Ltd. Website design by
Steve Mannion.