Last Night....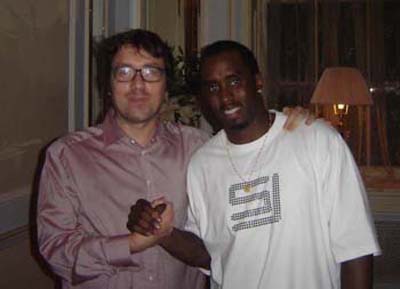 ....was an Xfm screening for 'A Scanner Darkly' and as predicted in this blog entry, I was not disappointed. The 'Roto-scoping' effect, hypnotically essential to the dizzying drug-centric feel to the futuristic film. Phillip K. Dick's powerful paranoid prose comes alive terrifically; bring on the DVD asap!!! Then off to the 'Royal Duchess Palace' to hear P.Diddy's new 'Press Play' album, a star-studded production featuring an awesome A-list of who's who in R&B/Hip-Hop e.g. Kanye West, Brandy, Big Boi, Timbaland, Pharrell, Mario Winans, Christina Aguilera, Mary J. Blige, Nas & Black Eyed Peas' Will.I.Am.
Diddy's not just stuck to music - having re-invented himself successfully on Broadway, his 'Sean John' clothing line, running the New York Marathon and maybe with one of the album's tag lines about Puffy, "providing more jobs for blacks than the armed services", could he be thinking about heading for the White House?!!!!
.... On 'Press Play' the re-invention's a positive head nod as 'gangster rap' matures into soulful hip-hop R&B with Diddy singing for the 1st time, the music, sample free and plenty of 'bangers' on there with Timbaland's Ibiza/Miami influenced track one of the stand-outs for me.
The last album I can remember packed with such solid production and high hit single rate, was Kanye West's "Late Registration", well when the next semester starts around October 3rd, my assessment for "Press Play" is equally, worthy of full marks.
© 2005 Green Bandana Productions Ltd. Website design by
Steve Mannion.