Roots, Rock, RODDERZ!!!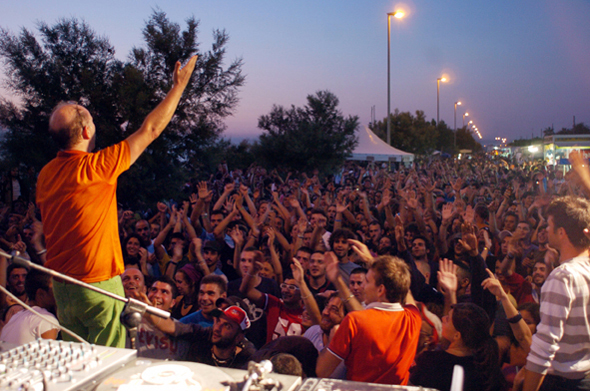 [Rodigan & Crowd at daybreak in Salento/Italy, 2006]
In very crude terms, David Rodigan, (as a radio/club DJ) is to Reggae as what Westwood is to Rap and I suppose DJ Hype to Drum & Bass though I'm not here to compare them; love goes out to all manz dem. This blog entry is really to big up Rodders heavily after stumbling across some right raucous raw footage on, yup, of course, You Tube.
I wrote to Rodders once a few years ago (his reply here), when he was on Kiss, and he/his show still is but this was old skool Kiss, based on Holloway Road before EMAP's takeover.
Despite an important, early MTV shoot the next morning, Rodigan kept me awake till about 5AM with an awesome one-off reggae special; it was like DVD radio, a cool school lesson from the teacha preacha telling it concise, dropping dub-plate presshahh with heart-felt commentary!!!
Anyway, back to those riveting Rodders Yout' Tube, sorry YouTube clips. Watching about 20, engorging on a new Ben & Jerry's flava, Vanilla Toffee Crunch, I came close to the end of the tub, wheeled the ice cream up for some criss' biscuit at the bass - sorry reggae speak's taking over!!
In this clip, Sir David drops the 'Sleng Teng' to devestating effect and the raw energy he emanates reminds me of Cutmaster Swift's crazy chicken dance at the 1989 DMC World Mixing Championships when Swiftie mightily mixed together Alison Williams "Sleep Talk" with Mantronix "King Of The Beats" and the crowd went chicken oriental, er, mental.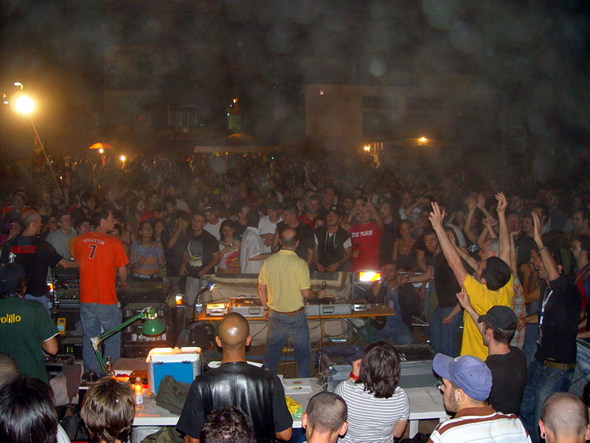 In 'The Father Of Clash', at 'Riddim Clash 2006', Dave is busting deadly dance moves to Prince Buster, carrying on even when the DJ's rewind stops the music dead.
Give thanks here to ja Father Downbeat vs. Father Rodigan vs Father soundclash with more magic moves that puts even Gene Kelly's finest choreography to shame. Some may joke that the Rod Man comes across like an accountant or embarassing uncle showing off on the dancefloor at an office party - WHEEELL & F*CKING COME AGAIN!!! Rodderz is the MIGHTY MOVER!!!!
Fi-YAH at the front with the flame-thrower/lighter crew when Rodz drops Tenor Saw at Riddim Clash 2006; oh gosh!
Over at H20 in Milan, kicking off in heavy Dr. Who/Davros stylee leather jacket, Rodz gets political and schmaltzy with some Cornetto riddim for the Pavarotti Massive (!) as well as practically making love to his DJ mixer/gear!
Rodigan also kept my mate JonJon (aka Udders) up till 5AM, in his case he was watching the YouTube clips and he commented on Rodder's performance being like a cabaret and more importantly he calmly and seriously stressed that here were some of the most captivating clips he's ever witnessed - I have to agree!!
Your Majesty/Royal Highness, having quite rightfully bestowed Norman Jay with an MBE, please come again & bestow similar honours on Rodders, the international don RodiGWAN!!
© 2005 Green Bandana Productions Ltd. Website design by
Steve Mannion.