Charlie Brooker's "Screenwipe"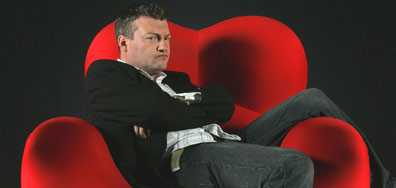 Probably, sorry, undoubtedly the best programme on TV right now and actually for quite a while, is "Screenwipe", Charlie Brooker's offering of uber-intelligent insight into the machinations of television in his mighty motor-mouthed manic style, packing so much into each half-hour - he's the TV equivalent of the 'Airplane' films. Alas, I can't begin to list the number of gags in each entertaining episode. I just finished watching Charlie tackle 'Reality TV' which was predictably genius. One timely music-geek detail which gets 1000 bonus points was slipping in John Carpenter's 'Halloween' theme for boardroom tension when, dressed regally, 'King Charlie' was firing his apprentices in the climax of this particular episode's theme of 'How to make a reality TV' show.
There's one very disappointing thing about "Screenwipe"; I doubt it will ever come out on DVD due to what would possibly be an expensive and logistical legal nightmare clearing all the clips of other programmes and music rights; maybe make do with hunting clips down on YouTube or get taping/torrenting.
Big up Charlie Brooker's c*ck!
© 2005 Green Bandana Productions Ltd. Website design by
Steve Mannion.