Music Non Stop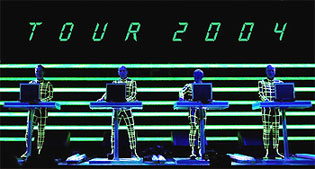 Though I love/admire/appreciate the legacy of music & mystery surrounding Kraftwerk, I had convinced myself their Royal Fesival Hall gig was going to be annoyingly dull; how wrong I was!
The mixed audience of B-Boys, grey businessmen, school kids, mums, Japanese Trendies etc. were stunned, amazed and wowed by their super-slick sound combined with hypnotizing clinically-clean visuals and a simple yet enthralling performance by 'Die Robote' who were cheered on for 3, yes 3 encores, ending with 'Music Non Stop'.
True history in the making, where were you?

© 2005 Green Bandana Productions Ltd. Website design by
Steve Mannion.