Yahoo's Best Celeb Site....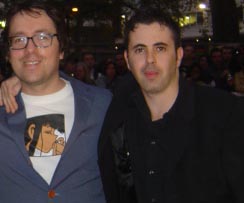 ......of 2005 goes to my moody (only joking!) old mate, 'Mave The Rave', aka Mavis, aka Julian Segal. Gotta big him up for his excellent Dave Gorman-esque 'Greeting The 500' challenge which is still running tings for about another 3 weeks and just won one of Yahoo's 2005 web site 'Finds Of The Year' (See Mave in ITN action here).
Fall back even further!!! Mave coined "Big up your c*ck!" (c) + other silly in-joke lingo that's done the rounds over the years for those in the know; SKEECH!!!!
© 2005 Green Bandana Productions Ltd. Website design by
Steve Mannion.