Boom!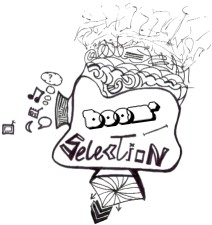 .....the sound of a big explosion like Westwood's frantic jingle-bombs when mighty, grimey hip-hop dawgs are up in his Radio 1's crib.
For the bootie brigade, it was yesterday's seismic sermon from Boom - the blog-o-sphere's still shaking!!
Echo-ing much of the_dr's verbals, Boom was the shizzle. It got me into blogging after reading Mr. Sheldon's sharp, witty enthusiastic posts. I'm pretty sure as a download virgin, my first time was with Boom, something like Craig David vs. Fischerpooner or Eminem vs. Survivor; what a buzz, downloading, then airing it within about an hour!!
Here's when the Doc (then aged about 15!!!) stumbled across Xfm's 'Remix' way back when, 18 November 2001 to be precise.
This January 2002 entry documents early bootleg big-guns like Freelance Hellraiser plus Boom's debut on-air mention and the 1st viral MP3 mash-up that literally went global in minutes after it aired on 'The Remix', Sunday 27 January 2002. That bastard pop fusion of Public Enemy's 'Bring The Noise' & Dexy's Midnight Runners' 'Come On Eileen' was created by Audio Shrapnel as part of the Remix show's 'Superchunk' by Fun-Da-Mental.
Amongst Boom's April 2002 musings, the flippant challenge Eddy & I issued on-air during release week of our 'Xfm Remix' compilation. We wanted to see how quick someone could snap the in-store window display of the album in Tower Records/Picadilly. Again, showing off blogging's exciting immediacy, a Boom Selection correspondent uploaded his digital snap in lightning speed.
The cast of thousands from the 'Mash-Up/Bootleg/Bastard Pop' scene owe a lot to Boom Selection's blogs; someone on Beatmixed recently jibed that "it's actually the_dr who owes a lot - to the hundreds? thousands? left out of pocket" when he couldn't cope with demand after releasing his jaw-dropping 'Never Mind The Bootlegs' compilation that was packed to the rafters with every conceivable cut-up from the history of boots/mash-ups/bastard pop.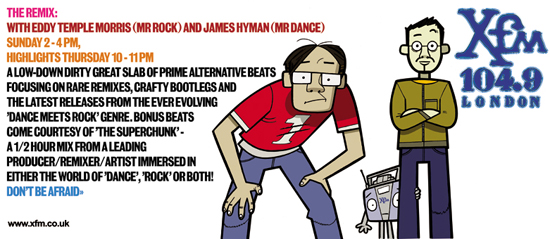 As Eddy & I were doing it on those legendary Sunday 2PM shows (pic. above), Boom was the on-line mirror, supporting everything from the Cargo club night we put on and special broadcasts like the Oasis one that got a mighty thumbs up from our kid, Noel G himself.
I often tagged 'Boom' the CNN of cut-up; right there on the front-line of a very exciting musical movement, in many ways, more DIY than Punk itself.
The_dr's probably right to call time on Boom's blog now, considering where the whole 'mash-up/bastard pop/bootleg' scene is now at. It's not over, just so comfortably mainstream - Jay-Z & Linkin' Park's 'Collision Course', the Madonna/Missy 'Gap' ad, Wired Magazine devoting huge editorial coverage to 'Remix' culture etc. - ya get me?
Personally, I'd like to thank the Boom Crew for heaps of madness over the last few years:- from club events, the numerous silly e-mails constantly spicing up Xfm's Remix, my 'Mystery Pants' (!), supporting the James Hyman/Audio Shrapnel Mix-CDs from Vol.2 right through to 007 & Tarantino, plus hailing me the new Pete Tong (!) and introducing me to El Steve 'SPEC' Mannion (designer of this very site) etc.
I'll miss you Boom (hell, I think you were even once my homepage)!!!
(Pictured below: left 'the_dr', middle 'James Hyman', far right, 'Pojmasta' at All-City Night, October 2003)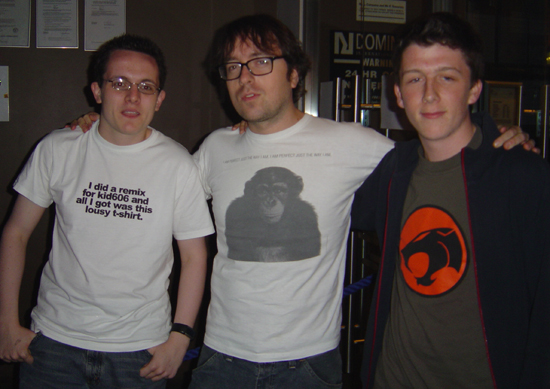 Posted on
September 30, 2005
at
06:53 PM
© 2005 Green Bandana Productions Ltd. Website design by
Steve Mannion.