Always Outnumbered...
....Never Outgunned, the new Prodigy album is out Monday. Their last album, 'The Fat Of The Land' hit no.1 in 23 countries on 1st week of release, a chart feat I doubt even the Beatles ever claimed.
Will 'Always Outnumbered, Never Outgunned' reach similar dizzy heights? Worth the hype? You decide.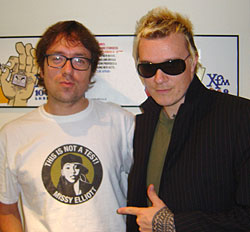 James Hyman's in-depth interview with Liam airs on Xfm's 'Rinse', Friday September 3rd, featuring plenty of new Prodigy tracks, classics, Liam choosing musical influences plus Kiss's Gene Simmons 'Firestarter' cover!!
Listen to interview HERE after Xfm broadcast.
© 2005 Green Bandana Productions Ltd. Website design by
Steve Mannion.