I Robot & Warp Visions
DJ'd last Wednesday alongside Jazzy Jeff at Fabric for I-Robot UK premiere starring Will Smith.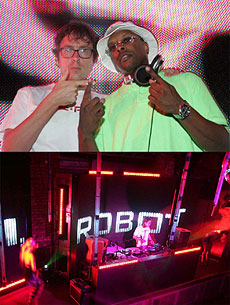 Jazzy took over my warm-up, delivering a blistering party set with Will Smith beaming ecstatically from a balcony above in the tightly guarded 3-levelled VIP area.
[Jazzy Jeff/Fabric Pictures - James Gillham]
I only regret ditching most of my vinyl for CD when watching someone like Jazzy Jeff at work; practically ever track he dropped received loud cheers. Plenty of 2 x copies that cut up classics like Michael Jackson's "Billie Jean" plus solid live mixing too e.g. Big Daddy Kane's "Raw" slammed over Justin Timberlake.
Slight pressure when I took over with crowd at fever pitch but hey, RinseMaster rinsed it, climaxing with an eclectic mix including the Prodigy's "No Good", The Streets' "Fit But You Know It" & Hayseed Dixie's country-cover of The Darkness's "I Believe In A Thing Called Love".
And the film? Super-slick Summer Sci-Fi. The robots bear striking similarity to Chris Cunningham's cyber-creations for Bjork's "All Is Full Of Love" video.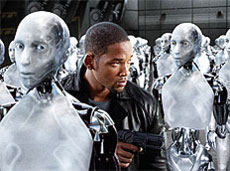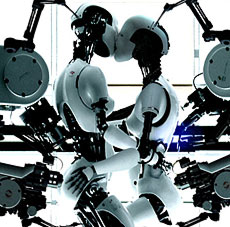 Talking of Chris Cunningham, check his groundbreaking & terrifying promos (Aphex Twin's 'Come To Daddy', 'Windowlicker' & Squarepusher's 'Come On My Selector' etc.) included on long overdue Warp DVD, spanning 15 years of video from the seminal Sheffield label. I did enjoy documenting & broadcasting all Warp's visual ouput during my MTV years when producing/directing 'The Party Zone' which included a rare TV interview with Aphex Twin at 1996's Big Love Festival & World Premieres for Chris Cunningham's 'Come To Daddy' & 'Windowlicker'; Chris said the sequencing/programming of MTV's Party Zone was his inspiration for 'Windowlicker'.


© 2005 Green Bandana Productions Ltd. Website design by
Steve Mannion.