Sounds Of The Shrapnel & Geek Chic
In addition to the Roots Manuva 1-hour words & music special, tonight's 'Rinse', kicks off at 1AM with a cracking, phenomenal mix from one of, sorry, the best booter in the business, AUDIO SHRAPNEL.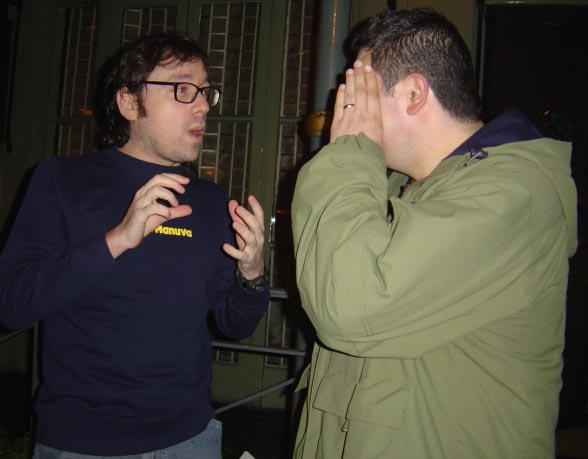 Many of you will know him from the sterling knob-twiddling on the James Hyman Mix-CDs, or when he worked at Nation. His 'Come On Bring The Noise' mash-up (Public Enemy & Dexy's) was the first 'bootleg' to get MP3-ed right round the globe after its 1st airing on one of those legendary Sunday Xfm Remix shows Eddy & I used to present together.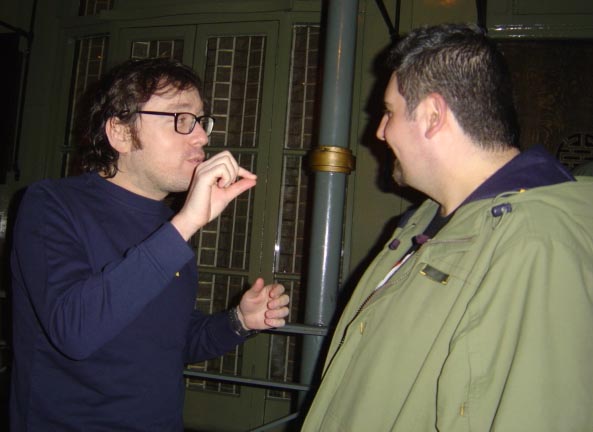 Audio Shrapnel's Rinse mix tonight is his December 'Bastard' set, hailed as the best 'Bastard' night to date; big up Shrapnel's salami!!!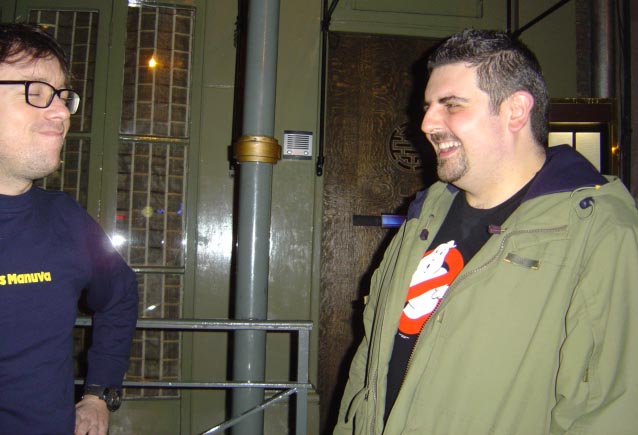 Here in open blog mode I profess my deep love for Audio Shrapnel (don't worry Mrs. Shrapnel, no going the gay way/swordfighting!!!) The love flows from a strong geek-bond/friendship.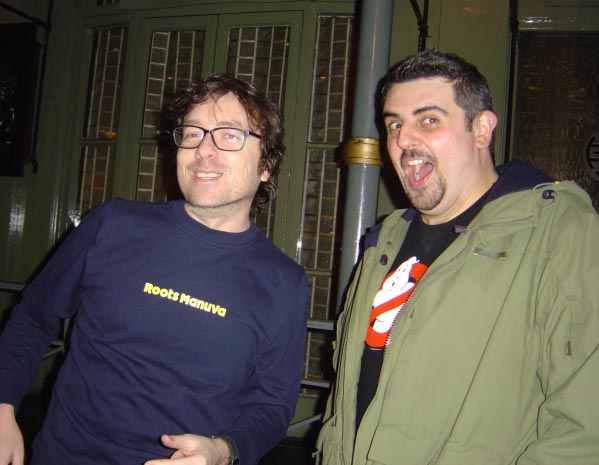 Rich & I chatted loads (I'd often be exhausted from such intense chats!) when he was at Nation - I actually met Mrs. Shrapnel before Rich Shrapnel, at HMV/Trocadero, the week before Rich came in to Xfm with Aki/Fun-Da-Mental for that legendary Superchunk on Sunday 16 December 2001.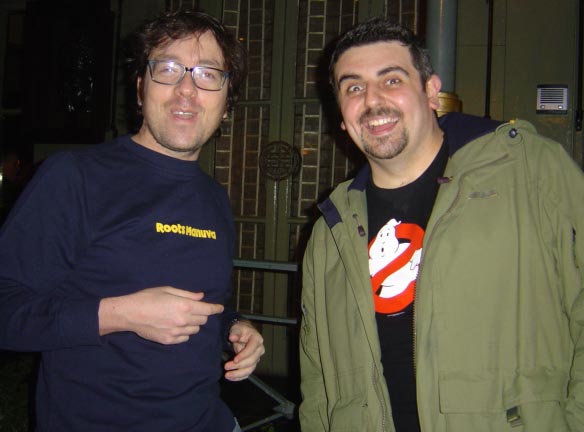 When you're a geek it's hard to find fellow geeks, even harder to find, laugh, and bond with geeks who share the same 'chosen subjects'. As amorous anoraks, Rich & my academia has been a mish-mash with many recurring topics: DMC, James Hamilton (R.I.P.), Jocks Magazine, Music & Video Exchange (or 'Church' to those in the know), Simon Harris, DVD Region comparisons etc. Our banter & Pop-Culture consumption is ill; Rich digests and spews back with terrifying acerbic wit. I think the Japanese have a word for us obsessive compulsives, 'Otaku'.
Instead of wrestling naked by log-fires a la Ollie Reed & Alan Bates in 'Women In Love', Rich & I, plus many of the geek-gang develop a tick and subconsciously end up playing 'Trainspotting Tourettes' - casually showing off knowledge (usually music songs/artists) in quick fashion by picking up on words from a conversation and interrupting, hence the tourettes. For example, A says, "I'm going to the West End later, what are you up to?" B quickly interrupts, "Pet Shop Boys 'West End Girls - Shep Pettibone Remix". A could retort with "West End Records" (the classic disco label), if A's really quick back, "West End feat. Sybil, 'The Love I Lost' on PWL records".
That's 'Trainspotting Tourettes' in very basic form, sad maybe when you read this, but beats prolonged bouts of fishing, talking weather/politics or watching hours of Big Brother. 'Trainspotting Tourettes' forms a key part to the art of Geek, usually the collector fraternity; a way of sharing passion and enthusiasm; symptoms are normally music-related.
Other 'named & shamed' hall-of-fame sickos from the geek-gang over the years include: Craig Leckie (pictured on right below, next to Damon Dash who I doubt has 'Trainspotting Tourettes' though major props for backing 'The Woodsman'), Jamie 'Alfred' Caring, Iain Baker, Marios Chirtou, Sam Houser, Terry Donovan, Dave Watts, Torsten Luth, Miles Dunbar (no relation to Sly alas!), Phillip Mlynar, Robin Pursey, Rohne Hill, RichColour & Ben Cyzer - all full of sharp knowledge reigning supreme.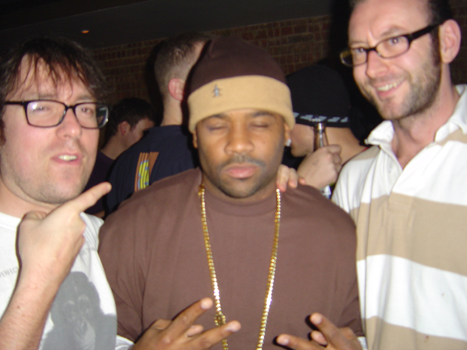 © 2005 Green Bandana Productions Ltd. Website design by
Steve Mannion.