THE BEST OF LUCK TO YOU!!!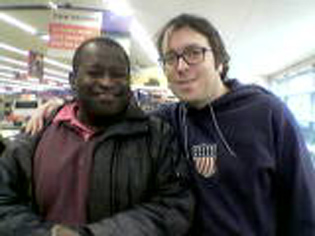 Finally a cam-phone-pic (thanks Kate!) with true local celebrity & urban legend, Mr. BEST OF LUCK TO YOU!!!!. Sainsburys Camden regulars will surely have heard him belt out the above phrase repeatedly with the sincerest of warm grins; respect!!
Listen up Del Monte, Kio-Ora or Tango, sponsor this dude - all he ever seems to buy is Oranges!!
Next up Oxford St.'s 20 pence Man....aoooowwwwwwwwwwww!!!!!!!!!!!
UPDATE - 05 DECEMBER 2007
Staggered to stumble across this Facebook group and see the INSANE amount of members (over 3,000!), messages & love (over 500 posts!) for the don-dada who I didn't know until now was called, "Horis" or "Horace" or "Stanley" (!), how he could get so riled, his phenomenal memory for names, the crayon drawings plus asking nuff girl dem for kisses!!
Brilliant anecdotes from those who've been touched by Finchley's finest (and what a global reach!!), a song dedicated to him!!! as well as YouTube clips of "Horis/Horace/Stanley" in full effect like this one and this though, if you see the ledge, please avoid teasing/being cruel etc. be kind instead, you know it makes sense!
BONKERS!!!! The legend lives on, quite rightly so, get that statue/blue plaque up IMMEDIATELY and yes, best group on Facebook right now!!!
SOME CRAZY POSTS FROM THE FACEBOOK GROUP, "HORRIS OF FINCHLEY APPRECIATION SOCIETY":
Amy Murtagh wrote
at 1:04am on September 17th, 2007
Ah HorrACE used to come in to Sainsbury's when I worked there and buy a huge packet of sausage rolls with one pence coins. and he would always ask me if he could give me a kiss. I always politely declined and said I was married. The man IS Finchley.
Caroline Giles wrote
at 6:17pm on August 29th, 2007
I know Horace quite well - we used to live in the next block of flats to him on the grange estate. He lived with his mum and dad and brother John. His real name is Stanley but he got so fed up with people chasing him and calling him that he changed his name. There were stories of his dad being an axe murderer - not true! He actually stabbed a burglar with a screwdriver (not fatal). Horris still remembers my sisters birthday when he sees her - 25 years later!!
Helen Pieri wrote
at 7:52pm on August 26th, 2007
He looks no different!! I can't believe it. I used to work in Coombes bakers in north finchley on a saturday about 24 years ago and he came in every week. He would buy a whole gateau then sit on the floor and eat it! He also liked to buy about 15 custard tarts and do the same. Must be something in it as he hasn't aged a bit!! Amazing to see him on here.
Roger Luck wrote
at 6:15pm on July 15th, 2007Well I was a very good friend of Horaces dad: Mr. William White, who used to work on the buses and died about 15 years ago. I can clear up some of the myths for you. He was originally called Stanley, but changed his name to Horace in the early 80s. His Dad wasn't too impressed with this and legally he is still called Stanley....but he hates it. His mum got Rubella when pregnant with 'Stanley' and hence he suffered some brain damage at birth. His mother became blind and passed away in the late 70's, but he continued living on 'The Grange' in N.2. with his Dad. His brother is known to be a very violent man, and is currently inside. I believe he also has a sister. His Dad was a real gent and asked me to always keep an eye on Horace when I could, which I do. Unfortunately he has diabetes, and isn't helped by his inability to stick to a diet. 'Coke and fries, Horace'. Would you believe Horace is in his 40's. Basically Horace has a good heart and I hope you guys will keep an eye out for him
Nick Coleman wrote
at 10:03am on June 20th, 2007
Horris has an amazing memory, i told him my name was MR.Perfect back in the day on my 18th birthday outside the coachstop (remember that quality boozer). he didnt even write it down in his colouring book and five years later walking past the tally ho he sees me and shouts "allo Mr Perfect, the best of luck!" i nearly shit.
Navid Shaikh wrote
at 10:20pm on June 18th, 2007I remember Horris as far back as my school days in Finchley Catholic (1987).Its about a year ago whilst on the way to a wedding reception in town that I saw him outside the golden arches, my ex exclaimed "Look at that poor man there! probably very hungry and we're off to stuff our faces...what could I do but park up and ask what he would prefer chicken of beef..he wanted chicken so I bought him a chicken Mcsandwich. put a big ole smile on his face...he then told me that I forgot the chips..Cheeky sod! The best of Luck Horris..
Luke Martin wrote
at 9:44pm on June 17th, 2007"horace is a brilliant businessman.
just the other day i saw hm sell a cassette tape of his trademark torrent of expletives for a FIVER!"
Simon Myers (no network) wrote
at 3:55pm on June 16th, 2007
He was bullied by Nazi Skinheads as a child.
They always asked him the same question?
When we flick this coin you choose Heads or Tails.
If it was head he would get a kick in.
They would flick the coin untill it was Heads.
Say Heads to Horris and see what happens to you.
Best of luck to you, Best of luck.
© 2005 Green Bandana Productions Ltd. Website design by
Steve Mannion.