Pope Idol - Feel Da Force!
Good timing, what with 'Revenge Of The Sith' imminent; now create your own "Pope"-Culture conspiracy: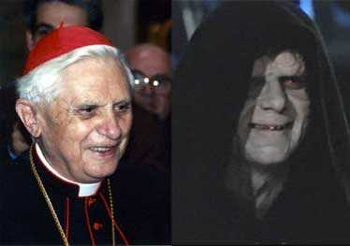 Talking of 'Star Wars', check/click pic. below:

Just how we like it here at Green Bandana, funny, quirky/silly takes on pop-culture, a refreshing addition to all that Lego Star Wars bizzness or even this new mad 'Store Wars'. My thumb has gone to the Darth side from 'nuff Blackberry pressure!!
© 2005 Green Bandana Productions Ltd. Website design by
Steve Mannion.