02 Wireless Festival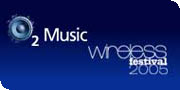 Avoiding Glastonbury's mud canoeing (!), I opted for a more convenient local festival, 02's Wireless in Hyde Park. Would love to have checked Vitalic (whose remix of Bjork's "Who Is It", was so hot, it inspired her to make music again) but was DJ-ing in the Xfm 'Blue Room' bubble at the same time.


(Above, from left to right: James & Rob/Stereo MCs, festival atmosphere, James & M.I.A)
I did catch brief glimpses & bursts of Roots Manuva, LCD Soundsystem and Mylo who really did drop the mutha-f*cking pressure to round off Saturday evening's entertainment on the Xfm stage.


(Above, from left to right: James & Mylo, Main stage, James & James Murphy/LCD Soundsystem)
© 2005 Green Bandana Productions Ltd. Website design by
Steve Mannion.