The S.O.V.!!!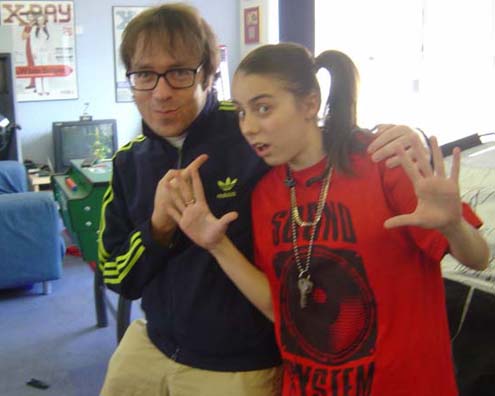 19 year old Lady Sovereign has been tagged many things, lazily it's often the 'female Streets/Mike Skinner'. Press accolades include: Sunday Telegraph, "The next real star" & New Yorker, "Sovereign is not grime's only female m.c. but she is the scene's sole white woman, and seems destined to be its biggest success."
She's been working with top-notch producers like Basement Jaxx, Jacknife Lee (U2, Snow Patrol etc.), Roll Deep & Menta (Ms. Dynamite & Daniel Bedingfield). James Hyman caught up with her recently, hours before Jay-Z flew her over 1st class to NY. Jigga has since insisted on hip-hop hook-ups with Sov's idol (and soon to be mentor?) Missy Elliot plus the Neptunes as well as a Beastie Boys remix soon come!
Catch a 1-hour words & music special with Lady Sovereign on Xfm's Rinse, Saturday Night/Sunday Morning (1AM), 8th October. Featuring loadsa Lady Sovereign toons including album cuts, that awesome Ordinary Boys remix, her slap-happy 'Tango' track and her Streets 'Fit But You Know It' remix-rhymes too.
Posted on
September 09, 2005
at
12:48 AM
© 2005 Green Bandana Productions Ltd. Website design by
Steve Mannion.