Baile Funk In Yo' Face!!
Just how hot is this intro, Prelude' on Pendulum's album? Heat baby!!! This is a sizzla too, Phil just tipped me on it ("Beyond essential", he said!) and it's a 'Buy It Now', symptomatic of our 'instant gratification culture'.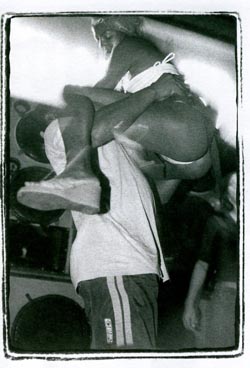 The real street heat though, and focus of this blog is 'Baile Funk'. Last August, Shellshock sent me this insane 'Favela Booty Beats/Rio Baile Funk Vol.1' compilation - its energy was too damn hype. Standout tracks were De Falla's "Popozuda R'N' Roll" & MC Jack E Chocolate (!)'s "Pavaroty" with Os Tchutchucos' "Chapa Quente" the real cruise missile; such a scorcher I slammed it on my 'Best Of 2004' mix-CD in December. The same month I visited NY and dropped in to Turntable Lab and picked up Diplo's "Favela On Blast" mix-CD which again I had to air on Xfm's 'Rinse' pretty pronto. Diplo's keeping Baile Funk flava ghetto red with production on M.I.A's album and his new "FabricLive 24" mix out now with bonkers stuttered yodelling (!) on MC Joe's "Melo Do Piddle Le He He"; e-e-s-ss-s-ential!!!
Similarly Senor Coconut's 'Coconut FM - Legendary Latin Club Tunes' has Baile bangers, such as Malha Funk's "Nova Danca" with its (c)rude James Brown punctuated screams and Vanessinha Picatchu sampling Jack Marshall's quirky Munster's TV Theme for "Pega Pega".

So what's Baile Funk all about and why the fuss? You could describe it as Brazilian Booty Bass with a pinch of 'Planet Rock' that's ruffer than 'Reggaeton', but, hey, let me simply point you in the direction of these 2 articles that'll have you on the next plane out to Rio/Brazil sharpish! - Cliffy's "The Funk Phenomena" in the latest 'South American' issue of the continually outstanding free 'FACT' mag (boy, I love it's fresh smell!!) and last month's Observer Music Monthly had these wise words.
Read, research then get your KRUMP on!!!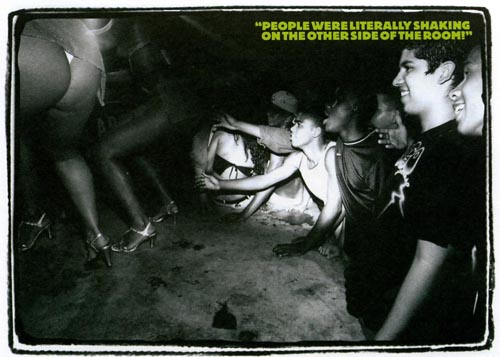 © 2005 Green Bandana Productions Ltd. Website design by
Steve Mannion.