Churchin' On A Sunny Afternoon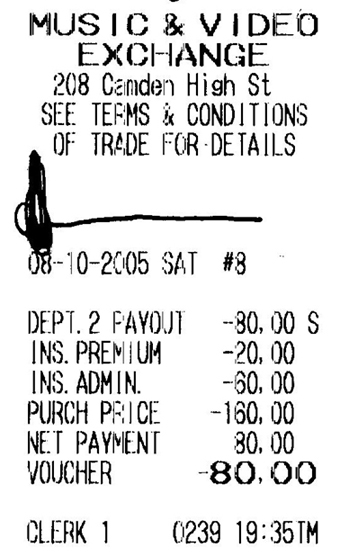 Major voucher splurge @ Notting Hill's Churches this afternoon snapping up:
BOOK: Ego Trip's Big Book Of Racism.
DVDS: Golden Years Of British Comedy, Creep, Lil' Pimp & Patlabor.
CDS: J.R. Tolkien's 'The Hobbit' (Radio 4 adaptation), Bill Hicks 'Rant In E-Minor', one of my 'Covered' comps, The Mercury Songbook of 100 Jazz Vocal Classics, a 4-CD Cuban 'I Am Time' Box Set (shaped & styled like Cuban cigar box!), a cheesy 'This Is Eurovision' compilation, an Immediate Records 60s 2-CD comp., Toots & Maytals 6-CD Trojan Box Set, Inside Deep Note 2 (1970's Adult Cinema Music!), The Archies & Marillion - The Singles '82-88'.
Saturday's shopping spree rounded off with Birthday presents for friends/family then final stop Camden Church for a rare occasion to flick 'n' pick up some semi-random vinyl (pretty much CD for me these days) in this case, 'Angela Rippon Reading Black Beauty', 12" white label of Gorillaz "Feel Good Inc." (with all parts i.e. acapella & instrumental) plus self-titled 1970 Barry Humphries LP (featuring early Dame Edna).
Talking of 'Down Under', Camden Church was where I bid farewell to a real MVE stalwart, Howard, last day today then heading to Oz first thing Monday; we'll miss ya H, best of luck!!!
© 2005 Green Bandana Productions Ltd. Website design by
Steve Mannion.