Dirty Found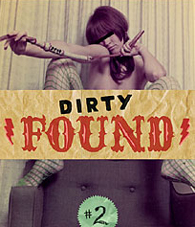 Just picked up issue 2 and glad that 'Dirty Found' mag didn't go belly up after one issue as many uber-cool niche zines often sadly do. If you haven't seen this, fair enough, you have to dig but find it for a right riveting read.
Basically 'Dirty Found', like sister publication 'Found' publishes material that readers have randomly or maybe intentionally found and sent in - photos, objects, letters, faxes, notes, post-its etc. If 'Found' is 'PG, 'Dirty Found' is obviously rated 'R'!!
It reminds me of 'PostSecret' - both perverse print, both superbly simple, original journals that puzzle, scare, disturb, amuse and amaze.
© 2005 Green Bandana Productions Ltd. Website design by
Steve Mannion.