2006 - Blogday Afternoon
Thanks to Claire & Matthew for last night's soiree - fine food, great company, top tunes etc.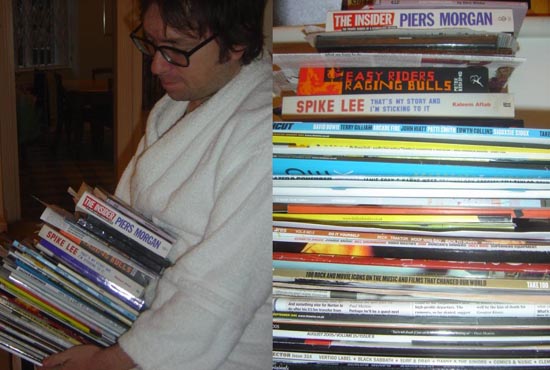 I've had this (pictured above) back(b)log of bytes & pieces, built up over the month from things that have caught my eye as inspiration, references etc. - enjoy the digital digest & Happy New Year, may all your dreams come true etc.
DAZED & CONFUSED MAGAZINE - DECEMBER 05
Woody Allen talks 'Luck' to Rob Sharp: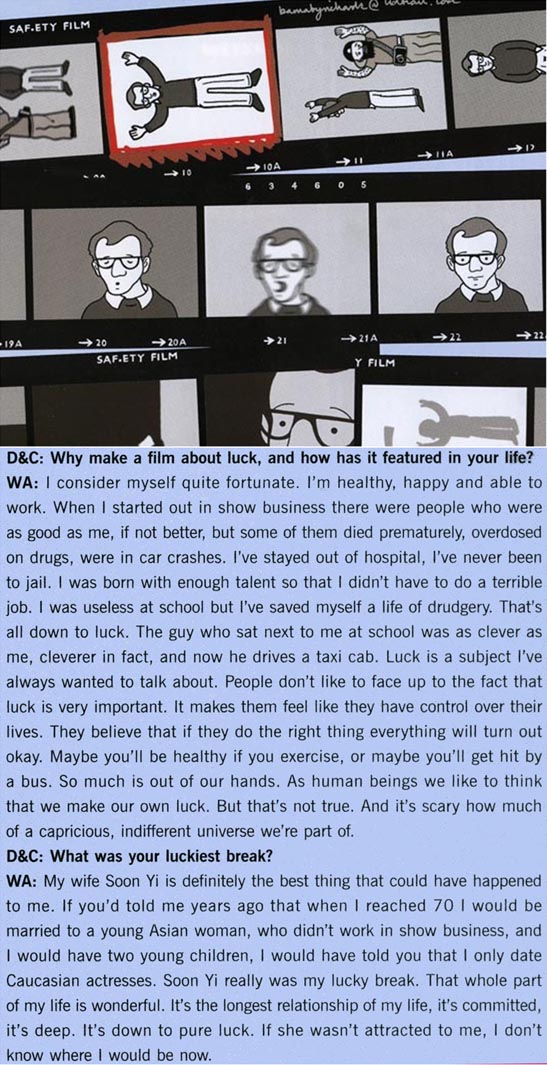 Big up C3P0's c*ck! The 'before' & 'after' shots; read more on this old skool Star Wars urban myth here.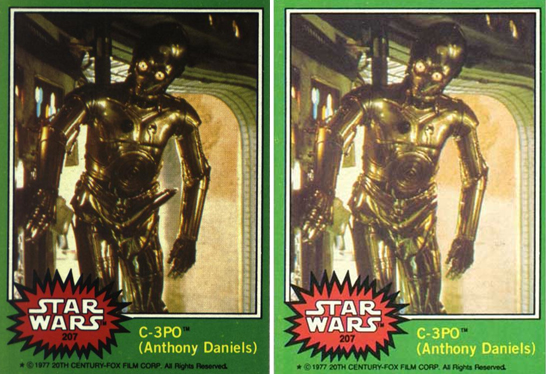 THE TIMES - 27 JULY 05
ESKI! ESKI! as Wiley would cry, Stuntman Eskil Ronningsbakken performs a handstand while cycling naked across a tightrope between 2 peaks in western Norway - no safety net, pure rude boy!!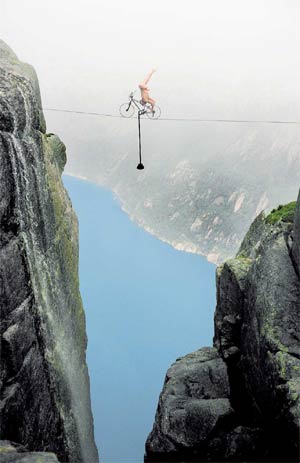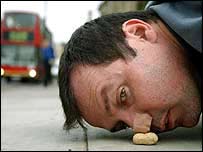 Also back from July 05 & another bonkers performance artist, Mark McGowan. Stunts include trying to catapult a pensioner into space, walking backwards for 11 miles with a 27lb turkey on his head whilst shouting at fat people, scratching 50 cars with his keys & photographing the 'evidence'.
Last July he 'ran on empty', leaving a tap running for a year.
This Guardian piece gives the whole story - tearing!!!
____________________________________
RECORD COLLECTOR - CHRISTMAS 2005
Props to Matthew Hodgkinson, obsessively hunting down the 142 singles from John Peel's hallowed wooden record box: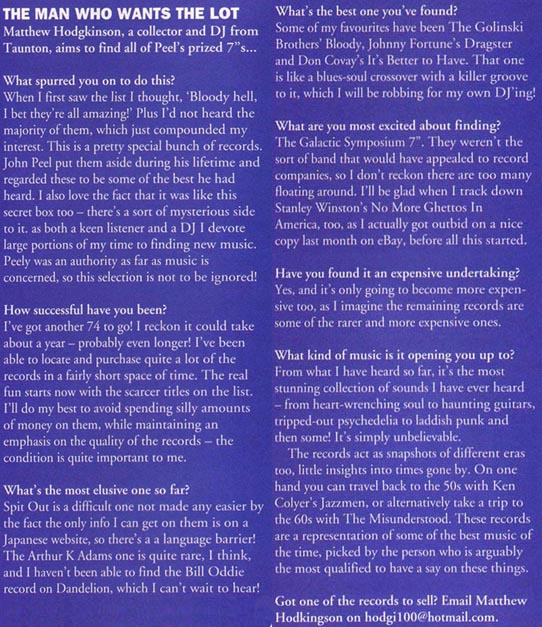 VICE MAGAZINE - DECEMBER 2005
Sticking with the OCD tip, check this nut-nut:

SUNDAY SPORT
One of Bez's hilarious columns, not sure if he still writes it as I'm not a regular Sport
reader as much as I used to be (!)

UNCUT - SEPTEMBER 2005
For the 100th issue, the magazine got 100 Rock/Movie icons to choose
Music & Films that changed their world. All were pretty interesting selections, though Mark E Smith bigging up Bo Diddley and Brian Eno doing the same for Chris Morris & Brass Eye sincerely stood out by a mile: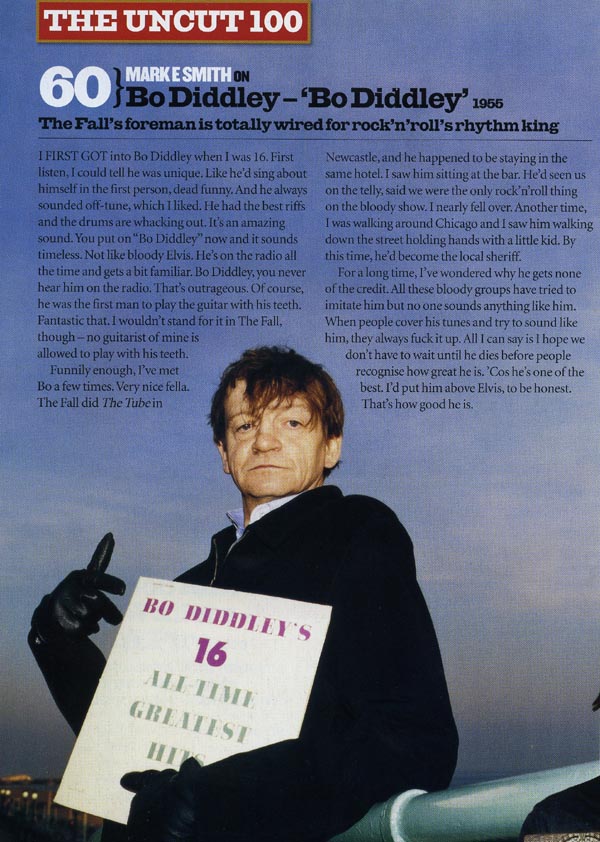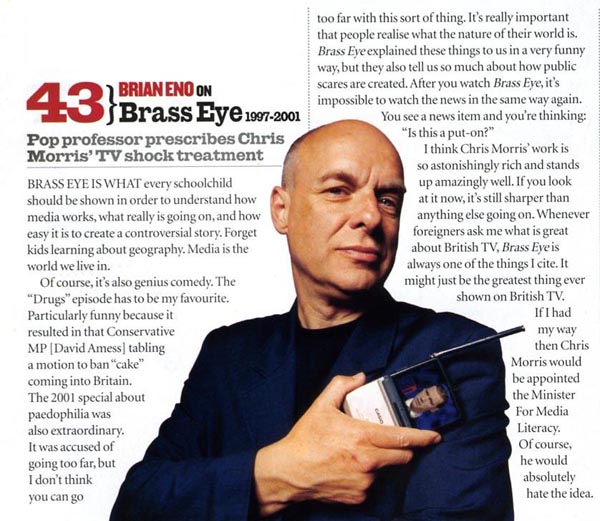 PET SHOP BOYS VERSUS AMERICA
A BOOK BY CHRIS HEATH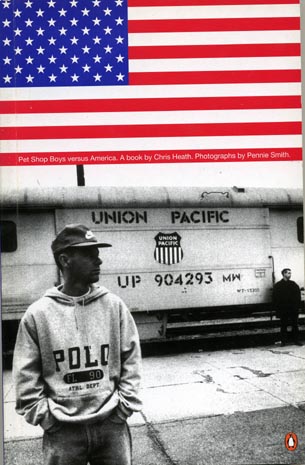 Boy, I could rant on about the PSB's for yonks, how their music shaped much of my adolescence etc. This book fuelled more love for Neil/Chris and their body of work with Chris Heath's sharp, dry & deadpan on-tour diary, a style perfectly suited to the PSBs themselves. Some choice quotes:
"The next station is called Y-100 and there they are greeted by a man called Al Chio.
'Are both of you into Motown?' asks Al.
'Why are you asking?' says Chris defensively. 'It's a loaded question.'
'When I was growing up,' answers Neil, 'it was the Beatles and Motown. I used to like the Supremes.'
'Chicken Supreme, I like', says Chris.
As at most radio stations, they are asked to do loads of station ID's whereby they introduce each of the station's DJs and various local campaigns. One of today's is 'Hi! This is Neil Tennant and Chris Lowe urging you to participate in recycling - everyone's help counts.'
'I did that one already for Japan,' says Neil.
'They should have recycled it, saved the tape,' says Chris.
____________________________________
"Back in the dressing room, we watch the NBC internal live TV feed outside the Oscars ceremony. It's funny because you see all the cameramen touching up their hair, picking up their noses and fighting to get interviews with the same stars.
'This is so much better than the proper coverage', says Chris.
'It's very Andy Warhol', agrees Neil. 'You just have a camera and there's all these stupid people standing around talking drivel. This is what they live for, the Oscars. They're all in a tizz.' There's an Oscar party at our hotel tonight. 'I'm thinking of complaining about the noise at about one o' clock', Neil says, 'and then demanding a refund on my room. I might call the police.' Within two minutes he has rather changed his tune. 'I'm sorting out us producing Madonna's next album tonight. That's what I'm doing. Starting October 1st - write the songs in September, out in March.' He fakes a resigned sigh. 'Oh, she can pretend to write the blasted songs and have a third of the royalties.'
His eyes return to the TV. 'Why doesn't some serious movie star like Liz Taylor arrive?' He considers this. 'Actually, serious film stars don't make films, do they? They're sort of beyond that.'
Ivan (tour manager) comes in. 'OK. here we go. It's contract time.'
Neil and Chris pour over the contracts.
'My gross income?' splutters Neil. 'It's none of their bloody business!'
Chris looks back at the Oscars screen.
Talk drifts on to actors.
'Who is it who listens to 'West End Girls' to get into character?' Neil asks us to remind him, but no one knows.
'We don't like him,' Neil prompts. Still can't remember. 'Mickey Rourke!' he eventually exclaims. 'He did it for Angel Heart.'
____________________________________
"We plan a trip to Prince's nightclub, Glam Slam.
'Do you want a car or a cab?' asks Ivan.
'Are we paying?' asks Neil.
'Yeah,' says Ivan.
'Let's get a cab,' says Neil.
Neil and I go shopping in downtown Minneapolis. He buys cassettes of the new records by REM and Joni Mitchell, this week's New Yorker and a copy of the academic journal Partisan Review because it includes an article comparing the crimes of Lenin, Stalin and Hitler.
'That's two magazines I'll never read and two tapes I'll never listen to,' he says, 'but I enjoyed buying them.'
____________________________________
ROLLING STONE - 8 SEPTEMBER 2005
More Pop stars, keeping it real, Jack White, total respect!
He came off equally sincere for Channel 4's November show on 'John Peel's Record Box'.

HOTEL CALIFORNIA:
SINGER-SONGWRITERS & COCAINE COWBOYS IN THE LA CANYONS, 1967-76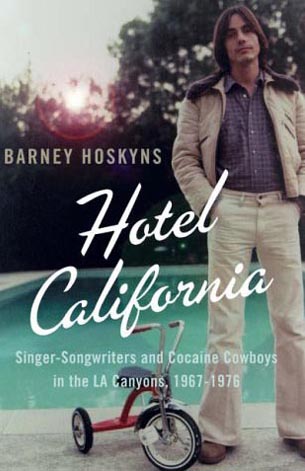 Superb book, summed up excellently in this edited extract from Nigel Williamson's review in December 05's Uncut Magazine:
"It's a tale full of so many back-stories that each could make a book in itself, as Hoskyns weaves his way through the careers of not only the Eagles, Browne, Mitchell & CSNY but also James Taylor, Carole King, Little Feat and others who were attracted to the denim-clad, coke-fuelled scene that coalesced in the canyons in the hills above Sunset Strip.
The drugs caused some to self-destruct, including David Crosby and Gram Parsons, and the coke had an effect on the music, too, numbing it into sterile AOR. But when it came to the end of the innocence, fame and money were ever more corrosive, as elitism and egomania replaced the openness on which the vibrancy of the scene had once been based. Tellingly, it's left to Ned Doheny to provide the moral of the story. A talented singer-songwriter, Doheny came from old money and had his own trust fund. Yet he was the only musician in (David) Geffen's sauna that day in 1971 who didn't graduate to the Lear jet of greed of superstardom and it's given him an interesting perspective on his erstwhile colleagues. "Let's say that somwhere down the line you make $500m, what good does that do you if you've sold your soul into the bargain?" he tells Hoskyns. "I don't know anybody who's benefited from success - benefited as human beings. While you're busy being dazzled by the kaleidoscope of fractured light and advantage, part of you is being drained away. And you don't even see it."
Hoskyns' own conclusion is even darker, for he sees not merely personal tragedy in the holes in the souls of a few decadent, damaged rock stars, but the pernicious roots of a cancer that has eaten into the very heart of our society. In selling themselves for fame and riches, the singers and songwriters of the '60s and '70s, who we followed in the belief that they were soundtracking an alternative and better way to live, actually helped to incubate the disease of celebrity that plagues modern culture, and have contributed to the creation of "a world where passive consumerism has replaced emotional engagement and political commitment."
RES MAGAZINE
From 'DIY Issue', love Prellinger's stance on media, archiving, copyright & remix culture: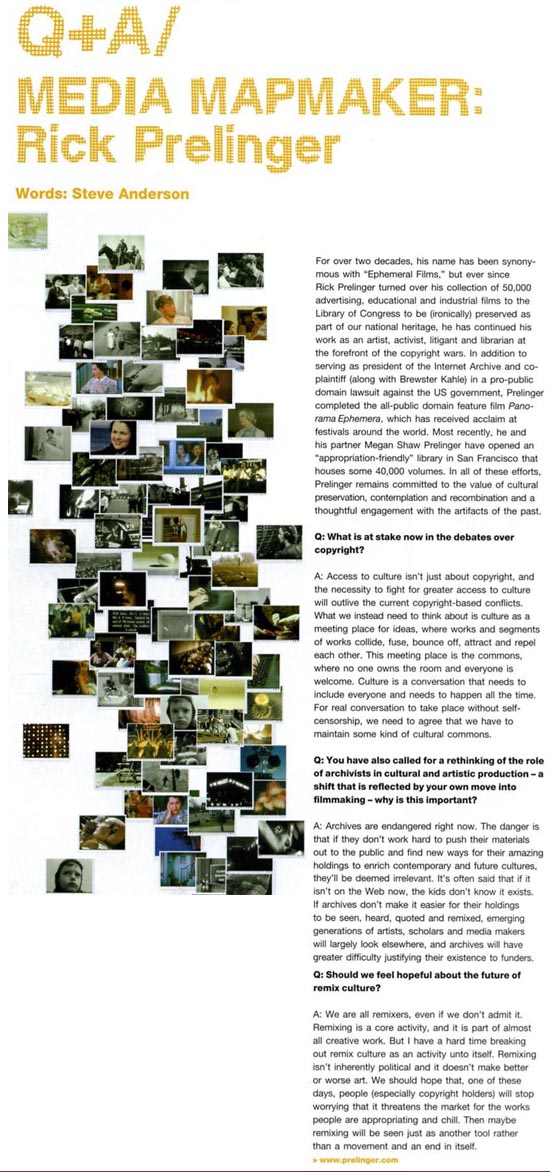 © 2005 Green Bandana Productions Ltd. Website design by
Steve Mannion.