CD Catelogue-ing - Done!
Around 3AM one late night last November, I had just finished reading Wired, noting a cool piece on Steven Soderbergh loving 'mash-ups' as a cultural concept when my mind flipped to the mammoth Herculean task undertaken these last 3-4 months - catelogueing my 35,000+ CD collection.

Kate, who initiated this project has been truly unbelievable, the backbone, with her calm persistence, consistent chipping away and tight supervising of the whole operation.

Other team member shouts must go to Craig, Jahan & Holly to name but a few. I didn't ever think it would take such a short time to achieve so much. Throughout, a re-occurring memory cloud had been hanging, one of my earliest, gently haunting me in a surreal not scary way:-
Aged about 5 or 6 in the US, in a San Francisco bookstore, I spent some time tidying up the shelves and the bookstore manager gave me a book for my obsessive (!) efforts. A cool book if I remember well, interactive, with things like a furry tail to carress and scratch & sniff pages. Anyway, that's it, how I see much of my 'Modus Operandi' as an edit process - re-arranging, tidying, filing, collecting, amassing, ,archiving, purging, pruning, shedding etc..

Back to the process of the Herculean task. It started about 18 months ago when sorting thru loads of crates from storage. Vinyl was pruned off, selling it, if I had the same CD. Some of the vinyl of course was kept for emotional, memory reasons (or if it was unmixed/bonus track on there etc.!!!) but generally if there was a digital copy, it stayed. Most of this vinyl was taken to Record & Tape Exchange ('Church').

So after getting rid of the vinyl, catelogueing began late August 2005. I researched some software companies and zoned in on Collectorz. Their Flic-Barcode reader sounded cool, you beep the barcodes and hey presto up comes the data, after searching Amazon & CDDB/Gracenote etc. Alas, it was too good to be true, so many CDs didn't scan and it looked like we were going to have to do this the hardcore way i.e. put each CD in the drive, let the drive read the CD, gather the data from the site, spit the CD out and repeat ad. nauseam.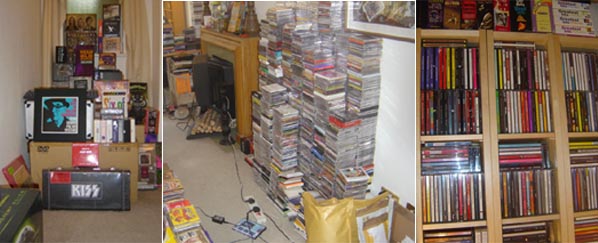 Kate had been doing this for several weeks, time permitting whilst simultaneously checking e-mails, watching TV and web-surfing. Similarly Craig was on it whilst checking his e-mail, the web, watching DVDs, having lovely meals cooked and ploughing thru those CDs, loading them in 1 by one (limb by limb - dibee dibee dibee!!!). This threw up loads of double copies - further trips to 'Church'.
A slight panic early on when CDDB/Gracenote withdrew its licence from Collectorz and for a split-second I thought we may have to abandon or re-start however via the very quick & helpful Collectorz.com Forum with the likes of 'Old Geek' and even being able to speak to the guys who created the Collectorz software, we carried on, using freedb instead of CDDB/Gracenote.

Craig's 'Modus Operandi' was 'very methodical' as he described it, wasting not one second in between the CD drive spitting out a CD and him having the next instantly ready to go in, balanced with biscuits and DVD viewing.
After the 'first pass', a big pile of 'computer says no' CDs came to light, which basically meant they had no data submitted on sites so most of the details from these were inputted manually.

About 2 weeks into doing this solely on my office computer, we realised we'd need another couple of laptops for multiple people to tackle the databasing on an ongoing basis. This would also need Wi-Fi/Wireless as the internet databases like CDDB and Freedb need to be accessed. Wi-Fi/Wireless, the irony, more wires & cables. Couple of technical problems with the router but Mr. Smooth Operator, Jahan was always on hand to get us back on course, an efficient tech-pilot ready for take-off & landing.
As the task neared its end, I used the anology of driving past a building site for a few weeks seeing no progress and then suddenly one day, a whole housing estate or block of flats has sprung up in front of you just like that. The CDs did this to me just before Xmas, when the main room and over half the 'Wall of doom' (an approximate 6 columns by 4 rows, 3 deep) was complete.

Holly, another invaluable member of the team, hammered away, unlike Craig, wanting no food, no music, no TV, just loading up the CD-drives one by one - Hardcore!!! Amazed that the drives never packed up by now, only a couple of times did CDs get stuck and a one-off occasional memory glitch.
The collection is deep, some have called it 'Art', others total obsessive madness. I'd calmly defend that calling it passion providing happyness, something Oxford dons once discovered and researched as 'Flow Experience', a trance-like state of happiness.
I don't see much difference in the time/energy put into record collecting as compared to the religious football nut who goes to watch his team play live every week, the gym freak working out to that rigid schedule, the person who must play the lottery every week, maybe with the same numbers each week, attending church every Sunday etc. etc. - all beehaviour patterns that have a repetitive element, that's all.

One friend suggested I enter the CD collection & myself into the Turner Prize. As for how & why I've collected all this, well that's another lengthy chapter though here's a little insight into the 'Collector's Mentality', summed up beautifully from the 'Lust' edition of a recent 'Colors Magazine':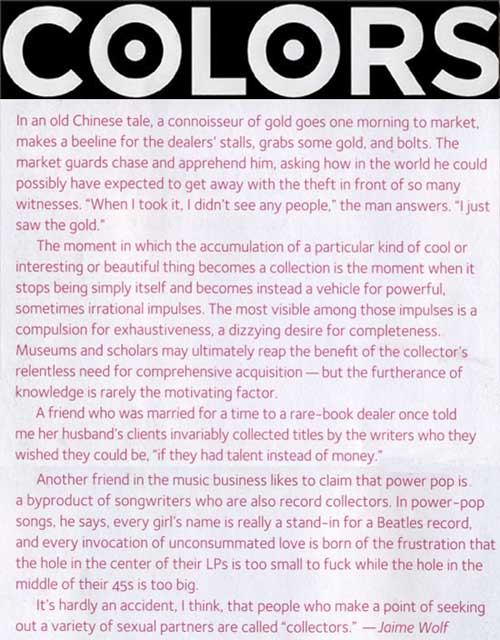 © 2005 Green Bandana Productions Ltd. Website design by
Steve Mannion.