DJ Interview: BBARÁK
From Czech Magazine 'BBARÁK' (with translation below):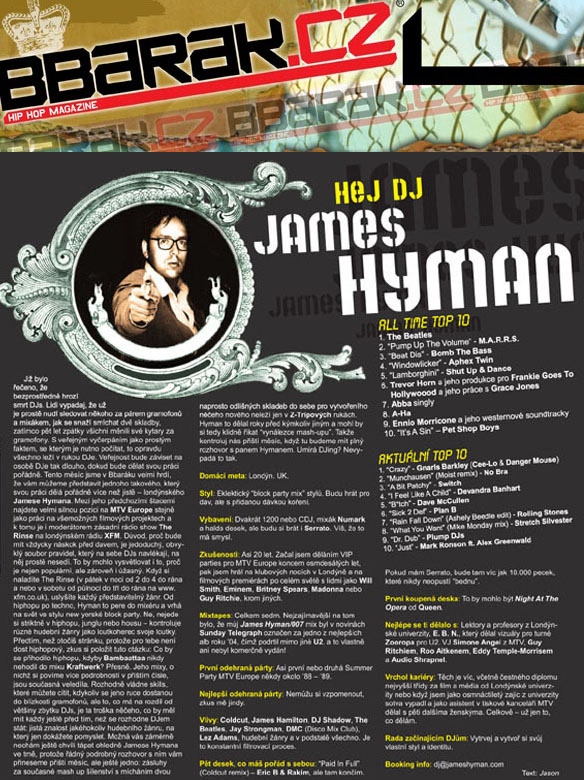 ENGLISH TRANSLATION:
It's been said the death of the DJ as we know it is imminent. People now seem bored watching somebody behind 2 decks and a mixer blending 2 songs together, whereas 5 years ago everyone's guitars were traded for turntables. With the public's jadedness becoming a factor that must be dealt with it all really lies in the hands of the DJ. The public will continue to latch on to the DJ as long as they're doing their job correctly.
This month at Bbarak, we're very proud to present a DJ who is more than definitely doing his job correctly – London's James Hyman. His past stints include a powerful position at MTV Europe and work on various film projects. Hyman is also host of the influential radio show The Rinse on London's XFM. The reason he'll always remain ahead of the crowd is because the normal set of rules DJs impose upon themselves simply don't apply to him - which could be why he manages to be not only popular, but exciting. If you tune into The Rinse (Friday night 2-4am, Saturday night 12-3am) expect to hear every genre imaginable. From hip-hop to techno Hyman puts all in a blender and heaves it upon the world block party style. No he's not strictly hip-hop, jungle, or house – he controls various musical genres as a puppeteer controls puppets.
Before you turn the page because he's not hip-hop enough try asking yourself this question: What would've happened to hip-hop if Bambatta never threw Kraftwerk in the mix? Exactly. His mixes, which we'll go into more detail next issue, are modern day masterpieces. He definitely possesses immaculate skills whenever his hands get near the decks but what he has that most DJs lack is an immaculate knowledge of every musical genre you could possibly think of. I might purposely keep you in the dark on James Hyman a little longer because we will be running an in-depth interview with him next month but I will leave you with this: The current mash-up craze of mixing two very different records to produce something new doesn't lie solely in Z-Trip's hands. Hyman was doing this years before anybody and can, arguably, call himself the inventor of the mash-up. Check back next month when we run the interview with Mr. Hyman. Is the DJ dying? It doesn't look that way.
HOME BASE:
London UK
STYLE:
Eclectic block party mix up of styles. I'll play to the crowd but with added spice.
EQUIPMENT:
Two 1200's or two CDJs, Numark mixer, loads of tunes but I'm about to take the Serrato plunge. You know it makes sense.
EXPERIENCE:
About 20 years. Started of doing VIP parties for MTV Europe in the late 80s then spun off with club nights in London and film premier parties around the world for people such as Will Smith, Eminem, Britney Spears, Madonna & Guy Ritchie among others.
MIXES:
Seven in total. The most interesting was that my James Hyman/007 mix was one of the Sunday Telegraph Newspaper's 'Best albums of 2004' beating out the likes of U2 among others and it wasn't even commercially released!
FIRST PARTY DJ-ED:
Probably MTV Europe's first or second Summer Parties around 1988-89.
BEST PARTY DJ-ED:
Can't remember. Try me another day.
MUSICAL INFLUENCES:
Coldcut, James Hamilton, DJ Shadow, The Beatles, Jay Strongman, DMC (Disco Mix Club), Lez Adams, musical genres and pretty much everything. It's a constant filter process.
5 RECORDS THAT NEVER LEAVE YOUR BOX:
"Paid In Full" (Coldcut remix) – Eric B and Rakim but I'll stop there. If I'm going with Serrato there'll be over 10,000 tunes that never leave "the box."
FIRST RECORD BOUGHT:
Could've been Queen's Night at the Opera.
FAVOURITE PEOPLE YOU'VE WORKED WITH:
London University tutors and professors, E. B. N. who did the visuals for U2's Zooropa tour, MTV VJ Simone Angel, Guy Ritchie, Roo Aitken, Eddy Temple-Morris, and Audio Shrapnel.
CAREER HIGHLIGHTS:
Several including first class honors film and media degree from London University and being fresh out of university as an eighteen year old MTV intern in the press office with five female co-workers. Overall – just doing what I'm doing.
ADVICE TO ASPIRING DJS:
Persist and develop your own style and identity.
ALL TIME TOP TEN
The Beatles
M.A.R.R.S. – "Pump Up The Volume"
Bomb the Bass – "Beat Dis"
Aphex Twin – "Windowlicker"
Shut Up & Dance – "Lamborghini"
Trevor Horn production for Frankie Goes to Hollywoood
and his work with Grace Jones
Abba singles
A-ha
Ennio Morricone (Western) film scores
CURRENT TOP TEN:
Gnarls Barkley (Cee-Lo and Danger Mouse) – "Crazy"
No Bra "Munchausen"
Switch "A Bit Patchy"
Devandra Banhart "I Feel Like a Child"
Dave McCullen "B*tch"
Plan B "Sick 2 Def"
Rolling Stones – "Rain Fall Down" (Ashely Beedle edit)
Stretch Silvester – "What You Want" (Mike Monday mix)
Plump DJs – "Dr. Dub"
Mark Ronson feat. Alex Greenwald "Just"
BOOKING CONTACT:
dj@jameshyman.com
© 2005 Green Bandana Productions Ltd. Website design by
Steve Mannion.