Spot On Celebrity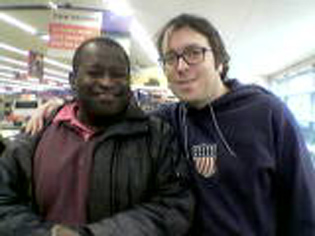 Let's give far more props to THE BEST OF LUCK TO YOU GUY. Spurred on by DJ Oven Gloves e-mail (below), I want to at least see 'Bolty' get a film biopic, bring it on!!!!
-----Original Message-----[START]
From: Matthew Grainger
Sent: Tuesday, June 27, 2006 2:57 PM
To: James Hyman
Hello James, Matthew / OvenGloves here again, I had to drop you another line, coz I just looked at your pics on your MySpace, and I couldnt believe my eyes - you know "Best Of Luck" Guy too! I love that dude! When I lived in East Finchley and Muswell Hill, he used to prowl round the old 7-11 and up the High Street, doing his "BEST OF LUCK!!!!!!". Does he still swear loads too? He used to go "YOU BASTARD!!! YOU F******* C***!!!!" but with a big smile on his boat. Love the fact you got him up with pics of Rourke and Simmons and the gang - he's as much of a legend as those guys, but in select circles!! I miss that guy.....
Anyway, whatever....just thought it worth a mention, cheers for reading my waffle, and hope to hear summat from you soon.
Midlander (There Can Be Only One)
-----Original Message-----[END]
Let's take 'Bolty' to the top:
Post a comment and/or your own sighting on my MySpace pictures section.
Good luck and, er, THE BEST OF LUCK TO YOU!!!!
© 2005 Green Bandana Productions Ltd. Website design by
Steve Mannion.